Transcendent Sound for the Modern Audiophile
When SVS set out to design a second generation of wireless audio products, our engineers were not content with creating the best sounding wireless audio gear. We challenged ourselves to set the bar with products that compete with the finest sounding speakers and wireless integrated amplifiers available at any price.
With this philosophy, Prime Wireless Pro was born. Convincing, immersive sound are coupled with versatile connectivity choices, simple set-up, and a user-friendly control interface. The future of HiFi is here.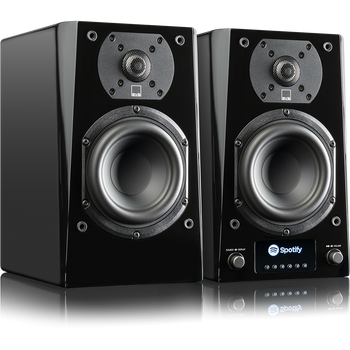 Breathtaking wireless sound from a powered stereo speaker pair. SVS Prime Wireless Pro delivers immersive, reference quality sound via a vast array of connectivity choices with a user-friendly cont...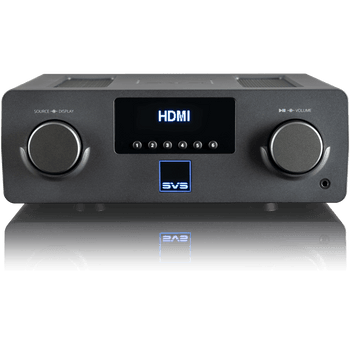 Smart wireless integrated amplifier brings speakers into the future of immersive sound with effortless power, stunning dynamics and pristine clarity, a vast array of connectivity choices and a user...
FAQ
Major updates across the board were made from the first generation Prime Wireless Speakers. Physically, the
SVS Prime Wireless Pro Speakers
have a larger cabinet and larger woofer (4.5" to 5.25") with lower system acoustic tuning so the powered speakers deliver deeper bass and greater dynamic output.
o Also significant was the addition of Apple Airplay 2 for iPhones/iOS and Google Chromecast Built-In for Android and other devices which allow CD-quality wireless streaming without needing to access the Play-Fi app. The Pro version still has supports Hi-Res over WiFi, and includes Spotify Connect and Bluetooth. For hardwire connectivity, Prime Wireless Pro now features an HDMI with ARC/eARC input to go with line level, optical, 3.5mm Aux, ethernet, and a subwoofer output.
o Lastly, an IR remote was added to expand control options and the front panel interface was revamped with pushbutton custom presets for instant access to favorite playlists, stations etc as well as an LED display that shows input status as well as artist and track information.
Compared to conventional passive speakers, the best wireless speakers offer more versatility and typically are an all-in-one package that don't require separate amplifiers or source components to function. Control is generally handled through a smartphone app, remote, or via voice commands. And because many only require power connections without speaker wires, no additional wiring is needed making them easier to set up and giving them more flexibility in terms of placement.
https://www.svsound.com/products/prime-wireless-pro-powered-speakers
Yes. With emerging wireless formats like Apple Airplay 2 and Chromecast for Android, the best wireless speakers can produce CD-quality sound streaming directly from smartphones and other devices. Leveraging a home WiFi network enables high-resolution streaming from services like Qobuz and Tidal. Many powered wireless speakers also feature inputs for HDMI, analog line level and more so you can direct connect devices and listen at full fidelity. All of this combined with advanced engineering has allowed solutions like the
SVS Prime Wireless Pro Powered Speakers
to produce reference quality sound as good or better than conventional wired speakers.
WiFi speakers are connected to your home internet network and enable streaming at a higher bitrate for better sound quality because of the greater bandwidth allowed via WiFi. Bluetooth speakers are connected or paired directly to a device such as a phone, tablet, or computer with a more compressed audio signal.
Not exactly, although it is possible for a wireless speaker to have smart technology. Smart speakers are typically wireless with built-in internet assistants such as Alexa, Siri or Google Assistant that can be controlled via voice command. Many wireless speakers like the
SVS Prime Wireless Pro Powered speakers
, can function with smart devices and be controlled via voice commands or streaming music apps, while having the added benefit of better overall sound quality from bigger cabinets, more powerful amplifiers, and better designed drivers.
Yes. When a subwoofer cable is connected to the
Prime Wireless Pro Speakers
, the speakers will engage a 80Hz High Pass Filter on themselves. The subwoofer output will always be full range and rely on the receiving subwoofers filters to blend with the speakers. Disconnecting the subwoofer cable will disengage the 80Hz High Pass Filter on the speaker and the speaker will return to full range output.
Yes. The Play-Fi app will show all Play-Fi products for multi-room playback as long as everything is on the same wireless network. That means you can mix original SVS Prime Wireless products with the new Prime Wireless Pro and all will show up together in the Play-Fi app with the ability to group together or in different zones.