Bernie Dresel, The BBB Featuring Bernie Dresel, formerly with the Brian Setzer Orchestra
When a home audio system is capable enough to make a world-class musician think differently about sound, it's a special kind of validation. Such was the case with the SVS Ultra speakers and SB13-Ultra subwoofer and Bernie Dresel, a legendary drummer and musician who's starred with the Grammy-Award winning Brian Setzer Orchestra, Gordon Goodwin's Big Phat Band and now The BBB Featuring Bernie Dresel. He's also played with the likes of B.B. King, Frank Sinatra, Gene Simmons, Stevie Wonder and countless others and was named "Best Big Band Drummer" in a Modern Drummer magazine reader's poll.
After deciding his existing home audio system was no longer cutting it, he did what anyone looking for new audio equipment would do, he asked for personal recommendations and started researching online, all of which led him to SVS. But Bernie Dresel is not your typical big band drummer. He a classically trained musician whose credits go far beyond the world of music. He's also performed on movie soundtracks for such blockbusters as: Jurassic Park, American Sniper, Mission Impossible, Pearl Harbor, The Hulk, Star Trek Generations, The Bourne Supremacy and countless more. He's even earned credits on TV shows like The Simpsons, Family Guy and Murder She Wrote, and that's just scratching the surface.
Needless to say, Dresel has a trained ear and understands the way sound should be recreated to emphasize a sense of convincing realism and impact. After a recommendation from Widescreen Review editor Gary Reber and some research on the SVS site and elsewhere, Dresel took SVS for a test listen and never looked back. Now, he has a newfound appreciation for subwoofer bass, center channel speakers and immersive height effects that we discuss in the interview below.
Where did your passion for music and high-performance audio came from?
Well I guess the passion came from when I used to ride in the back of my parent's car on Sunday drives in their 1961 Cadillac listening to the speakers and pounding on the back seat like a drum to the radio. I remember distinctly when I was still a toddler, the Beatles on Ed Sullivan, listening to them on our black and white television with probably only one tinny speaker in that. That excitement of live music that was so infectious and people were screaming, girls were screaming. I guess I didn't understand the girl screaming part at that age, but I knew people liked it and music was exciting, it was great. My dad tried to take me in for drum lessons at two-and-a-half, but I was too young and then finally at 4 and a half they signed me up for drum lessons again. At first, I was really shy and mostly just listened to other people play but I was fascinated by the rhythm and sound. Of course, now it's hard to believe I was shy but the lessons got progressively better and my passion for music really started then.
So are you classically trained? I know you said you took some lessons early in life but it sounds like you were born with drumsticks in hands. What was sort of the process that led you to this point?
Well as far as taking lessons I went every week since I was 4 and a half. Not to mention also starting saxophone in 4th grade, piano lessons in 7th grade but then learning marimba, timpani and all sorts of orchestral percussion instruments to prepare for college. So I went to kind of a prestigious musical school called Eastman School of Music in Rochester, New York. I was a Performance major and a Music Ed major so I studied a lot of orchestral percussion instruments there and also the trumpet, clarinet, harp, and just a little violin so you could teach it in public schools. Teaching started out as a fallback plan but I enjoy teaching, I still teach today actually I have been teaching since 7th grade but I teach people in my home and at UNLV in Las Vegas. So yes I have studied orchestral and classical music all my life.
All this experience has probably made you a more discerning listener. Can you talk about your system at home and how it has evolved?
I remember 30 or 40 years ago I had Bose 901 and at the time that was so cool, but in reality it was a pain as far as placement, trying to get all that to work. Eventually I got tired of those and I got something called Rogers Sound Labs for a while, which was kind of a knock-off and I had those for a while, they weren't that great. The tweeter blew on one of them and I just stopped listening to music in my home for a while, as most people would do.
I was just getting used to listening to the terrible speakers on my TV, which just left me always wanting more. So eventually I said to myself, it's time to get real music and audio back in my home. I know I don't have to say this, but I have just been so amazingly thrilled with the SVS speakers that I have. Number 1 It was such good value for what was out there. Based on what I could've spent for incremental improvements in sound quality and the fact that I could try them in my home and if I didn't like them, I could trade them in and try out a different model or just return, that was a big positive for me personally. Not to mention they are delivered right to your home and so much information is available online. The more research I did, the easier the decision became. Ultimately, I am just thrilled to have music in my home again and such a rich experience with music, movies or whatever.
What can you tell us about your system?
A for the system I am running, currently I have the Ultra Bookshelf speakers and the Ultra Center and my rears are Ultra Bookshelf models also. The dialogue clarity from the center channel while I was watching House of Cards last night, it's not just louder but more accurate and fuller so I can understand the dialogue easily and capture the emotion and hear the edge in people's voices. It just makes everything so much more realistic.
I also have a SB13-Ultra subwoofer and as a percussionist and musician, I just can't say enough good things about what it provides in terms of feeling and impact to all my music and TV. It only comes to life at the exact moment it's supposed to, but when it does, it's like this invisible force that just energizes the room and hits like a sledgehammer when called upon. I have a newfound appreciation for bass after hearing this sub, which is saying something considering a good portion of my life has been devoted to music and live performances.
I thought you mentioned previously that you were running Auro-3D, what has that experience been like?
I have a 5.1.4 yes, some people just have two front speakers but I tell them they should really get the surround. They say, well I live in an apartment, they worry just because they have more speakers that it's going to be louder. But really, it's just more immersive. Surround sound is really 2D in a circle around you but with Auro-3D getting those two front speakers and two rear speakers above you, now you have a cube around you. A cube, or an "aquarium of sound" as I call it, which is just incredible for music. I have four Prime Elevations mount flat on the wall and they point downward towards the seating position at an angle, they blend great with the Ultras and it's such a different experience with height speakers. Between the subwoofer and the Elevation speakers, I feel like I truly have a state-of-the-art home audio system on par with the most expensive surround sound speaker set-ups out there.
It's a funny story when I first ordered, you guys were so on it that the delivery beat my speaker wire and Marantz receiver so I was sitting around with all these speakers but I couldn't set them up. I was only able to set up my Prime Elevations in two-channel and just those alone were absolutely blowing my previous speaker system away. I was almost thinking I didn't need the Ultra Bookshelfs because the Primes were so good but I came to my senses. All the speakers just amazing right out of the box which is not always the case with speakers.
Where can people stay up to date on albums and live performances for your group, The BBB Featuring Bernie Dresel?
There's a website called The BBB featuring Bernie Dresel where people can get information, however I really like to have a personal connection and I've found Facebook allows much better direct communication so people can also reach me at Facebook.com/BernieDresel. My band is really in your face where it is more about the drums, but in a good way. It has a big band feel and a bit of soloing and no vocals. It's hard for us to travel with so many guys and gals in the band so we usually only do trips around the L.A. area for anyone who wants to check us out. Our album "Live N' Bernin" can also be found on iTunes, Amazon and Elusive Disc (Pure Audio Blu-ray and Vinyl). It's one of the only Blu-ray music discs to be recorded in the Auro-3D 9.1 format, which incorporates four height effect speakers overhead.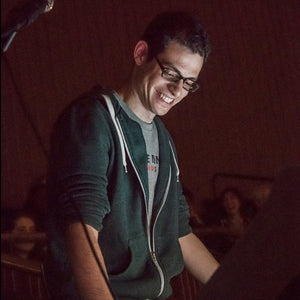 SVS Featured Producer: Ben Bloomberg, Co-Founder, Advanced Sonic Alert Technologies