SVS Featured Producer: Ben Bloomberg, Co-Founder, Advanced Sonic Alert Technologies
Musical genius takes many forms and Ben Bloomberg, a PhD graduate of MIT Media Lab and self-proclaimed "creative technologist" has been at the forefront of driving innovation for both live performance and recorded music for over a decade. With collaborations ranging from Arianna Grande and Bjork to multi-Grammy award winning artist Jacob Collier, and projects such as the world's first robot opera, Bloomberg has used his genius to delight music fans across the world in new and exciting ways.
In this Q&A, Bloomberg discusses the importance of bass to music, his criteria for choosing audio equipment for mixing and mastering, why the SB16-Ultra subwoofers have become an indispensable part of his home studio, and more.
Questions And Answers:
Please provide a little background on how you got into audio engineering/sound production.
I started running live sound when I was 9 years old, helping a neighbor's band set up mics and speakers for local gigs and setting up the PA at my elementary school. When I got to high school, I started mixing for live theater, more local bands, and I also started recording and mixing with friends. In college I was a research assistant for Tod Machover in the Opera of the Future group at the MIT Media Lab and ended up working closely with national orchestras for symphony and opera. I made a 150 channel surround sound system for a robot opera that was commissioned for Prince Albert of Monte Carlo, which subsequently went on tour and was nominated for a music Pulitzer.
Why is bass important to music?
Even in the classical world with Tod, bass was hugely important for us. It's both the warmth and the tactile essence that gives listeners a feeling of momentum and immediacy. We spend a huge amount of time thinking about bass when we make music because it sets the mood in a very unique way.
How did you get connected to Jacob Collier, and what has been your role in helping him create his music?
In grad school, I met and started working with Jacob Collier. Believe it or not, it all started because I saw one of his YouTube videos and decided to send a Facebook message. I was pretty surprised when he answered, but it turned out he was looking for some advice for his upcoming gig at the Montreux Jazz festival. He had never really performed in front of an audience before and was interested to know what sort of technology might help him make a good show. We started to brainstorm together, and pretty quickly realized that what he wanted wasn't something you could buy off the shelf. So we started building, and the rest is history (as they say). I've helped him build his studio, his tour—including his harmonizer and custom looping systems —and have mixed for him on all of his albums.
What was your experience like at the Grammys?
I was really wonderful. We felt lucky to be in the presence of so many legends. Since it was such an intimate gathering, it really felt like everyone was there for one another and supportive. And I had never been there as a nominee before (let alone for album of the year), so that was pretty crazy too.
What do you do as part of the MIT media lab?
I started as a research assistant in Tod's group in 2007 as an undergrad and stayed all the way through my PhD which I finished in February of 2020. I'm now a research affiliate, which means that I get to help out with projects and stay connected to the amazing people there.
What are your criteria for choosing speakers and subwoofers for mixing/monitoring?
That's a really big question. I look for a few things and all of them have to complement the room that I'm working in: First, the frequency response has to be reasonably flat and the fall off has to be consistent off axis. I also value phase coherence and I am a big fan of coaxial speaker designs for that reason (I have some Kali IN-8s in my room currently that are pretty sweet, and before that spec'd Genelec 8260s for the Lab).
Second, the dispersion has to make sense for the space and the application. If I am mixing by myself in a hotel room, narrow speakers with laser focus are great. In a big room working with an artist, something wider helps everyone get the same feeling— the Kalis are super wide which is cool. I also have a pair of Kii Three which have incredible phase coherence and cardioid dispersion which results in more direct sound at the listener position and that feeling of "near-field in-your-face closeness" even with the speakers far away.
Third and most important, I really care about the "vibes" of the speakers. I want a speaker to make me feel like dancing, but only when the mix is good. So, I'm not necessarily after a super flat response, but something that inspires me to want to work without being too flattering. At MIT we have some old B&W 800D speakers and they were so dependable for giving you what you needed to make something feel awesome. But they weren't flat at all, so that introduced some other challenges.
How are the dual SB16-Ultras being used in your home studio setup?
The SB16s are my primary subs at the moment. They've been just fantastic and really musical. I am running them with a Grace m908 monitor controller and three sets of speakers. The grace changes the crossover and EQ so the subs balance perfectly which each set of mid-high speakers when I switch to them.
Why did you opt for dual subwoofers instead of one?
I am mixing both in stereo and Dolby Atmos, and I really like having the front left and right channels be completely independent and full range. Especially for new music with electronics, we play some interesting games with stereo super low frequency content. It's also nice to have the extra head room afforded by two subs.
What was the impact of adding the SB16-Ultras vs. what you were running previously?
It's hard to define a "musical" sub, but for me it means that you get the tonality and detail in the low frequency content more than a rumble or thump. You really hear the notes of the bass guitar. I typically prefer sealed subs because they are faster and more controlled. I was previously running a much smaller setup with a single SB-2000, which I loved, but the 16s have really provided the SPL needed to do a properly calibrated Atmos mixing system. And they did it without sacrificing that musicality. The subs really fade away and it feels like I have massive main speakers… until I put something in the LFE and then they have thundering transient response.
They're capable of moving serious volumes of air without working hard and that results in pretty insane detail down there. And we've done some measurement and calibration using the built in filters via the Bluetooth app, so they are ruler flat at my listening position.
Any upcoming projects you're working on that you'd like to promote?
We'll be releasing some of Jacob's music in Dolby Atmos, so please keep an eye out for that! We are also working on a recording of Tod Machover's robot opera called Death and the Powers, which should be out this summer as well.
Anything else you'd like to share with the SVS community?
I'd encourage folks to check out the world of Atmos music. It's a bit like the wild west right now, so you can find and hear some really interesting mixes taking completely orthogonal approaches to space and distribution. One song might have the drums coming from behind, the guitar to the right and the voice to the left; the next puts you underwater; and the next in a perfect cathedral ambience. I think folks are being really creative with these mixes and that is really inspiring. As a listener, it's just a different beast and provides a fresh perspective on a lot of classics. I always enjoy hearing new sounds in a recording I know by heart and there's so much more spatial resolution with Atmos.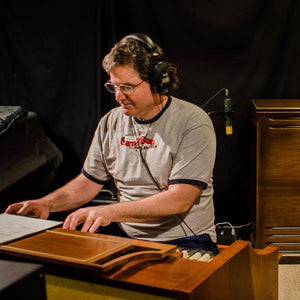 SVS Featured Producer: Michael Lewis, The Song Mill Studios