Featured Home Theater System: Stharling in Bronx, NY
Stharling in Bronx, NY
Growing up, Stharling from the Bronx always loved the immersive, powerful, multi-sensory experience of an IMAX theater. The captivating big screen and engaging surround sound was always something he wanted to recreate in his own home, and after some light construction to prep a wall for the projector screen, he was able to create the experience he was looking for. With two PB13-Ultra subwoofers laying the subsonic audio foundation, Stharling has built an incredible home theater that competes with any IMAX, but even better, has earned him the title of "coolest uncle ever" from his nephews.
The Setup:
JBL 530 Bookshelf Monitors
Aperion Grand Verus center channel
Klipsch squinted surrounds speakers
Parasound Halo A21 stereo amplifier
Denon X-4000 AV receiver
Oppo BDP-95 bluray and SACD Player
Apple TV
PS3
Wall paint JOB screen
Panasonic PT-AE 8000U
Darbee DVP-5000 Video processor
VTI AV rack
Questions And Answers:
What were the greatest challenges you had to overcome when setting up your home theater?
The biggest challenge when setting up my home theater involved the paint job on my wall to create the viewing surface I wanted. I had to remove the molding from the wall and make the surface flat and smooth, which is a lot harder than it sounds. A couple of trips to Home Depot getting the tools and supplies for the project helped me to complete the complicated process without too many headaches. At first, I thought it was going to be an easy task done in a couple hours, but it took a portion of five days to finish the home theater "screen" wall. And let me just say, the result was absolutely stunning and way better than buying some of the overpriced screens I researched. Plus, now I have the advantage of being able to do full, wall-to-wall 2:35 aspect Ratio viewings, just like at the IMAX and I couldn't be happier with the results.
How has SVS impacted the performance of your system?
Well, my Dual PB13-Ultras impacted the experience in such a way that when I watch a movie now, I get in the zone just like when I'm in a commercial IMAX movie theater. I don't feel like I'm watching the movie in the comfort of my house (even though it is definitely more comfortable), and all my friends say the same thing. A lot of them even said that between the subwoofers and the big screen, my home theater is even better than going out to the movies, and I strongly agree with them. It's actually quite fascinating how my Ultras enhanced my home theater game to the point where literally everyone notices how impactful audio can be as part of the experience. Also, I can't wait to get my SoundPath Subwoofer Isolation system installed on the PB13s since I've only heard great things about what they add to the performance.
What are some of your favorite music and movies for showing off your audio gear?
Some of my favorite movies to make my system shine are War of the Worlds, Cloverfield, King Kong and Kung Fu Panda. For music I'm heavy into hip hop and club house music.
Why is having a home theater important to you?
Home theater is my passion so I enjoy tinkering and always trying to make it perform better. It's also important on a personal level because my nephews and family all love to come over and enjoy movie night in the comfort of our home. Having a home theater is most definitely a source of a joy and a pleasure to me and the people close to me.
---
Are you an SVS owner?
We want to hear about – and see – your home system! Share your photos through Facebook, Twitter, Instagram or in the comments below to be included in our monthly owner's album. We'll regularly be featuring systems for here as well, so be sure to share yours with us and the community!
Browse Other SVS Featured Systems.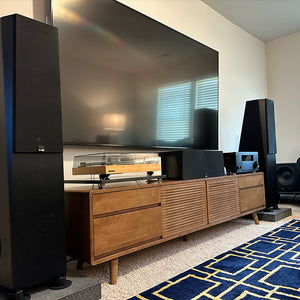 SVS Featured Home Theater: Dan C. from Cornelia, GA
Dan from Cornelia, GA Audio shows are the single best way t...
Read More