Featured Home Theater System: Alexis in Canada
Alexis in Canada
Great gear, great sound, and great experiences. At SVS nothing excites us like seeing our products in action so we're proudly showcasing real systems from our customers. Rustic wood paneling provides the backdrop for this 5.1 setup from Alexis in Brossard, Canada that features SVS Prime Series Speakers and a PB-2000 Subwoofer.
The Setup:
SVS Prime Bookshelves
SVS Prime Center
Paradigm ADP90 for the surrounds
SVS PB-2000 subwoofer
Sony STRDN 1050 Receiver
Home Theater PC with Essence STX sound card for use with TIDAL and some other FLAC file
PS4
VIZIO 60" LED TV
Questions And Answers:
What were the greatest challenges you had to overcome when setting up your home theater?
My greatest challenge was the surround placement due to my room configuration and the issue still remains.
How has SVS impacted the performance of your system?
I would say the biggest performance impact was definitely the subwoofer. But upgrading from a sound bar, as good as they can be, it will never replace a full blown home theater system with the possibility of stereo with a wider soundstage. It not only greatly improved my music experience but also movies.
What are some of your favorite music and movies for showing off your audio gear?
One of the Best movie would be the new Godzilla when the creature wakes up and get out of the cocoon, intense bass et surround effect and for music, I love Mediteranean Sundance by al dimeola, john mclaughlin and Paco Delucia or some Sigma- Nobody to love
Why is having a home theater important to you?
Because I watch a considerable amount of movies and don't really like going out to the theater and having the theater experience at home really makes it enjoyable.
---
Are you an SVS owner?
We want to hear about – and see – your home system! Share your photos through Facebook, Twitter, Instagram or in the comments below to be included in our monthly owner's album. We'll regularly be featuring systems for here as well, so be sure to share yours with us and the community!
Browse Other SVS Featured Systems.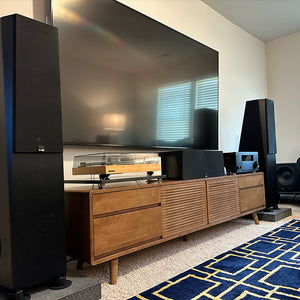 SVS Featured Home Theater: Dan C. from Cornelia, GA
Dan from Cornelia, GA Audio shows are the single best way t...
Read More