Featured Home Theater System: Alfonso in Germany
Alfonso in Germany
One of the best things about having a home theater is the escape from reality it provides at the end of a long work day. After lugging his new 155 lb (70.3 kg) PB13-Ultra subwoofer up to the third floor, Alfonso from Schramberg, Germany had the final piece in place for a killer system that he uses to unwind after the daily grind and also to amaze "normal" people who aren't accustomed to reference level low frequency effects. Read his story:
The Setup:
Denon X4100 AVR

Advance Acoustic MAA 406 two Channel Amp for the front Speaker

XTZ 99.36 MKII Speaker System. Meanwhile in Dolby Atmos configuration

Epson EH-TW7200 LCD-Beamer on a 135" screen

LG BP 730 Bluray Player

Xbox One
Questions And Answers:
What were the greatest challenges you had to overcome when setting up your home theater?
The biggest problem was getting the hefty PB13-Ultra subwoofer up to the third floor. Once I finally got it upstairs, I had to do some adjustments to improve the room acoustics. There were some reflections and a 10db room node at 35hz, but it was quite easy fix that with the PEQ of the Ultra.
How has SVS impacted the performance of your system?
The PB13-Ultra is a Subsonic monster! It provides such intense, ultra-low frequency bass in my home cinema and is unlike anything I've had before. It' really funny to watch movies with the sub at reference levels because "normal" people are literally blown away by the impact and how much they can "feel" the low frequency effects.
What are some of your favorite music and movies for showing off your audio gear?
The new Godzilla is awesome but my favorite at the moment is Prometheus. The opening scene is brutal at reference levels, in a good way.
Why is having a home theater important to you?
I love it when I can dive into a movie after a hard day at work and escape from reality. With my home cinema I can spend two hours in space, on a battlefield or experiencing the nicest places on earth.
---
Are you an SVS owner?
We want to hear about – and see – your home system! Share your photos through Facebook, Twitter, Instagram or in the comments below to be included in our monthly owner's album. We'll regularly be featuring systems for here as well, so be sure to share yours with us and the community!
Browse Other SVS Featured Systems.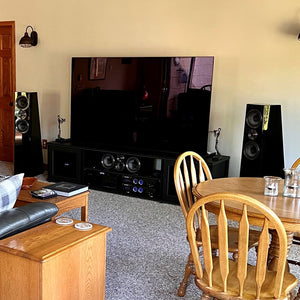 SVS Featured Home Theater System | Mike E. from Calumet, MI
Mike from Calumet, MI As a former music teacher, Mike E. fr...
Read More