Featured Home Theater System: Chad in Eau Claire, WI
Chad in Eau Claire, WI
Can a home theater be therapeutic? We certainly think so, and so does the owner of our newest featured home theater. Chad from Eau Claire, WI uses an SB13-Ultra as the sonic backbone of his gaming and home theater system, but you won't find spa music playing here. The 5.1 set-up integrates seamlessly into a comfortable multi-purpose room, which entertains the family on movie night and delivers an escape from the stress of everyday work and school life.
The Setup:
Samsung UN60F7100 3D LED
Denon 4520
Klipsch RF7II's
Klipsch RC64II
Klipsch RS62II's
SVS SB13 Ultra
Sony BDP-S790
Sony PS4
Panamax 5300PM
Directv Cable
Questions and Answers:
What were the greatest challenges you had to overcome when setting up your home theater?
Greatest challenge for me was the room I had to work with as this is a multi-purpose setup. Room is 19x13x8. Small room with big speakers so making everything fit was a challenge.
How has SVS impacted the performance of your system?
The SVS SB13-Ultra is literally the backbone of my system. Smooth, detailed, and rises to the occasion when needed. I was blown away after implementing it into my rig. The SB13 is phenomenal in every way possible. Engineering masterpiece for its size. My plan going forward is adding another SB13 to the right side of the entertainment center as well as an Oppo 103D. After that for the sake of my wife I'll be all done hee hee that is until we buy a house with a dedicated room then a projector and AT screen will be necessary.
What are some of your favorite music and movies for showing off your audio gear?
My favorite movies to show off my systems performance would be The Art of Flight, Transformer Series, Lord of the Rings Trilogy, among many other favorites.
For music demo's I like Lindsey Stirling, Pink Floyd, and everything in between.
Why is having a home theater important to you?
I feel a home theater is important for a few reasons. 1. Brings the family together. 2. Relieves stress related to work, school. Time to relax and puts your mind at ease. Very therapeutic.
---
Are you an SVS owner?
We want to hear about – and see – your home system! Share your photos through Facebook, Twitter, Instagram or in the comments below to be included in our monthly owner's album. We'll regularly be featuring systems for here as well, so be sure to share yours with us and the community!
Browse Other SVS Featured Systems.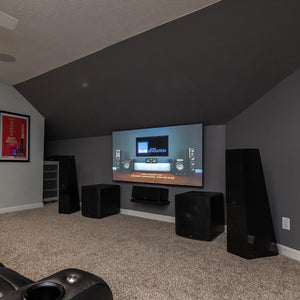 SVS Featured Home Theater: Kyle H. from Madison, MS
Kyle from Madison, MS Kyle from Mississippi has been on a j...
Read More