Featured Home Theater System: Allen in Texas
Allen in Texas
Early adopters of technology often face greater challenges since they are trailblazing new techniques and applications without the benefit of an informed public or extensive real-world testing to coach them along the way. In our newest SVS featured home theater, Allen from Texas was inspired to modify his system to take make use of the emerging Dolby Atmos audio format.
After overcoming major set-up challenges with some help from the AVSForums and our Sound Experts, Allen installed four Prime Satellites as "Height Effect" speakers in his new Atmos based 7.2.4 system, as well as a pair of SVS cylinder subwoofers to provide a foundation of deep, evenly distributed bass. Now, when the lights go out, there is the sensation of a room without walls or dimensions and a level of low frequency playback that brings everything else to life.
Of course, the benefit of an early adopter is that their experience serves as a tutorial for the next audio enthusiast who wants a deeper and more captivating entertainment experience.
The Setup:
Projector: BenQ w1070 projecting onto a 110' Silver Ticket Screen
AVR: Denon x6200w. The Amp in the Denon is running all of the surround speakers
Blu-Ray Player: Sony BDP 6200
Video Game System: Playstation 4
Acoustics: I've got 15 panels from GIK acoustics
Remote: Harmony Smart Remote
Questions And Answers:
What initially sparked your interest in the new Dolby Atmos format?
Earlier in 2015, I went to CEDIA, which is basically a trade show for people who install home theaters and smart home systems. After hearing several Atmos demo systems in action, I decided I wanted to upgrade my home theater to recreate what I was hearing at the show.
What were the greatest challenges when installing the system, and how did you overcome them?
My initial plan called for the use of in-ceiling speakers, but I discovered it would be extremely difficult to install because of the fire break, which was located in the back of the room. It blocked me from having access to the attic above the theater, and without some access to the attic, running in ceiling speakers became prohibitively difficult. The second issue was that the roof and ceiling run very close together in the theater, which really limited the amount of space I had if I had for in-ceiling speakers, and it would have FMe it nearly impossible to have back boxes. One company I talked to did suggest coming through the roof with the wires, which I was not at all a fan of.
From research I've done, direct overhead speakers should actually something be avoided in a 7.2.4 system (though it is recommended if you're only running two height speakers). To get things within the Dolby recommended range, the speakers should between a 30-55 degree angle in the front and between a 135-150 degree angle in the rear. My problem was that the flat portion of my ceiling didn't allow for more than about a 125 degree angle in the rear. The solution was mounting the rear speakers onto the vaulted portion of the ceiling in order to get them within that 135-150 degree requirement. I let Audyssey take care of figuring out the distance and trim levels to compensate for the fact that my rear height speakers were mounted a little more than a foot lower then my front height speakers.
In the end, it was a net positive because the performance of the satellites outweighed what I could've gotten from any in-ceiling models.
What resources did you use when setting the system up?
I actually relied on the AVS Forums quite a bit (thread is here) since that was one of the few places where others had experience working with Atmos. I'm very DIY oriented but it was great to have the extra help.
The SVS team helped me quite a bit as well since from the very beginning, when I initially reached out about whether satellites would even work for this project. I was specifically concerned whether they would have wide enough dispersion, and how they could be mounted given the challenges of my ceiling. Ed from SVS recommended the mounts and helped me decide where to place the front height speakers in relation to the acoustic panels.
He was also helpful with getting my two subs optimized to work together since I have two different subwoofers, a PC12-Plus and a PC13-Ultra. With a little fine tuning I got them working in unison very nicely together and there is excellent bass response in every part of the room.
How have SVS speakers and subwoofers impacted the overall performance of your system?
I still consider the subwoofers the biggest single upgrade I've ever done since it changed how everything sounded and added a completely new dimension to the experience. It was such a dramatic addition that filled what was missing before from movie soundtracks. I just didn't realize how much better my speakers would sound after adding subs.
With having the Prime Satellites as Atmos speakers, first of all, I would say the upgrade has made my room sound huge. When the lights go down, it's like the walls don't exist and you lose that sense of being in an enclosed space. It's like there's no sound being directionally projected from the left or the right, it's just all around you all the time.
What have been some of your favorite movies/content you've experienced far? Why?
About two weeks ago I watched Mad Max: Fury Road, which as anyone who's seen it knows, is an absolute assault on the senses. There's just so much happening in the movie in terms of sound presentation and it's just a completely different experience when you have the height effects. It's probably the best movie I've found to show off what Atmos can do.
One thing I love for showing off my subwoofer is the opening scene of Edge of Tomorrow. It's very ominous and takes your breath away because it's so hard and fast and intense, with a bass line that goes well into the subsonic range. Only a handful of subwoofers can handle that kind of low frequency output and you can really feel it in other parts of the movie as well.
Other one piece that I have to mention is the Battle of the Blackwater from Season Two Game of Thrones. The explosion that happens over the water blew me away with how forceful it was.
Why is having a home theater important to you?
Audio and home theater have been interests of mine since I was a teenager. It's really about an escape from the stresses of the real world and making it as realistic as possible. The next step will be to upgrade my screen and projector, but the audio turned out exactly like I hoped.
For additional information about working with Dolby Atmos, please visit our blog post: Intro to Dolby Atmos
Browse Other SVS Featured Systems.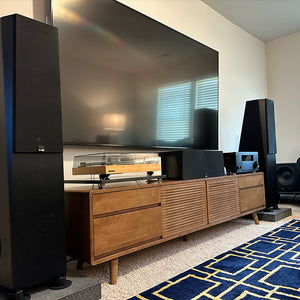 SVS Featured Home Theater: Dan C. from Cornelia, GA
Dan from Cornelia, GA Audio shows are the single best way t...
Read More