Featured Home Theater System: Chris in Alameda, CA
Chris

in Alameda, CA

Finding the balance between audio gear and room styling can be thorny. Chris from Almeda, California seems to have nailed it with the natural looking elements blending with his SVS 5.2 home theater system to create an inviting and comforting effect. But don't let the styling fool you, when his SVS Ultra Speakers and PB-2000 Subwoofers kick into action, Chris' comfortable living room is transformed into a sonically charged battle zone, stadium or concert venue on any given day.

Chris shares some colorful insights on the impact of having dual subwoofers and the difference his Ultra Speakers have made in the Q&A below.
The Setup:
Marantz SR6010 in bi-amp mode. Powered with an Audio Quest NRG AC Power Cable
Dual SVS PB-2000 subwoofers connected with Audio Quest Irish Red cables
60" Sharp 1080p display
Sony Blu Ray player
Panamax M8-AV-Pro surge protector
Logitech Harmony Elite Remote
All HDMI cables are Audio Quest Chocolate
5 - Homemade 2x4ft acoustic panels
Xbox One
Nintendo Wii U
Questions And Answers:
You obviously care about styling, what was your thought process/end goal with the assortment of décor you have featured?
I prefer a cozy, welcoming environment. So my home theater is primarily warm and natural colors. The piano gloss SVS speakers are the perfect accent to that theme.
What kind of impact did adding SVS subwoofers have on your system's performance?
Impact is the perfect adjective for my system. The sonic pressure dual PB-2000's create hits you pretty hard. It's quite alarming if you're not expecting it. I've always had a single subwoofer in the past. But after a lot of research I decided to finally get serious with my system setup. The bass is non-directional, but you can totally hear/feel that it's more even with the dual setup. I truly understand what the "brown note" is now.
How have the Ultra Speakers affected your listening experience?
I have always been a home theater enthusiast. Upgrading my setup to the Ultra's has greatly enhanced my audio experience in every way. The clarity and the sound stage that these speakers create gives you goosebumps.
What are your favorite movies, music, games etc to show off your system?
My go to movie for a great demo of my system is Tron, specifically the light cycle battle scene. As far as music I really enjoy listening to anything with great vocals and real instruments. Stringed instruments especially sound amazing! And obviously with dual subs all percussion instruments sound crazy! Also playing Battlefield 4 on this system is insane, it sounds like you are really there, especially the explosions!!
Why is having a home theater important to you?
Because I'm getting older and fatter, spending a lot of time in front of the TV is my favorite exercise. So I want it to be as great as it can.
Anything else you want SVS community to know?
In my experience if you are setting up a system that will be used primarily for movies a high quality subwoofer or subwoofers is the most important starting point!
Browse Other SVS Featured Systems.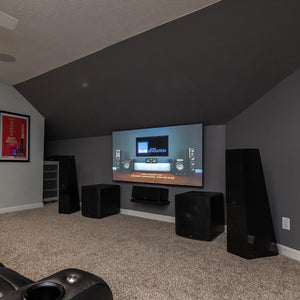 SVS Featured Home Theater: Kyle H. from Madison, MS
Kyle from Madison, MS Kyle from Mississippi has been on a j...
Read More