Featured Home Theater System: Ara D. in Trabuco Canyon, CA
Ara D.

in Trabuco Canyon, CA

As the host of a popular home theater-themed podcast and a craftsman who works with reclaimed wood, Ara D. was convinced by listeners to put both skills to work building his own bookshelf speakers. When he came across some rare American Chestnut wood from an 200+ year-old old barn, he decided the time was right to build something completely unique. Needing a power and streaming source to bring the speakers to life, Ara decided on the SVS Prime Wireless SoundBase for its combination of clean power and versatile streaming and connectivity options. Now, he gets to enjoy listening to his handiwork on a daily basis and appreciate the level of craftsmanship put into his speakers and the SVS source component.
The Setup:
Custom Made Bookshelf Speakers
Questions And Answers:
When did you first start getting into high-performance audio?
It started when I was working for Sony Pictures back in the 90s. I would go to the studio and watch the mixers work. I was amazed at the attention to detail for every little sound you heard on screen. They taught me how to listen to audio. I applied the same approach to listening to music and started noticing nuances in songs I had been listening to for years. Of course, good equipment makes that easier. I wouldn't say I am an audiophile but I spend more money on speakers than most.
How did you first hear about SVS?
We were searching for subwoofers to review for our podcast and we came across SVS. We reviewed your SB-1000 and were impressed with the sound coming from such a small sealed subwoofer. Since then I have bought and/or evaluated a lot of SVS gear. In fact, I used your SoundPath Wireless Audio Adapter to add bass shakers to my couch.
What inspired you to want to build your own speaker?
For years I would receive emails from listeners to the podcast suggesting that I build my own set of speakers. I eventually did and it was pretty fun. The first few were decent but I needed much more improvement in design and my wood working skills. There is so much to consider in building speakers to get everything just right. My advice is to find a good kit or build a speaker with a full range driver so you don't have to worry about a crossover design. These speakers were built from a kit designed by Creative Sound Solutions and they, like SVS, put a lot of hours into the design to get everything just right. It's up to the builder to have fun with the cabinet and that's where you can add your own style to the project.
Where did the wood and materials come from?
This is my favorite part of this speaker build. The wood for these speakers came from a Tennessee barn that was built in the 1800s. That means the trees that the wood came from were standing at the time of the US Revolution! The wood is American Chestnut which no longer grows in the US. A blight wiped out more than a billion trees over a 50-year period. The only way to get it now is when they tear down old building and reclaim the materials. I am always on a hunt for this wood. I claim that the old growth wood adds a visual as well as a sonic character that new wood can't.
What made you decide on the Prime Wireless SoundBase as a source/power component and what do you like best about it?
I wanted a wireless solution that supports high quality audio and packs a punch. I got all that and more with the SoundBase! I can send hi-res audio to the SoundBase with the DTS Play-Fi app or I can use Bluetooth which supports AptX. Either way the audio sounds incredible. My speakers are rated up to 100 watts which the SoundBase can do standing on its head! No distortion that I can hear! The low end is clean and tight!
How would you describe the performance of the SoundBase and custom speaker combo?
Perfection! Powerful distortion free wireless amplification. It checks all the boxes for me.
Anything else you'd like to promote or share with the SVS community?
My partner, Braden Russell, and I put out a podcast where we discuss Home Theater and Home Technology each week. You can find it at HTGUYS.COM or subscribe on iTunes, Stitcher, Pandora, and most places that podcasts are available. My wood working, which includes speaker projects, can be found on Instagram @OCReclaimedTreasures. I have also created a video of the project build on our Youtube Channel - HT Guys.
Browse Other SVS Featured Systems.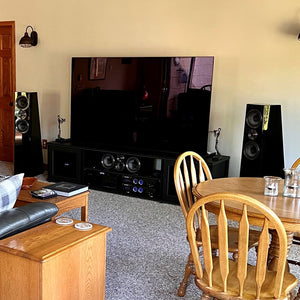 SVS Featured Home Theater System | Mike E. from Calumet, MI
Mike from Calumet, MI As a former music teacher, Mike E. fr...
Read More