Featured Home Theater System: JC Dan in Atlanta, GA
JC Dan

in Atlanta, GA

Former car audio basshead JC Dan in Georgia, has been into music since the days of cassettes and 8-tracks, when he bought his first White Snake album. As his tastes have matured and he became a father, the priorities shifted from having the loudest ride to creating an immersive home theater retreat for his "Home Team" to enjoy. Read about his progression to an awe-inspiring SVS Ultra 7.2 speaker system, why he loves duals and more in the following SVS featured home theater system profile.
The Setup:
LG 75UK6570PUB TV
LGUBK90 4K player
Onkyo RX830 AVR 9.2
Questions And Answers:
When did you first start getting into high-performance audio?
I've been into music all my life, and the love of cars. As a kid, my first introduction to music was a record player at 8 yrs old. The current 8 track tapes were dying out as records and cassettes we're moving in. White Snake and the Footloose record were the first I bought. Time moving forward, metal and rock are my go-to music but love all music and a huge respect and knowledge all the way back to the time of Motown.
Cars and trucks have always been a part of my life and it was through automotive sound that I started to get real serious about performance with music. I've always been a gamer but not so much into TV sets since my focus stayed on car audio. After a bad experience in a car club I went solo with my ride and oddly that led to getting into movies hard core. Already having a killer stereo in my room and TV sets gaining popularity, I got curious. I had 4 floorstanding cabinet speakers, each had a 15-in woofer, three 4-in mid-range drivers and a single 2-in super tweeter. From there my passion took off and has been a continuous upgrade from there.
What was the impact of adding dual PB-3000 subwoofers to your system?
In case you couldn't tell, I love bass and just the pounding sensation of an explosion that comes from the PB-3000s during action movies. I have 2 for better balance and quality bass and plan to add 2 more later on. The crisp and detailed sound from the Ultra speakers is phenomenal. Vocals are clear and let you know you have quality and accurate speakers.
What else would you like to share about your home theater?
My stand was designed by me and I had it custom built with the Ultra center and future expansion in mind. Each shelf is a foot tall with room to add cooling fan. Never found a stand that could accommodate the speaker and have room to spare so I decided to design my own.
Why is having a high-performance audio system important to you?
The home theater has a deep meaning for me and my son, that's why I have the "HT" on the doors. It stands for "Home Team" and no matter what happens in life we do it and go through it together and nothing can come between us. I'm proud to say at even 8-years old, he is following in my footsteps.
Anything else you'd like to share with the SVS community?
No matter what your path and journey, remember to always stay honest and true to yourself. Don't let others influence what you do or like.
Stay safe and be blessed guys.
Browse Other SVS Featured Systems.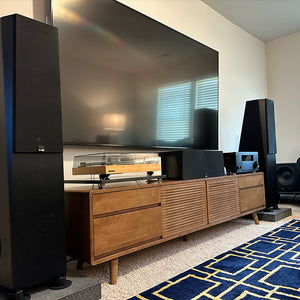 SVS Featured Home Theater: Dan C. from Cornelia, GA
Dan from Cornelia, GA Audio shows are the single best way t...
Read More