Featured Home Theater System: John in Scranton, PA
John

in Scranton, PA

Many start down the path of a 5.1 or other home-theater-in-a-box, only to be left desiring more when the sound quality and dynamics don't live up to expectations. John from Scranton, PA decided a Dolby Atmos receiver upgrade was a must and installed an accompanying 5.1.2 speaker system that relied on a ceiling bounce technique for height effects.

Seeking more out of his height channel speaker experience, John searched and found the SVS Prime Elevation speakers, which led him to the Prime Towers, Center, a new PB-1000 Subwoofer and a set of SoundPath Subwoofer Isolation System. Now, the sound goes lower, hits harder and soars higher than ever before.
The Setup:
Samsung SUHD 65 js8500 TV
Denon x4300 receiver
Questions And Answers:
How did you first start getting into audio?
It all started for me when I purchased my 2015 Samsung SUHD 65 js8500 TV. The need for an AV receiver was a must. I bought an Onkyo Dolby Atmos 5.1.2 home-theater-in-a-box, and from there I was off and running.
What led you to the Prime Elevation speakers?
Since I felt the need to get the most out of my Onkyo Atmos experience as possible I began the search for the alternative to up-firing ceiling bounce height speakers and SVS Prime Elevations came up in my search. I loved the idea and concept of what SVS came up with so I bought a pair of Prime Elevations and to try as height channels above me, not bouncing above me, lol. After that, I was hooked and became obsessed.
I thought to myself, what would four Prime Elevations sound like in a Dolby Atmos 5.1.4 set-up, so the new Denon x4300 receiver came home with me, and then I thought I better get 2 more Prime elevations for rear surrounds so they would all match. I was blown away with what I was hearing. Details from the rear surrounds I never heard before. The 4 Atmos height channels were crisp and clear, but not harsh in the least bit.
Then, I said well, I'm this far into it, might as well go all the way. So, then the Prime Towers, Prime Center, and the PB-1000 subwoofer arrived. I always wanted a premium home theater experience and thanks to SVS (and Visa) lol, I have one.
What has the impact of the subwoofer been on your home theater?
The PB-1000 subwoofer is perfect for my size room and rattles the rafters and really punches. I had to purchase the SoundPath Isolation System to keep the rumble down a bit. The system really does tighten up the bass and I can actually turn the volume up more without the vibration being over-bearing. The isolation system really does clean up the bass and make the subwoofer less noticeable in other rooms.
What are your favorite movie and music demos?
As for what I like to Demo my system with some of my favs include Edge of Tomorrow, Pacific Rim, Deadpool, Superman-Man of Steel. As for Atmos Demos: Mission Impossible-Rogue Nation tops the list and of course San Andreas, Batman vs Superman, and 13 Hours. All great tracks.
Anything else you'd like to share with the SVS community?
I purchased this system direct from SVS and Worldwidestereo.com. The customer service I received from both parties was top notch. SVS speakers are so well built that you can not only hear the quality, but you can also feel the quality that went into making these speakers. I'm one VERY HAPPY CUSTOMER, KEEP UP THE GREAT WORK.
Browse Other SVS Featured Systems.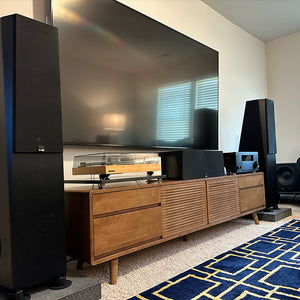 SVS Featured Home Theater: Dan C. from Cornelia, GA
Dan from Cornelia, GA Audio shows are the single best way t...
Read More