Featured Home Theater System: Nathaniel in Dallas, TX
Nathaniel

in Dallas, TX

How does finding the perfect subwoofer(s) improve your life? Our latest featured SVS home theater system owner found bliss on many levels after adding dual SB-4000 subwoofers. His music and movies no longer sound like they are being played under water, his fiancé is saying things like, "It's so much cleaner in every part of the room and it hits way, way, harder," and he's discovered the pinnacle of home theater experiences in his own home.
The Setup:
Xbox One X
Apple TV 4K
Yamaha AVENTAGE RX-A3060
Proficient Audio Signature 8 in. W/Kevlar Cones Ceiling Speakers (X4)
Epson 5040UB PowerLight Home Cinema 3LCD w/4k Enhancement
Elite Screens 135 Inch 16:9 Projector Screen 1:1 Gain CineWhite (In process of upgrading to ALR Dark Energy Screen)
1502 Crown Amp Powering ESL's
Panamax MR4000 Power/Surge Protectors
Martin Logan ElectroMotion ESL 8" Floor Speakers (x2)
Martin Logan ElectroMotion C2 Center Speaker (X1)
Martin Logan Motion FX 514 2 Way Surround Speakers (x4)
Phillips Hue Hub
Phillips Hue L.E.D Light Strips
Phillips Flood Lights (x4)
Harmony Remote
Amazon Echo - Alexa Voice Controlled
Haven Motorized Theater Seats with LEDs
Insignia 2 Channel Receiver powering 3 Dayton Audio BassShakers
Room Size 17 x 13
Auralex Studio Foam
Questions And Answers:
When did you first start getting into audio and home theater?
I first got into home theater when I was super young, around 9-10 years old, right around the same time that I started playing drums. I remember the first sound system I set up in my parents living room. I pieced it together from other old systems (systems being boom boxes/CD players etc) we had laying around the garage, connected them to an old boom box head unit my parents had, and watched my first movie with my own homemade surround sound.
It was Pearl Harbor where the planes were flying in - My parents were amazed, I was amazed, and that's where my insatiable appetite for home theater and sound started. As my musical abilities grew, so did my audio abilities where soon I became known to everyone in my family and school as the "audio guy", "home theater guy", or "drummer/live sound guy." In high school, I was running live sound for all our school events and after graduating, quickly became a traveling live sound engineer (part time) and worked for Best Buy installing and selling home theaters for around five years.
After running sound for thousands of bands across the nation, many of which are heard on the radio today, as well as working for House of Blues, I finished my Master of Science and I planted roots in Dallas, TX where I bought my own house. Now that I have a home of my own, I was able to bring that insatiable appetite for high-quality, concert-like sound and the best sounding movie experience into my own home.
How did you first hear about SVS?
When I first set out to start building my home theater – due to working at Best Buy and drooling over the speakers we had in the Magnolia Home Theaters, I pretty much knew what speakers I was going after. However, after going into many stores and doing countless hours of research – there were no subs that provided everything I was looking for that matched up with the clarity of the Martin Logan's I had purchased.
That is until I visited a Nebraska Furniture Mart and the beautiful SVS PB16-Ultra caught my eye. I then proceeded to do my research and found that the subs provided anything and everything I was looking for at substantially less cost than other subs in its "sound abilities" class. I then decided to go and test one with a song I used in the past to push the limits of the live sound systems I was dealing with. The track I used was by artist Danny Brown called "Way Up Here" (Feat. Ab-Soul). It is one of the lowest frequency, hardest hitting bass tracks I have ever used. (Please note this song is not family friendly but will give your subs the workout they were meant to have.) After testing with this song and seeing the subs abilities to handle low frequencies accurately - I knew that SVS subwoofers were the perfect addition to my home theater.
What has been the impact of adding the SB-4000s to your home theater?
Most people think that going from a PB16-Ultra to a smaller sub is crazy; however, the impact of going from ported to sealed and from single to dual at the same time – has not only increased the low-end output of bass in the room but has given everything much more clarity and much less "mud" – (a much better frequency response everywhere).
My fiancé, who doesn't have an audiophile bone in her body, noticed the difference almost instantly when watching and listening to music and movies. She, I quote, said "It's so much cleaner in every part of the room and it hits way, way, harder." Another benefit she mentioned, which I don't like necessarily is, "We don't have to waste money going to the IMAX now because this sounds better and is in our home."
Due to myself and my ears being super picky (they are the bane of my existence) SVS subs allows me to acquiesce to the insatiable requests of my ears for a reasonable cost- I don't have to spend $10K on a sub to get "$10K sub quality sound". A great way to explain the difference/impact of going duals is - there are times when I am at concerts and it sounds like you are listening from under water – and in the same instance – my home theater went from sounding like I was under water – to coming up for air. Everything is cleaner, precise, and much more defined.
Why did you decide to go with duals?
I was looking to accomplish a few things by going dual. The first was that I wanted to get a cleaner, stronger sound in all areas of the room. The second, was a visual preference that was more symmetrical. I knew that going dual would allow me to accomplish both.
What are some of your favorite movies to show off your subwoofers?
The Matrix in 4K. Specifically, the scenes where Neo and Trinity go back to save Morpheus are insane. Cops have been called on me more than once while watching those scenes at reference. ¯\_(ツ)_/¯
Pacific Rim (the first one). I love the sound in this movie. It is incredible to showcase the robot fight scenes. Bass is incredible.
Interstellar. One of my favorite space movies of all time. The score in this movie is incredible. The scene where they launch from earth is an epic showcase of your system.
Hans Zimmer, Live in Prague. Showcases his best scores and is one of the best sounding live concerts you can put through your system.
What are some of the unique aspects of your home theater?
One of the things I dislike most in my room are the acoustic panels I have up on the walls in the room - only because of how they look. They do help the room to have a more "dead/neutral" sound and in turn help produce much less reflections leading to a better overall sound. This is why I recommend everyone try and get some type of acoustical treatment on their walls.
Don't know if you need any? Go into your theater and clap your hands – Does it echo? If so, you need treatment – if not you should be ok. I do also use my theater room to play my drums from time to time so having the panels on the walls is a must for keeping the sound the neighbors hear to a minimum. I will be redoing the panels at some point to make them more aesthetically pleasing but for now they serve their purpose.
Why is having a home theater important to you?
Having a home theater is important to me because I love having a place that I know I can relax in and shut the rest of the world off from. I go into my room to play games, watch movies and become totally immersed in that world. It allows me to disconnect and enjoy the content someone worked tirelessly to make in the environment they meant it to be enjoyed in. It's almost like when you were a kid and going to the IMAX Theater was the pinnacle of all things – now I have that in my house and can experience it every day with family, friends, or by myself – it is quite literally the best feeling in the world.
Anything else you want to share with the SVS community?
If you are on the fence about whether or not SVS is the subwoofer or speaker brand you want to try – I can promise you, you will not regret it. I have never come across a company that stands behind their products as strongly as SVS does – much less that has a CEO willing to come around to demo their products and answer your questions no matter if you are a customer yet or not. Bottom line is – SVS is a home audio company whose customer service, products, and sound quality are superior and light years ahead of the competition.
Browse Other SVS Featured Systems.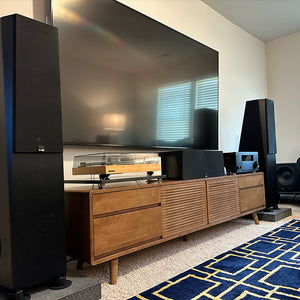 SVS Featured Home Theater: Dan C. from Cornelia, GA
Dan from Cornelia, GA Audio shows are the single best way t...
Read More