Featured Home Theater System: Nick B. in Grootebroek, Netherlands
Nick

in Grootebroek, Netherlands

Representing the first featured SVS home theater system in Europe, Nick B. has had an interest in audio from early on after being handed down some HiFi equipment from his dad. His system evolved over time, but after auditioning a PB-4000 at his local audio dealer, Media Electronics in Belgium, Nick knew there was no better subwoofer for his system. In fact, he loved it so much, he went with duals and added an Ultra Center channel speaker to reap the benefits of its 3-way design.
The Setup:
LG Oled65e8
JBL LS80 front speaker
Klipsch RP-250S
Anthem MRX 720 reciever
McIntosh mc452
Xbox One X
Audioquest Oak 3m speaker cable
Supra ply 3.4 S (center & surround)
Atlas Mavros Grun interlink
Supra Power Cables (subwoofers)
Audioquest Tornado Power Cable (Anthem & Mcintosh)
Questions And Answers:
When did you first start getting into high performance audio and home theater?
My love for audio comes from my father who always was busy with music and audio. I started audio when I was 15 years old using old receivers and speakers from my dad. Later on, I started buying them myself and every time, I upgraded it in some manor to get more output and better sound quality..
How did you first hear about SVS?
I heard about SVS for the first time when I was watching YouTube videos like I do often. All the videos made me interested in how they would sound in real life, so I made an appointment with a local audio shop to get a demo. From that moment, I was sold and bought dual PB-4000 subwoofers.
Why did you go with dual subwoofers?
I choose to go with dual subs because I didn't get a flat bass response that was true throughout the whole listening area. The duals really gave the room-filling low frequency output I was looking for.
What was the impact of adding SVS subwoofers?
The impact of adding dual PB-4000s was just shocking. I never thought bass could sound like this! But now I know I never want to have anything else.
You chose to add an Ultra Center speaker with your towers, why did you decide that?
I chose the Ultra center channel because I wasn't getting the sound that I wanted from my previous center channel. It didn't present a wide enough soundstage and dialogue clarity was lacking. No more! I am loving the 3-way speaker design of the Ultra Center channel. It just nails it for home theater!
What are some demos you like to use for showing off your system?
My number one movies to show off my system are Godzilla & Ready Player One because of the great surround sound effects and massive bass. When it comes to music, I like to play songs from Bob Dylan, Fleetwood Mac, Yello and Supertramp.
Why is having an immersive home audio system important to you?
Having a good audio system/home theater is important to me because I just love hearing great quality sound. And because you can hear every little realistic detail in music and movies. It makes it so much more enjoyable.
Browse Other SVS Featured Systems.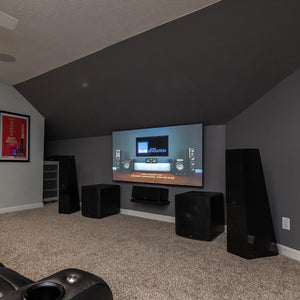 SVS Featured Home Theater: Kyle H. from Madison, MS
Kyle from Madison, MS Kyle from Mississippi has been on a j...
Read More