Featured Home Theater System: Rob in Englewood, CO
Rob

in Englewood, CO

Serious audio and home theater fans are often susceptible to bouts of upgradeitis, or a constant desire to add something bigger, more powerful, or newer in their quest for the ultimate home entertainment experience. Fortunately for Rob from Englewood, CO, his journey to AV nirvana ended recently after he brought home an SVS Ultra 7.2.2 home theater system. Anchored by two of the mammoth new PB16-Ultra subwoofers with a supporting cast of four Ultra Tower Speakers, four Ultra Surround speakers and an Ultra Center speaker, Rob has discovered the cure to upgradeitis.
The Setup:
Denon AVR-4520ci 4k
Denon DBT-3313udci
Direct TV 4K
Samsung un78hu9000f 78" 4K LCD TV
Fractal design Node 605 Home Theater PC 4K
Xbox One S 4K
Theater seating
Amazon Echo Dot
Questions And Answers:
How did you find out about SVS and what made you want to upgrade?
It was really just a case of floating around the internet and seeing so many different reviews and forum comments with people raving about the SVS speakers and subwoofers. I felt like my existing system was lacking impact and not delivering what I wanted, so I took a leap of faith and bought the entire SVS system at once.
Why did you decide to go with dual PB16-Ultra Subwoofers?
I didn't at first. I bought a pair of SB13-Ultra subwoofers with the rest of my system about two weeks before the 16-Ultras launched. When I learned about them, I called ready to whine, but talked to Gary and Ed and learned my purchase fell within the 45-day trial period, so I just returned them and paid the difference for the 16-Ultras. No hassle at all. I was sub-less for about a month, but I have no doubt I made the right decision and never regretted it for a second.
What was the impact of replacing your previous set-up with the SVS Ultra speakers and subwoofers?
The sound of the speakers is noticeably tighter and more accurate, and it's a much cleaner sound than I've ever heard before. I've never really experienced "disappearing" speakers before, but the Ultras reveal everything and get out of the way so you almost forget they are speakers you're listening too. There were a lot of settings on the Denon AVR I had to adjust to get the sound of the JBLs to be decent, but with the SVS Ultras, I turned them all off because you could hear all the degradation to the signal from the settings adjustments that were helping the JBLs. That's how accurate the Ultras are. You hear everything.
One thing that surprised me about the subwoofers was how useful the app was. I never really understood what parametric EQ was or how adjusting the different DSP settings could benefit performance and the app taught me about all those things. It's very educational. Bending over behind the back of a subwoofer to turn a knob and figure out what sounds best was always a pain. Now, I can just sit on my couch and try different adjustments until I find what sounds best and it makes me appreciate the subwoofer that much more.
Any great audio moments you can recall form your listening sessions?
There's a scene from the Twilight Series, Breaking Dawn, Part 2 where the ground opens up and the PB16-Ultras actually made it feel like the ground was opening up in my living room. I can remember my grandkids gripping the armrests and looking terrified because it was so realistic. There's also a plane crash scene in Flight of the Phoenix that I specifically bought the movie for, just to demo with the subwoofers. All I can say is that there were things shaking on the walls in my kitchen three rooms away, and that was at a medium volume. My house was built in 1906, and if I put them at 0, I'm pretty sure the plaster would come crumbling down.
Besides movies, I listen to every kind of music too, from classic rock and Spanish music to jazz, classical and even the most recent Pitbull (which has incredible bass). The bass from the 16-Ultra subwoofers for music is like nothing I've ever experienced before. Besides moving my couch with the sheer force, it's just so well defined and you feel every single note, but it doesn't take over the sound. It's hard to describe but everything just takes on more life.
Anything else you'd like to share with the SVS community?
I absolutely love every part of my system, it is my baby. Other people have their cars or other collections. My babies are the audio system. I'm 46 and finally have what I've always been looking for.
Browse Other SVS Featured Systems.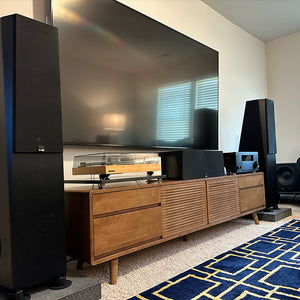 SVS Featured Home Theater: Dan C. from Cornelia, GA
Dan from Cornelia, GA Audio shows are the single best way t...
Read More