SVS Featured Home Theater System: Lee from Houston, Texas
Lee

from Houston, TX

Upgrading to dual subwoofers is something many home theater owners aspire to for smoother bass response throughout the room and greater overall headroom, and Lee from Texas is no exception. As an owner of the ported cabinet PB13-Ultra subwoofer, which is now retired, he was in a quandary about what to pair it with. Fortunately, the advanced DSP and subwoofer app control on the PB-4000 subwoofer made incorporating a second ported subwoofer seamless, while achieving all the goals he had sonically. Now, his system hits harder than ever and every moment spent gaming, watching movies or listening to music becomes a breathtaking experience.
The Setup:
Front L&R: Paradigm Reference Studio 60 v5 tower speakers
Center: Paradigm Reference Studio CC-590 v5 center channel speaker
Surrounds: Paradigm Reference Studio ADP-590 v5 surround speakers
In ceiling/Atmos: Martin Logan IC6 (x4) height effect speakers
TV: LG OLED 65C7P
AVR: Marantz SR-6013
Amp: B&K Reference 200.7
Panasonic DP-UB820 4K Blu Ray player
Panamax MS 5300-PM
AT&T U-verse receiver
Xbox One X
PlayStation 4 Pro
Nintendo Switch
Multiple retro consoles
LIFX WiFi recessed bulb (x4)
Questions And Answers:
When and why did I get into high performance audio?
Growing up I've always loved music, so when I was able to go to my older sibling's houses I was able to hear their records and my tapes on their systems. I could sit there for hours. Not only that, I carried a Walkman with me everywhere I went. While in college I bought my first Pioneer rack system in 1993 after hearing a friend's 2-channel stereo system playing Doom. I hooked up everything I had to the rack system: VCR, Super Nintendo, and Sega Genesis/CD. Surround sound changed everything! Games, movies, cable tv all in surround sound. I was hooked! I went down the rabbit hole and I now have the system I have today.
What was the impact from adding your first PB13-Ultra sub? How did it change after adding the PB-4000?
The PB13-Ultra replaced a Velodyne HGS 15 that had died, so it had some big shoes to fill. Once broken in, the PB13 beat the Velodyne in low frequency dynamics and impact, especially regarding movies and gaming. I felt and heard things I never had before. Musically, the Velodyne won here because it was sealed and servo controlled. The PB13 was no slouch though; it gave me about 90% of the musical performance of the Velodyne. I was definitely happy with the trade-off of low end volume and dynamics versus musicality.
Recently I added the PB-4000, and that's when everything changed. Dual subs has always been a dream of mine, so when I saw the deal I couldn't pass it up. Once both of them were dialed in, bass filled and at times pressurized the room. You can't localize the low frequencies; the bass is clean, accurate and has massive impact and depth. Musically, I heard the same benefits. Turning the volume up it sounded like I was at a concert. The bass hit hard, was clean and clear, and had good transient response. Everything came through, whether it was a subtle bass note to double kick drums. My favorite music genres are rock, rap, blues and country/Texas country and all came through flawlessly.
How was the process of blending two subs together?
My PB13-Ultra subwoofer is unique because it has the Sledge amp from 2015, so output wise, it closely matches the PB-4000. Setup and calibration were pretty straightforward. I'm an old school guy, so I did it the old school way. I calibrated both using Digital Video Essentials and an analog SPL meter. I calibrated each sub individually, so with both subs on I was getting 77 dB and that gives me some leeway with volume through the AVR.
Also, once you use the app for the PB-4000, it's hard to go back. It's so easy to make adjustments and not have to go to the back of the sub. The only thing that would've made it better is having two of them.
Why is having an immersive home theater experience important to me?
To have a system capable of suspending your disbeliefs and immersing you in movies, gaming or music is so engaging and satisfying. Recently I finished playing The Last Of Us 2; the audio and video presentation are top notch. The sound effects and spatial separation were awesome. Loud thunderstorms, gunshots, environmental sounds, and music all came through with such clarity, it felt like I was there with Ellie. Ultimately that's it. I want to feel like I'm there. Hearing audio through headphones, tv speakers or a sound bar just isn't the same.
What were the greatest challenges when setting up your system?
About 10 years ago I lost my entire home theater system, except for my PB13 subwoofer. Putting it all back together took about 9 years. So, I'd say the biggest challenge was patience to not try to buy it all at once. Waiting actually allowed me to make wise choices regarding the sound quality, power and new tech that I wanted.
Anything else you'd like to share with the SVS community?
The journey to building a home theater is never ending. I can think of multiple upgrades to improve the performance of my system. Ultimately, enjoy the ride because that's part of the overall experience.
It's great to have access to forums, groups and the good people at SVS to help along the way. My experience with SVS was exceptional. They're friendly, patient and provide customer service that's second to none.
Browse Other SVS Featured Systems.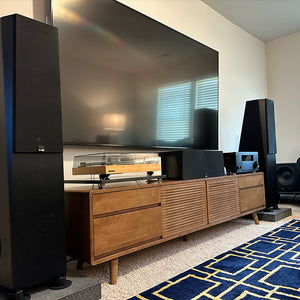 SVS Featured Home Theater: Dan C. from Cornelia, GA
Dan from Cornelia, GA Audio shows are the single best way t...
Read More