SVS Featured Classroom: Jeremy B. from Shaker Heights, OH
Jeremy B.

from Shaker Heights OH

Keeping students engaged is always one of the great challenges for educators, and Jeremy B. from our home state of Ohio is no exception. As the science department chair of Shaker Middle School, he's a huge proponent of using music create connections with students and inspire learning. After using a smaller home-theater-in-a-box for many years, he recently upgraded his classroom with an SVS Prime 5.1 surround sound speaker system with an SB-3000 subwoofer. The effect was better focus, deeper relationships with the students, and a more immersive curriculum during multimedia presentations.
The Setup:
AVR-S750H 7.2-Channel 4K AV Receiver
LG 32UD59-B 32" 16:9 4K UHD
FreeSync LCD Monitor
Epson X39 Projector
2020 M1 Mac Mini
12TB external HD
Roon (music server)
Questions And Answers:
Tell us about your role at Shaker Middle School?
At Shaker Middle School I teach Grade 7 Science, I am the department chair, the Team Innovator Team Leader and the building iTeam member (develop and deliver tech professional learning to the staff). I also serve as the Legal Aid Chair for the Shaker Heights Teachers' Association. I was a student in the school growing up many years ago.
How is the system being used in your classroom?
My audio system is used primarily to play music during class. I have found that having music playing while students are working collaboratively makes the environment much more conducive to learning. It helps build relationships as they often hear me playing music that they hear at home. Music is truly something that universally binds us and thus helps me build deeper relationships with the students. The audio system is also used for movies, making them much more engaging.
How has immersive audio helped engage students towards your curriculum?
Studies have shown that having music playing while students take assessments increases their achievement. I have found that when I play music, the students are more relaxed and engaged, and at the end of the day, their achievement is increased. My previous system was very much under-powered for the room and just very old. It played music, but it did not envelope you like the SVS does. It truly is a difference of night and day.
Can you share any stories about how the speaker system in your classroom has affected/influenced specific students in a fun or serious way?
One year I had a group of students who loved "Fire on the Mountain". By the end of the year, they could fairly accurately guess what year the "Fire" they were listening to was from. Their favorite was late 80's, which I will agree with. They loved to hear the music that was inspiration for much of the music that is out there today. The most common thing they say is "my dad plays this music at home" - so apparently their families have great taste in music as well.
Why is having a great speaker system important to you?
Especially nowadays, I am looking for the things that bring people together, and music is one of those things. The more we can focus on our similarities and not our differences, the better our world will be. By playing a wide variety of music, it helps me build relationships with the students and helps the students build relationships with each other. And it just makes things more fun!
Anything else you'd like to share with the SVS community?
I am very appreciative that SVS recognizes both the hard work Educators put in and the important role music plays in the lives of people. It is a fantastic relationship to have with them and I feel very fortunate that they are as forward-thinking as they are. They are a part of the solution in bringing people together.
Browse Other SVS Featured Systems.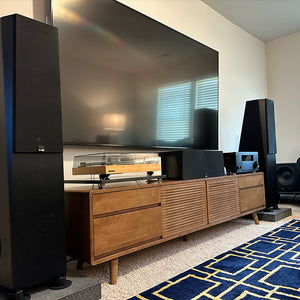 SVS Featured Home Theater: Dan C. from Cornelia, GA
Dan from Cornelia, GA Audio shows are the single best way t...
Read More