SVS Featured Home Theater: Dan C. from Cornelia, GA
Dan

from Cornelia, GA

Audio shows are the single best way to experience a broad range of gear at all different prices, while building connections in the process. Dan from Geogia, channeled his passion for HiFi and home theater into volunteer work with T.H.E. Show, which lead him to discover SVS. After sampling gear from dozens of different brands, he built his dream home theater with SVS Ultra Speakers, sealed subwoofers, and SoundPath Cables to connect it all. He also went all out with isolation and sound treatment, hauling 150 lb blocks of granite up to his second floor to use as a base for his Ultra Tower speakers.

Check out his interview for insights on how subwoofers elevate an entire system's performance, whether cable quality matters, why audio shows are important for the industry, and more.
The Setup:
Xbox Series X
Hyperkin RetroN 5
Panasonic DP-UB9000P1K UHD Blu-ray Player
Fluance RT85 Turntable
Fluance PA10 Phono Preamp
Oroton 2M Blue Cartridge
Wiim Pro Plus
Home Made Granite Isolation Platforms (Speakers and Turntable)
Pangea Audio Vulcan X Floor Stands (Subs)
Questions And Answers:
When/why did you first start getting into high performance audio/home theater?
After exiting my first company - I started looking for hobbies, I happened upon McIntosh audio components and completely fell in love with Hi-Fi.
Tell us about some of the special features of your system?
My room is already quite non reflective – Carpet, Rugs, Couches, Pillows, Bookcases for Sound Diffraction. I also focus a lot on isolation because the theater is on the 2nd Floor of the house, and I use heavy Isolation stands to help with that. Probably more extreme than most, but I made 150 Pound, 3" thick granite plates to go under the front L+R Speakers and spiked them directly with stainless steel spikes through the carpet into the subfloor.
To be more specific, it's the speaker, then a thin layer of rubber, then the SVS SoundPath Isolation Syste, then the Granite, then a thin layer of rubber, then the stainless spike. The turntable is similar setup, but the granite plate is only 20 pounds.
For my TV, the bias light is the MediaLight Pro 2 ISF calibrated the same as they use in Hollywood colorist suites. And the TV is ISF calibrated down to sub 1 errors. The calibration was 10 point ISF calibrated by Charles at Cineatune AV.
What was the impact of upgrading to SVS speakers and subwoofers vs. what you had previously?
SVS marked my first time moving into home theater, before that I was all ultra high-end Hi-Fi and soundbars for anything TV/Theater. I was shocked at the price to performance ratio of all SVS gear after hearing it at an audio show. Specifically, when using the SVS Prime Pinnacle speakers, they are by far the best speaker for the money I have listened to in a very long time. I can't say enough good things about them.
Why are bass/subwoofers important for home theater?
It's cliché to say, but I'll say it, Bass is the foundation of your sound whether it's theater or music. That said it's very true, poor sound pressure is what makes your equipment sound thin or tinny. It affects everything even the sound of your midrange. Adding subwoofers to your home theater is the single most efficient way to elevate your system. It adds the true foundation to your experience. Building that bass is more important than any amp upgrade you'll do. In fact, you'll add power to your system and take stress of your amp by adding sub(s).
Why was it important for you to have quality cabling and connections?
Quality cables are the single most effective way to take guess work and annoyance out of your system. A poor connection sounds bad, yes, but also makes you want to pull your hair out constantly having to diagnose when something doesn't sound right.
The SVS SoundPath Ultra collection of cables are built well and are reliable, the connectors are fantastic and maintain a solid connection with no interference. I have had cables from $20-$15,000 and the SVS SoundPath exceeds everything in its price range and punches way above. There is only one cable in my entire theater that isn't SVS and that's the 20-foot fiber HDMI that was needed to connect the screen to the AVR.
You're also a volunteer/organizer of T.H.E. Show, what inspired your involvement?
First off Emiko and Maurice (T.H.E. Show Owners) are incredible people. Funny enough, I kind of self-invited myself into the staff of THE Show through lots of conversations about my experience in Hi-Fi and past business dealings, because I thought I could bring value to THE Show. After a while I was invited to join the staff. It has brought me closer to the industry and has allowed me to make more connections to this hobby. As they say, the squeaky wheel gets the grease. I was noisy enough till I got noticed, but I can honestly say I have never had a closer Hi-Fi Family than with staff and influencers of THE Show.
Why are audio shows important for our industry?
There is no single opportunity to sample more of the industry than at a show. Name one other hobby that you can go to an event and meet everyone from top to the bottom. From the Owner, Designer, Distributors, Dealer to the Physical Product all in one place of 50+ Companies. Shows allow you to grow in your understanding more than any other audio experience. It allows you to do this hobby, rather than just view the hobby. No matter if you can afford it or not. The good thing about SVS supporting audio shows is that they have price points for everyone.
Why is having an immersive home theater important for you?
This answer is short and simple: To connect with the industry as a whole and rediscover myself in the art, music, and movies that I love all over again.
Anything else you'd like to promote or share with the SVS community?
This is only the first system with SVS that I'm sharing with everyone, there are 2 more on the way; showing how to mix amazing single driver speakers with subwoofers and even super tweeters that I can't wait to share. So, circle back.
Browse Other SVS Featured Systems.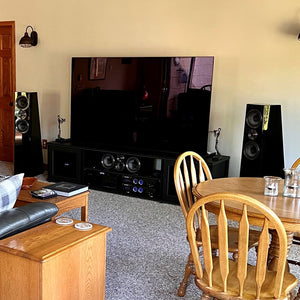 SVS Featured Home Theater System | Mike E. from Calumet, MI
Mike from Calumet, MI As a former music teacher, Mike E. fr...
Read More