SVS Featured Home Theater: Dustin from Greenville, SC
Dustin

from Greenville, SC

Sim-style racing is a hyper-realistic version of gaming that involves incredibly accurate representations of track conditions, vehicle wear and tear and other elements that go far beyond the typical arcade style racing games. In this featured SVS system, Navy veteran Dustin from South Carolina talks about how an SVS SB-2000 Pro subwoofer brought physical energy to his rig that didn't exist before. Not only did it make the whole experience more immersive, but it also helped him sense how close other vehicles were, thus improving his play. Read on to learn about his system and experience with Sim racing.
The Setup:
Denon AVR-S760H audio receiver running dual zones. 1 To Rig computer and 1 to Desk.
ELAC Debut 2.0 B6.2 Bookshelf Speakers in behind rig
KEF Q150B Q150 Bookshelf Speakers behind desk.
Rig Monitor – Ultrawide Curved - 49" Odyssey Neo G9 Gaming DQHD Quantum Mini-LED Monitor
Desktop Monitor – GSYNC gaming TV - LG 48" Class C1 Series OLED 4K - OLED48C1PUB
Custom built gaming PC
Custom built 3" aluminum profile chassis to reduce flex and connect all racing equipment.
Fiberglass Bucket Seat
Fanatec CSL DD 8Nm steering wheel base(DD is Direct Drive technology)
Fanatec CSL V3 pedals with load cell brake
Fanatec Steering wheel. I have various but my go to is the Clubsport RS steering wheel.
Fanatec Clubsport shifter
Questions And Answers:
When did you first get into gaming and high-performance audio?
I have been into gaming from a very young age. I would say in the early 90s I can remember playing the original NES and Atari with my uncles. High-performance audio is a new venture for me and I am learning more about every day. It's been an awesome experience so far but frustrating at times.
Can you tell us about the events that led up to building this new system?
Here is South Carolina we aren't accustomed to snowstorms. I had left my house to get food to prepare for a 6-inch snowstorm we had, and my house caught fire while I was at the store :/. The fire originated in the kitchen, and it is believed that a stove malfunction started it. The house structure itself made it through the fire however it was completely gutted and is in the process of being rebuilt. I also lost all my personal belongs including all my PC and audio equipment.
How did you learn about SVS?
I did months of research and learned that SVS has great customer service and is a veteran founded company (6-year Navy vet myself). I also did a fair amount of research, and various reviews before making my decision.
What led to your decision to order an SVS subwoofer?
The product gave a great value for the money.
What has been the impact of adding the SVS subwoofer?
I mostly added this subwoofer for immersion in my Sim racing "iracing". The ability to hear and feel the rumble physically on your body adds a whole new experience. It also helps sense how close the other cars get.
Tell us about your experience with Sim Racing? How are you involved and what should people know?
Sim racing is not arcade style racing. It is very rewarding, but it can be very penalizing at the same time. The Sim simulates real track conditions (via physical track scans of the track surfaces). It also simulates tire wear/performance (how you drive the car effects the longevity and performance). It's a bit more involved than arcade style because the sim does an awesome job at simulating contact/damage with other driver(cars) and the racetrack environment. It's hyper-realistic in a way that's as close to real driving as you can get.
Why is having a high-performance sound and racing/gaming system important to you?
I really do enjoy the immersion the product provides either it be in gaming or general entertainment use. The sub simply outperforms my expectations.
Anything else you'd like to promote or share with the SVS community?
I do spend a lot of my time when not working in the Stock Car racing world (I make it out to 12 races or so a year myself). I have a dear friend that is racing (Driver) televised NASCAR ARCA races. He is a great individual always willing to help out our community. Here's his twitter feed if people would like to follow him. Jon T Garrett - @Jont66
Browse Other SVS Featured Systems.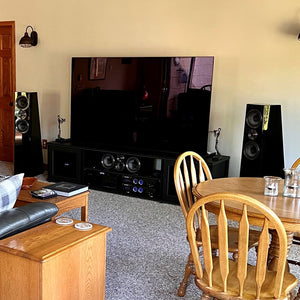 SVS Featured Home Theater System | Mike E. from Calumet, MI
Mike from Calumet, MI As a former music teacher, Mike E. fr...
Read More