SVS Featured Home Theater System: Barrett from Calgary, Alberta - Canada
Barrett W.

from Calgary, Alberta - Canada

Many home theater fans find an interest in audio after tinkering with technology and taking things apart as youngsters, like SVS speaker owner, Barrett from Calgary, Alberta - Canada. With a system that doesn't fit the "traditional" concept of a surround sound home theater, including three Ultra Tower speakers making up the front LCR and Prime Pinnacle tower speakers as rear surrounds, it's clear every decision had a purpose as he explains below. Now, his home theater renders what could be considered a near spiritual experience getting, "immersed in the art of it all."

Barrett also runs the "SpecofTech" YouTube channel and Instagram where he shares reviews, system setup tips, and other AV fun. Check them out here:
The Setup:
Samsung QLED Q6FN 75" TV
Klipsch AW-650 Front left and right ATMOS speakers
Klipsch AW-400 rear left and right ATMOS speakers
Denon AVR-X4400H AVR
Tonewinner AD-7300PA 7 channel amp powering all floor speakers
Tonewinner AD5180 5 Channel Amp
Panamax MR-5100 power conditioner
Panasonic DP-UB820 4K Blu Ray Player
Xbox One X console
Xbox Elite Series 2 controller
Xbox 360 console
Funk Audio LFE24 Ultra
Harbottle Audio C24
Valencia Pisa leather power recliners
1 Valencia Verona leather power recliner
3 AC Infinity USB Thermostats
6 AC Infinity S2 USB Fans
Cable raceway system
Vivid Neoprene roll cable management
All 12 gauge speaker wire
Questions And Answers:
When/why did you first start getting into high-performance audio?
As a child and in my teen years I just had a fascination with taking apart electronics. My dad would find old unwanted electronics for me to dismantle. This transitioned to an appreciation for all things electronic and an affinity for audio and video. I bought my first Kenwood separates system when I was 16. The tower speakers had 12" woofers and I sat about 3 feet away from them. I am surprised my ears still work. After that. I have always had some sort of audio system ever since, and when I bought my first home, I had to build a home theater.
What was the impact of upgrading to Ultra Tower speakers over your previous system?
I was running a full Klipsch RP setup before the SVS Ultras. The SVS Ultras definitely take the 2-channel stereo listening experience to the next level with rich mids and powerful bass even without a subwoofer. Don't get me wrong I liked the look of the Klipsch speakers, but there is just something about the SVS Ultras that makes you want to stare ;)! Even in a home theater setup with subwoofers, you will benefit from the rich mids, that seem to just fill in the sound to make it sound more full and thick.
Why go with Prime Pinnacle speakers as surrounds?
I wanted to try not only the Ultra Towers, but the Pinnacles as well, using them as a rear surround gave me an excuse to get both lol. I have also become accustomed to using tower speakers for my rear surrounds, because of my non-dedicated room and how it is set up. The fact that they would be a closer acoustic match with the Ultra towers was the third and final reason.
Why did you choose the Ultra Tower speaker for a center channel?
I have become a believer of using an identical speaker tower as my center speaker. Even when I had my Klipsch setup I was using a third RP8000F as a center. Ever since I switched, I am sold on the sound. Horizontally designed center speakers are a fantastic choice especially if your setup doesn't really allow for a third center, and they can sound great, but a third tower is perfectly matched. The seamless pans of sounds in gaming and movies really is worth the extra cost of using a third tower, in my opinion. The fact that my tower is just as capable in all regards as my left and right speakers adds even more so to the value. The icing on the top, it has a beautiful aesthetic appeal to have 3 absolutely stunning badass speakers staring at you when sitting in the theater room lol.
What were the biggest challenges when setting up your home theater?
One of the biggest issues was coming to terms that I don't have an ideal room and I will just have to accept it. Of course, having a dedicated perfectly rectangular room, with everything placed exactly where it should be is the best case scenario. A lot of us, I venture to say most of us, don't have that ideal room. We just deal with what we have and do our best to build a system that offers an amazing experience that we are happy with, despite it having some shortcomings. I have learned to just accept that my system and room aren't perfect, but with the right equipment and placement, it sure does kick some major butt! I do upgrade often, but I constantly remind myself not to sweat the small things and just enjoy what I have built. Even if you are chasing perfection, make sure to enjoy the journey and have fun along the way.
Any recommendations for movie or music demos to show off a system?
I tend to get caught up always looking for bass reference material, I sometimes forget that the rest of the system needs time to shine. One movie I feel really came to life with the SVS Ultra speaker is a movie that a lot of guys use for bass reference too. The movie is Bladerunner 2049. This movie does have some fantastic LFE, but it also has very rich mids, which gives the SVS Ultras some time to flex their prowess. It is hard to pick just any one song to demo with the SVS Ultras, because they truly to have a fantastic 2 channel experience. I would say...listen to your whole collection again lol. If I had to choose 1 song in particular, it would be Adele's Hello. This song just seemed to draw me in a little more with the Ultra towers, it was like an intimate performance.
Why is having a high performance audio system important to you?
Now we are going to get deep, bring the tissues haha, jk. I have always just had a connection to audio, there is just something about it that I love. I suppose I enjoy getting lost in it all, whether it's a movie, a video game or music. I just love being able to just calm my mind and get completely immersed by the art of it all. I like to allow myself to just feel it. Music has always been a passion, and it can and will affect my mood. Regarding movies and gaming, it is all about the fun of it. If I am going to be entertained by a movie or game, I want it to feel like it is really happening in my room. When an explosion hits, if my room isn't completely immersed in sound and rattling bass, I'm doing it wrong lol. Sorry, I got a bit long winded here, to sum it up, I want my audio setup to take me on a journey of emotion and immersion, every time I turn it on.
Anything else you'd like to share with the SVS community?
I just want to wish all the ladies and gents in this crazy fun hobby all the best and make sure to enjoy your system, enjoy the journey and have fun. The current world situation is a perfect time to be involved in the audio and home theater hobby. Let's spread the word and be kind to one another.
Browse Other SVS Featured Systems.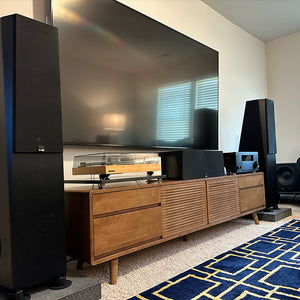 SVS Featured Home Theater: Dan C. from Cornelia, GA
Dan from Cornelia, GA Audio shows are the single best way t...
Read More