SVS Featured Home Theater System: Don L. in Ft. Lauderdale, FL
Don L.

from Ft. Lauderdale, FL

After his compact 5.1 speaker system stopped performing; music lover and bassist Don L. from Florida began researching options to create multiple distinct listening experiences in his converted garage. A trip to his local retailers revealed the SVS Prime Wireless Powered Speakers, which checked all the boxes of being compact and self-powered with amazing sound.

Soon, Don sought speakers for his TV zone and went back for a second SVS Prime Wireless Speaker System along with dual SVS SB-2000 Pro subwoofers to fill the low end. The results have been jaw-dropping. With guidance from the SVS Sound Experts, he added a 4-channel mixer and now uses the DTS Play-Fi app to have all four speakers playing simultaneously.

After creating the ultimate listening sweet spot, Don declared, "I feel like I've really stumbled onto something here. It's like nothing I've ever heard and I'm not sure what else you could want from a system."

Check out his unique setup and story below.
The Setup:
ROLLS MX42 - 4 Channel Passive Mixer w/ RCA Inputs
Digital Audio Workstation (DAW) - Focusrite Scarlette
DAW Sound Blaster Audigy FX/ Mixer/Equalizer via computer for I-tunes, Spotify, YouTube etc.
Questions And Answers:
Tell us about your space and what you were trying to achieve?
The room is a converted single car garage measuring 11'× 20' with an 8.5' ceiling. I created three different rooms in this one area. The north wall is for tv viewing, with seating on the west wall. The south wall for computer/office/ music/DAW, and storage. The east wall for the bass guitar collection section. The room is like a puzzle.
You wouldn't know that behind the Pink Floyd mural is a laundry room and there are 200 vinyl albums and a 3 ft tall portable air conditioner in this music room as well. Last year, after my Bose surround sound system stopped working, I did a lot of research trying figure out what system could fit in my existing space.
What challenges did you have to overcome when setting up the system?
My problem was my seating is not center. My desktop and speakers are above my head when on the couch, the back computer wall was a concern for bass muddiness from a speaker's back port. It's just not an ideal layout for a speaker system to sound correct. The previous surround sound system worked but it was not ideal with this arrangement.
I had drawn out measurements for speaker placement for four different seating positions. I went to speak to a salesman about what I was trying to accomplish, and he said I wouldn't find a system to satisfy all my seating positions, I would have to choose one, or change the room. I spent 2 months trying to figure out what would work best.
How did you discover SVS?
At that same store, I noticed the SVS Prime Wireless Speakers. I liked the look and size of the speakers, and I liked the fact that they were self-powered. My last AV receiver added too much heat in the room and took more space and not to mention the wired connections.
I had read on your site about the Prime speakers sounding great on their own but adding a sub would just turn the sound experience up a few notches. Wasn't a hard sell. Bass players need more bass, not more cow bell!! But again adding another bass cabinet to the already many bass guitar cabinets in the room was something I didn't want to do, not to mention lack of space.
So after more measurements, I did decide on the Prime Wireless speakers for my computer and an SB-2000 Pro Sub that would fit perfectly in the existing space. But then, before I purchased the system I read that two subs, one in opposite corners of the room would be even more ideal.
At the time of my old system dying, I planned on adding a sound bar for my TV. Since I decided to incorporate a second sub I decided to purchase another pair of Prime Speakers for the TV. At this point, in short, the subwoofers and speakers turned out to be the perfect size and have the perfect look for the room.
As you can see in the pictures, it was as if the dual system were part of the design of the room from the very beginning. It too fit like a puzzle. Beyond perfect! The sub is centered under the TV and the other sub is to the left of the bass guitar. Such a big sound from an almost invisible system.
What were your impressions after the upgrade from your previous system?
This four speaker, two subwoofer system not only has addressed my initial four seating positions, but "ANYWHERE" you sit in the room, you're always in the sweet spot!! I still need to contact the salesman from the store I visited to let him know.
As I mentioned to Ed from SVS, I don't think anyone at SVS knows how exceptional this dual system sounds in a single room application. Again, beyond perfect. The volume control on the app takes the triangle equation completely out of the equation!!
How did you get the four Prime Wireless Speakers dialed in the way you wanted?
I didn't intend to use all the speakers simultaneously at first but the SVS team suggested I get a 4-channel mixer so I could control the volume for each discretely and use either system in room any way I want. With the Play-Fi app, I am able to play any connected source through all four speakers, and with the subwoofers, it's like the system is on steroids.
The effect has been nothing short of amazing. Having music come from two stereo setups on either side of the room has effectively turned the room into a giant pair of headphones with the added benefit of feeling the bass and sound with more impact. Literally, no matter where you sit or stand, it sounds like you're in the sweet spot. I've literally laid on the floor to listen and was amazed how good it still sounds.
I know typically it's supposed to be an equilateral triangle of sound where the left/right stereo speakers angle towards the listening area. In my experience, this four speaker quadrophonic setup has been so much more effective. I don't even need to have the speakers at the same level since the dispersion of each system is so perfectly balanced in the room.
As a bassist, I have a musical ear and I can say without a hint of exaggeration that this system has brought everything to a whole new level. I feel like I've stumbled onto something not many people get to experience. It's like nothing I've ever heard and I'm not sure what else you could want from a system.
The previous system sounded alright, but it was basically all treble. I had people over the house who walked around the room and sat in the various spots playing audio from my computer, a 3.5mm input, or the TV and their reaction was like they were seeing a magic trick. It's so easy to control from anywhere and just sounds incredible. I compare it to the popular Van Gough art exhibit where the whole theme is like you're inside the painting. This is like that. You walk in and can't believe what you're hearing, like you're inside the recording.
How has the system helped with making music?
I also have a Digital Audio Workstation (DAW) for my bass guitar and recording music. I listen to everything through the system to really figure out the bass parts. Even at low levels, playing my bass guitar through the SVS subwoofer sounds better than many other bass amps I've heard. The sub frequency warms up the room and plays so accurately and tightly, I feel like I'm hearing exactly what I need to, with the right tonality and scale to be able to master the bass perfectly.

People also come over and will connect via the 3.5 mm input to play their own music. As I balance out the speaker levels, it's like a hearing a magic trick they way it syncs up perfectly.
Anything else you'd like to share with the SVS community?
One of the most shocking things is just how discrete the whole setup is. This system is so invisible, yet you would think you're listening to a PA system at a concert. Amazing that you don't see it. Like you're walking into a musical. I just can't believe the sound coming from speakers that size. Sharp looking and compact, you would think the room was built specifically for this system.
I will also state how convenient the SVS subwoofer app has made every part of managing the subs. It basically eliminated the need for the crawl technique and there's never been an easier way to adjust the levels. Some recordings need more or less bass and the app just makes that so simple.
Browse Other SVS Featured Systems.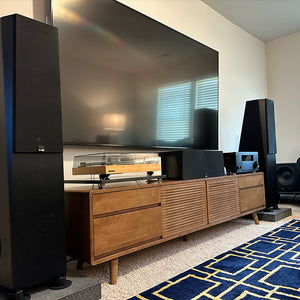 SVS Featured Home Theater: Dan C. from Cornelia, GA
Dan from Cornelia, GA Audio shows are the single best way t...
Read More