SVS Featured Home Theater System: Doug M. from Denver, CO
Doug M.

from San Denver, CO

Getting robbed is never a pleasant experience, but after his bookshelf speakers and subwoofer were stolen from his garage during a home renovation, Doug M. from Colorado used the unfortunate incident as an opportunity to upgrade. Working with a tough basement space, he invested in dual SB-4000 subwoofers, Prime Elevation speakers, Ultra Surrounds, and acoustic treatments as part of the upgrade.

After taming some of the acoustic issues and dialing it in, "The experience went from awesome to flat out incredible... to the point now where we don't even consider visiting the cinema again."
The Setup:
4x RSL C34e Atmos in-ceiling speakers
GIK Acoustics room treatments
Emotiva XPA3 amplifier for LCR channels
Denon X4500H AVR
Samsung 4K Blu Ray player
LG 83" C1 OLED television
Umik-1 Mini DSP for room measurement
Questions And Answers:
When/why did you first get into high performance audio and home theater?
The Matrix had just come out, I think it was 1999. I was into action movies like most 9th graders but the Matrix blew my mind. I walked out of the movie theater thinking it was the greatest thing I've ever seen or heard. Later that year I was at a department store with my mum and I wandered off into the home theater demo room. The guy played me the lobby shootout on a Yamaha 5.1 system and that was the moment I knew this was going to be a lifelong thing for me. We ended up getting that system for Christmas with the Matrix being the first DVD we ever owned, and my mates and I had a lot of fun pumping it as loud as possible (much to the chagrin of my parents).
Looking back, the included Yamaha sub was rather dreadful but being the first sub I'd ever heard in a living room, I thought it was incredible! That system and that movie kicked off my passion for home theater and to this day it's still my favorite film.
What was the impact of upgrading to SVS vs. your previous system?
My previous system was an SVS 5.1 setup with SVS Ultra Bookshelf speakers, Ultra Center, SB13 and Prime Elevations as the rear channels. The speakers and sub got stolen from our garage during our house renovation in 2020, which was a sad day because I loved that sub and adored those Ultra Bookshelf speakers. As part of the house build, I went all-out and built a dedicated room in the basement with sound isolated walls and ceiling, and I went bigger this time with a 7.3.4 setup.
I got a good deal on a replacement SB13 and upgraded it with the new amplifier SVS offers, and got 2x new SB4000's. The Dolby Atmos speakers really envelop you and provide an extra element I never had with a "regular" system but the most noticeable change is having three subs instead of one. The experience went from awesome to flat out incredible... to the point now where we don't even consider visiting the cinema again. So, I'll just have to buy lots of 4K discs to do my bit for the movie industry!
Why is bass important to home theater and how have the SVS subwoofer delivered?
If you don't have at least one sub, you just don't get that movie theater experience, it's that simple. I got a taste with my previous system and took the plunge adding more subs this time around. I'm really glad I did because the results are incredible across so many different types of content. I'll often find myself taking a break over lunch and looking through Qobuz for the beefiest symphony and classical tracks I can find, to test out the sub's capabilities and enjoy the different types of bass (rather than just movie explosions, which I also love). I previously never got into that kind of music, but with a system like this it makes it so much more of an experience that you find yourself getting into the music in ways you didn't before.
Tell us about your placement of the Prime Elevations and how they helped with optimizing surround sound?
I previously used the Prime Elevations as surround channels in my 5.1 system, mounted high and angling down given my viewing couch was right on the wall. Finding a spot for them in this new room wasn't as easy, as I have a very low ceiling and to put them up high would have clashed with the in-ceiling Atmos speakers. I also upgraded to Ultra Surrounds for the surrounds, which are mounted at ear level at each end of the room per Dolby spec.
During the build I had people telling me to forget about installing rear surrounds because the room was just too small and they would be too close to the listeners ears. I just couldn't not use them though, so I went ahead and ignored that advice and mounted them at ear level as the rear surrounds behind our seats, but angling upwards, to complete the 7-channel setup. Probably not the way most people would mount them, but they work really well in my small room and I've had no problems at all with localization or any other issues. They are a very versatile little speaker!
What was the greatest challenge you faced when setting up your system?
The double-drywalled sealed walls, low ceiling and open ended small-room design presented an acoustic challenge where sound would really bounce around like crazy. I could tell the speakers and subs should have been sounding a lot better. So I worked with GIK acoustics to add room treatments and also installed a mass loaded vinyl curtain to close off the room when we needed to, and it was a real game-changer.
Tell us about those bass traps and room treatments, what purpose do they serve?
I'm no acoustics expert but from the issues I was hearing, and the research I did, I knew I could optimize the subs and speaker performance and help them realize their true potential by improving the room acoustics. The wall panels treat "first reflection" points from the Ultra Towers and Ultra Center while the massive, thick bass traps in the rear and front corners made an incredible difference to the depth, quality and tightness of the bass I was hearing.
I worked with SVS to tune the subs using REW and my Umik and after all this was done, I'd eradicated the big peaks, troughs and reverb issues I was experiencing, and I'd say the whole setup sounded at least 50% better. I now have proper "chest pump" no matter where you are sitting, and balanced sub output across the different octaves you'll hear in any one movie. If you want to get even more out of your sub and speaker setup, it's definitely worth having a look at wall and corner treatments.
Why is having a home theater important to you?
For me, equipping a room in my own home to enjoy movies and music with maximum impact has always been a dream, and I'm grateful I now have the means to be able to build something like this and enjoy it with my wife and kids. It was important for us to build something the family will enjoy for years to come and I'm glad to say my wife has been pleasantly surprised with the results, even if she was skeptical at first at the idea of dedicating a room to it. I think it's healthy to pursue your passions and SVS certainly helps me do that!
Anything else you'd like to share with the SVS community?
I think that genuine customer service and enthusiast help is hard to come by these days and we are lucky to have a company like SVS who do both of these things much better than the competition. So I'd just say let's continue to support SVS by purchasing their products and sharing our setups! Other than that, I hope my room and system design is helpful for others looking to create a hard-hitting home theater in a small room.
Browse Other SVS Featured Systems.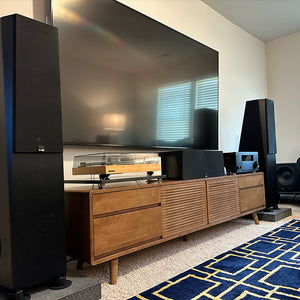 SVS Featured Home Theater: Dan C. from Cornelia, GA
Dan from Cornelia, GA Audio shows are the single best way t...
Read More