SVS Featured Home Theater System: Fred in Pennsylvania
Fred

from Pennsylvania

Paying homage to his favorite video games and pop culture, Fred from PA decked out his bedroom with both a multi-channel home theater and a two-channel desktop system comprised of SVS Ultra speakers and a PB13-Ultra subwoofer. Now, game time and movie time have taken on a new life with stunningly realistic impact and clarity.
The Setup:
Marantz SR0710 AV Receiver
AC Infinty Fans T8
Monolith 5 channel amp
LG c9 65-inch OLED
Questions And Answers:
When/why did you first start getting into high-performance audio and home theater?
When I first got Onkyo home theater in a box 5.1 system and it just went on from there.
How did you discover SVS?
I always saw Klipsch speakers and SVS subwoofers together on audio fourms so I started researching SVS and saw reviews on the PB13-Ultra Subwoofer. Eventually, I bought one and was blown away!!!
What was the impact of upgrading to an all SVS speaker/subwoofer systems vs. what you had before?
Coming from my home-theater-in-a-box 5.1 and a Klipsch system and upgrading to SVS, was just a massive upgrade all around. From the looks, to the dynamics, the clarity, and the bass. Everything was just so much better and next level.
What are some of your favorite audio experiences you've had with the system?
I was playing Hitman Blood Money on the PC and I literally felt a shotgun impact on my back. Like there was real kick back. It just makes me smile and shake my head all the time, like holy crap! lol
Tell us a little about your room décor and what inspired it? Favorite item?
I love collecting figure toys, statues etc. Ultimately, I'm still a big kid when it comes to toys and stuff. :D
Why is having a home theater important to you?
I just don't understand why you WOULDN'T want to have an awesome system. TV, gaming, music etc without a home theater just isn't fun.
Anything else you'd like to share with the SVS community?
Just enjoy your home theater, it's supposed to make everything more fun and upgrade little by little if you can.
Browse Other SVS Featured Systems.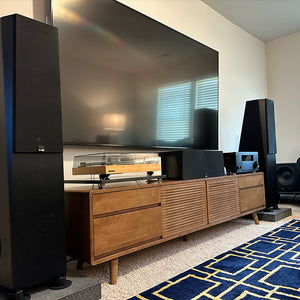 SVS Featured Home Theater: Dan C. from Cornelia, GA
Dan from Cornelia, GA Audio shows are the single best way t...
Read More