SVS Featured Home Theater System: Keith B. from Dublin, Ohio
Keith B.

from Dublin, Ohio

Keith B. from our home state of Ohio is a U.S. army veteran who started his pursuit of great sound while stationed overseas in Korea over 20 years ago. Fast forward to the present and amid a COVID-19 lockdown, he decided to tune into one of the first SVS Virtual Audiophile Happy Hour live streams to see what the community was talking about. To his great delight, he was chosen at random as the winner of a new SVS PB-2000 Pro subwoofer for leaving a comment during the broadcast. The timing could not have been better as he was in the midst of planning a home theater upgrade and the prize subwoofer served as the catalyst for him to complete his SVS upgrade. Now, with a 5.2 Ultra and Prime speaker system anchored by dual PB-2000 Pro subwoofers, sitting at home has never sounded better.
The Setup:
1 Denon AVR-X4500H receiver
2 - 24 inch Pangea speaker stands
2 - 36 inch Pangea speaker stands
Questions And Answers:
When did you first start getting into high performance audio?
I have always been into music but stereo systems started with my dad. My Dad was in the Army and he bought his entire stereo system piece by piece when he was stationed in Germany. He bought the best of each piece and made a system. Name brands such as Sansui, Teac and Pioneer.
I also went into the Army and he told me not to by any stereo equipment until I served overseas because that's where all of the different name brands were sold. So I bought my system piece by piece when I was in Korea. I was big on good sound also but what always moved me was deep bass. I had a Pioneer VSX-D901S receiver and a Kenwood GE-1100 equalizer that drove my (2) 12in Cerwin Vega speakers, 2 Bose 401's and 2 Bose 101 surround speakers. I bought my system in 1993 and it lasted for 20 plus years.
How did you first discover SVS?
It was time for a serious upgrade so I started doing extensive research watching all kinds of YouTube videos and reading reviews on everything. I wanted to make sure that I was going to get top of the line quality that would handle whatever I threw at it and something that would last for years!
One day I came across a random video about a SVS sub. I had never heard of SVS but the reviews were all 5 stars and the comments were all positive. Then I started seeing SVS vs every and any brand and SVS would be the one that was picked. I researched all of the different SVS subs and the PB-2000 pro was the most popular one with crazy reviews. I never had a subwoofer in my home so I had to do my homework. My Cerwin Vega speakers were nice but they don't come anywhere close to my dual PB-2000 Pros! Then I started watching videos about all of the different speakers that SVS made. Again, nothing but great reviews. That's when I made my decision that my entire speaker system would be SVS!
What was the impact of upgrading to an all SVS speaker/subwoofer system?
These dual PB-2000 Pro's have me going back and listening to all kinds of old songs because now I hear deep bass lines that I didn't know existed in the songs. I now have an Ultra Center, the Ultra Bookshelves as my two fronts, the Prime Bookshelves as my surrounds in the rear and of course the two PB-2000 Pros which rock the apartment. Even at low volume the bass is so deep and totally knocks! I made sure to get the Isolation feet for both subs just so to be a bit more neighborly. The Soundpath speaker cables are also some of the best on the market. I ordered a buddy one for his subwoofer because he had this cheap cord connected to it and it kept making feedback noises. No more issues!
Why is having a high performance home theater important to you?
This pandemic has made sitting at home heaven for me because I get to listen to songs and hear bass in certain songs that I've never heard before. Not to mention the clarity from all of the Ultras and the Primes. Having a good sound system/home theater is very important because I have to hear my music at a high quality. Being able to hear the highs of all of the singers, instruments, sound effects and all of the lows in music and movies is what life is about! I couldn't live without it!
Anything else you'd like to share with the SVS community?
I encourage anyone who is looking for a great sound system that's beautifully built and even looks good without the grills on to purchase any SVS product. You won't be disappointed.
Browse Other SVS Featured Systems.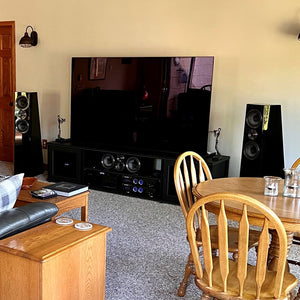 SVS Featured Home Theater System | Mike E. from Calumet, MI
Mike from Calumet, MI As a former music teacher, Mike E. fr...
Read More