SVS Featured Home Theater System: Lance in Rustburg, VA
Lance

from Rustburg, VA

Lance from Virginia started his path to better sound with a big-box store 5.1 satellite speaker system. It didn't take long for him to realize that today's cinematic blockbusters deserved something better to fully convey all the head-turning action, jaw-dropping dynamics and subterranean bass. After some initial research, he with an over-the-top SVS Ultra Speaker and dual PB16-Ultra subwoofer 7.2.4 home theater speaker system, complete with Prime Elevations for Dolby Atmos height effects. The upgrade opened his eyes (and ears) to what was possible, resulting in the, "ultimate version of what my system could be." That is, until he decides to add another subwoofer or two.
The Setup:
2 RSL CG23 rear surrounds
Denon X4400H
Emotiva 5175
Panasonic UB820
Panamax M5300
Apple TV
Roku Ultra
Oppo BDP-203 Ultra HD Blu-ray Player
Amazon Fire Cube
Epson 5040UB
Harmony Elite with hub
Questions And Answers:
When and why did you first start getting into high performance home theater and audio?
I started getting into just recently (January 2019). Started with some home-theater-in-a-box solutions but realized I could do a lot better while staying within my budget. I have little patience so as you can see...it didn't take long. Lol
What was the impact of adding dual SVS Subwoofers? Why did you go with the ported cabinet models?
The dual subwoofers made a huge difference. I started with one PB16 (went all the way to the top right off the bat) and went with the second very quickly. I'm the type of person who like to go big so there's no chance of regret and didn't want to get one of the smaller subs and always wonder what I was missing. I like the ported models because of the extra output and my system is mainly used for home theater. All I can say, is the sonic force of these subwoofers is unlike anything I've heard and felt before, but it always surprises me how subtle and clean the bass can be as well. It's like the best of both worlds.
How has the addition of SVS Ultra and Prime Elevation speakers changed your home theater experience?
The Ultra speakers added a tremendous amount to the soundstage. I started with the Ultra bookshelf speakers as my front Left & Right and just recently moved them to my side surrounds and purchased the Ultra Towers. They are amazing!! It's like being right there in the middle of the movie, I can't even describe how realistic it is, totally transports me to whatever I'm watching. Especially since I started with a small satellite system from another company, when I upgraded to the SVS Ultras it was like having my eyes opened! I'm now re-watching every movie over again because the system is so good at representing every detail with full impact, and there's just so much I missed out on with the smaller system.
Why did you add room treatments? Did you design/install yourself and what was the process like?
My room had a very bad echo. I installed the room treatments myself after watching a video from "That Home Theater Dude" on YouTube. Some people do not think that acoustic foam can make a difference but this foam is 4" thick and makes a world of difference. It tightened up everything! It's absolutely true what they say, your room is one of the most important parts of your system.
What are some of your all-time favorite movie or music audio experiences?
Mad Max: Fury Road
Ready Player One
Blade runner 2049
John Wick
Why is having a high performance home theater important to you?
I've wanted a home theater since I was a kid. I had a Kenwood home theater in a box when I lived at home. I use it every day and watch movies with my family on the weekends. This is the ultimate version of my theater. I am very happy with it (as of right now) lol. You are never done with it though are you??
Anything else you'd like to promote or share with the SVS community?
Huge fan of this company! The products, the sound and the service are unsurpassed!
Browse Other SVS Featured Systems.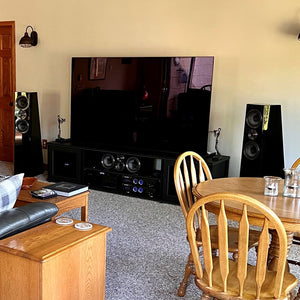 SVS Featured Home Theater System | Mike E. from Calumet, MI
Mike from Calumet, MI As a former music teacher, Mike E. fr...
Read More