SVS Featured Home Theater System: Steve L. from San Ramon, CA
Steve L.

from San Ramon, CA

Vaulted ceiling can create challenges when setting up a home theater, especially when it comes to hiding cables and optimizing for Dolby Atmos speakers and subwoofer bass. Fortunately, Steve from San Ramos, CA had the SVS Sound Experts support team on his side when setting up his system, and he made all the right decisions. The result, a stunning 5.2.4 Dolby Atmos home theater surround sound system with no cables showing and performance that made Steve proclaim, "It was the best decision I ever made."
The Setup:
Definitive Technology D-11 Rear Speakers
Pioneer Lx701 AVR
Roku 4k Streaming Box
Apple 4k Tv Streaming Box
Oppo 203 4k Bluray Player
Techniques Sl2 Turntable
Lg 77 Inch Oled 4k Hdr Dolby Vision Tv
Bluesound Node 2 Hi-res Music Player
Xfinity 4k Cable Box And Hi-Speed Router
BDI Cabinet
Questions And Answers:
When and why did you first start getting into high performance audio/home theater?
I first started with stereo equipment bought at Navy Exchange (PX) 1974 and have been improving on my systems ever since. My first real home theater came together in the early 90's. I have been involved with music my entire life, singing, and playing since 1965. So as time and finances got better, so did equipment. Really improved home theater in 2004 when we bought my current house.
What was the biggest challenge you had to overcome when setting up your system?
The biggest challenge was hiding all the speaker wiring for this house since we originally used Rocketfish for back and surround speakers. This house has vaulted ceiling and slab floor and a fireplace dead center of the room.
I hate seeing wires and I wasn't happy with Rocketfish so I got real creative with hard wiring and went outside the house to do all wiring to AVR and accessed a small area over the kitchen to get rear subwoofer and rear speakers connected to the AVR from outside.
Then when Dolby Atmos came out, I did the same for front heights speakers and luckily there was a ledge to sit them on. When you aim them downward, they are top heavy and couldn't use their brackets, So this being earthquake country I placed them on a bed of earthquake putty to keep them from falling over. The rear Dolby Atmos were easily installed on the walls.
What impact did adding an SVS subwoofer have on your experience?
By adding dual SVS PB 1000, it really enhanced my theater experience. I have always liked dual subs and started out with Velodynes because of their small footprint but wasn't happy with them bottoming out in some movies, so I remeasured the room and when I put them diagonally across from each other I could go bigger and deeper.
I chose the PB1000 because of their reviews and size. They were the largest I could get to fit. Sounded awesome right out of box. After listening to them with my DefTech bp60's something was missing because them being bipolar, they really don't match well. Too much bass and it was sloppy, mushy, and not refined. So did some more homework on SVS and found that SVS Pinnacles would work. I took a chance and bought them with a matched center channel. Best decision I ever made!
How did the SVS Prime Elevation speakers help you solve issues with speaker placement?
The SVS Prime Elevations were the only solution to obtain Atmos presentation. My ceiling is 20-foot high and vaulted, there's no space to mount unless I want to tear up ceiling for wires and that was not an option. So, I was able mount them is different places and then let the room correction take over.
I want to personally thank Ed Mullen from the SVS Tech Support team for his assistance with this. I wear bilateral hearing aids and I was able to overcome some technical glitches to achieve the best sound. Especially with the SVS subs and Prime Elevations.
Why is having a great home theater/speaker system important to you?
Having great sound in my house is important to my wife and I. She is being a classically trained pianist and understands the importance of good sound. So, I have her permission when we buy our next house, it will be all SVS again and with a dedicated home theater.
Any recommendations for amazing movie, music or TV audio demos?
My personal recommendations for movies would be a long list. Star Trek, all 3 of the movies with Chris Pine. Iron Man, all 3 of them, and really all of Marvel series. Batman with Heath Ledger as the Joker. Passengers with Jennifer Lawrence and Chris Pratt.
The first Jurassic Park. For just a few. For music, Hans Zimmer live in Prague, incredible performance on Blu-ray with Dolby Atmos. I use APPLE MUSIC on iTunes, they probably have the best music in Dolby Atmos. I play it through Apple Tv Box and it's called Spatial.
Anything else you'd like to share with the SVS community?
There may be better speakers and better subwoofers out there, but for my dollar there is none better than SVS. They are a complete store and they back what the sell with their Customer Service. My only fault with them is there is nowhere local to listen to them, no stores, or sound rooms. Maybe with Covid lifting that will change. If there are perspective buyers, I can back all my critiques should you want to contact me or visit. I would welcome you.
Browse Other SVS Featured Systems.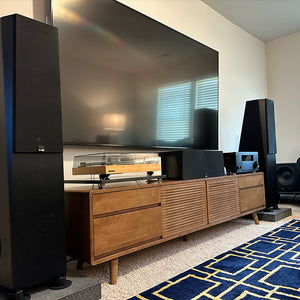 SVS Featured Home Theater: Dan C. from Cornelia, GA
Dan from Cornelia, GA Audio shows are the single best way t...
Read More