DJ Skee, Producer/DJ, Founder of Dash Radio
When you unwrap all the layers, the name DJ SKEE can be misleading -- he is so much more than just an entertainer. Since coming onto the scene just under a decade ago, DJ SKEE has built a media empire around music and can be heard daily on the streaming music service he founded (Dash Radio), seen performing at the biggest events across the world, or found in the studio scoring movies and video games or remixing today's biggest artists. In his spare time, DJ SKEE also runs a record label, a production company, and a marketing agency, owns a retail store chain, and is an active philanthropist.
Through all his experiences, many involving audio, DJ SKEE has acquired a taste for great sound. He regularly talks about how the music industry needs to change, but also about how there is so much great music emerging and how there are opportunities for people to experience excellent sound that have never been available before. When he wanted to upgrade the audio systems in his radio station and personal office with SVS, we were happy to be a part.
DJ SKEE also took time out of his insanely busy schedule to answer a few questions about his personal views on radio, audio and what he's been up to recently. Check out the interview below…
Questions And Answers:
What was your and the team's reaction after adding SVS to the Skee TV / Dash Radio offices?
I was blown away. I hate to admit it, but our office was just running Bluetooth speakers, so the sound obviously made me realize what we were missing. Just as important though was the aesthetic. I didn't want our newly remodeled modern office to just have some generic looking speakers that felt out of place. The design and look of SVS blended in naturally to create an incredible experience all the way around.
How has SVS impacted your appreciation of high performance audio?
I'm a music nerd and feel so bad I listened another way for so long at my work. I now preach the product to everyone and am getting it installed at my house.
Working in the music industry, what do you think about the potential of hi-res audio streaming and downloads?
I love it. With Dash Radio, we already are higher quality than traditional radio & satellite services and look forward to the future of hi-res once bandwidth speeds over mobile catch up- which is really soon.
Music consumption is at an all-time high. Why do you think it's become such a big part of today's culture ? What's changing?
Music is the soundtrack for your life. It represents so much and can change your mood, inspire you to be great, and provide needed relaxation. Because of technology, the accessibility to it is greater than ever before which leads to why music consumption is at an all-time high.
What do you think about the notion that younger music fans don't care about sound quality?
I think many just don't know. Poor choices, low streaming, etc. When other options are available, they will go for them.
What would you tell one of your listeners that doesn't know much about audio but wants a great sound experience?
Come to my office and listen! haha
Any new projects you're working on that the world should know about?
Skee TV on Fuse & Dash Radio are all I'm focused on right now!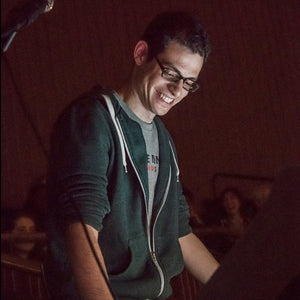 SVS Featured Producer: Ben Bloomberg, Co-Founder, Advanced Sonic Alert Technologies