Featured Home Theater System: Conrad in Chicago, IL
Conrad

in Chicago, IL

A long-time owner of SVS going back to the days of our discontinued 20-39CS subwoofers, when Conrad from Chicago, IL upgraded his house, it also meant a serious upgrade to his home theater. Even without a dedicated, closed-off space, he created a stellar looking and sounding Dolby Atmos 5.2.2 set-up using a mix of floorstanding and in-ceiling speakers anchored by dual SB13-Ultra Subwoofers. Now, when movie time rolls around, his whole family gets to feel the action with much more intensity.
The Setup:
Focal 726v Tower Speakers
Focal cc700 Center Speaker
Definitive Technology DI 6.5S Surround Speakers
Definitive Technology DI 5.5R for Atmos Speakers
Denon x6200W Receiver
Epson 5030ub Projector
Screen Innovations Zero Edge Black Diamond 1.4 gain with LED kit
Media: Store all my Blu-rays on a 21TB NAS using Kodi as my frontend
Lutron Caseta Lighting Control
GIK Accoustics 242 Wall Treatment Panels
Logitech Harmony Ultimate Home Remote
Questions And Answers:
Have you always been into audio? Why did you get into it?
I started a little over 10 years ago. I've always wanted to have my own home theater. A home theater to me always meant a dedicated and sealed off room. As much as I would have loved to have a dedicated room, I just couldn't make it happen. I slowly started building up a room that would eventually turn into my media room. Over the span of the next four years, I upgraded equipment, added lighting, changed window treatments and painted. Now I have something that I could not have imagined. My wife was skeptical at first, but it turned out so well, that my wife loves it as much as I do.
What's your favorite content to show off your system?
Although quite violent, the club scene in John Wick. The combination of Dolby Atmos and LFE is just amazing. I crank the receiver to -10 and watch/listen to magic happen. I can pretty much play any movie and the SB3-Ultras Ultras will always put a smile on my face.
What effects did adding SVS subwoofers have on your system's performance and the overall experience?
I've always been a fan of SVS. I started with dual SVS 20-39CS over a decade ago. They were great when we were in our small town house. After moving to our single family home, the dual 20-39CS just couldn't pressurize the media room anymore. We have an open concept type house and our media room is 15x12x9 which opens up to another 5454 cubic feet of space. The dual 20-39CS just couldn't cut it anymore. This is why I decided to upgrade to a pair of SB13-Ultras. Not only did it fit with my media room design because they were relatively small, but it was able to fill all 7074 cubic feet of space. Simply amazing!
Why is having a home theater important to you?
The ability to re-live the movie experience at home. This is also my downtime. My daytime job can be quite stressful. I can just sit back, relax and enjoy a movie or TV series.
Anything else you want to share with the SVS community?
SVS has solid products and is a great company. I've been a happy customer since 2002 and will continue to be for many more years.
Browse Other SVS Featured Systems.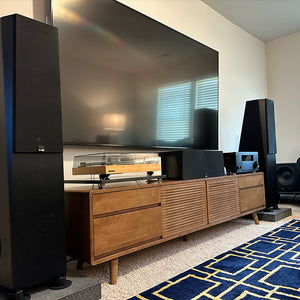 SVS Featured Home Theater: Dan C. from Cornelia, GA
Dan from Cornelia, GA Audio shows are the single best way t...
Read More