Featured Home Theater System: Chad S. in Denver, CO
Chad

in Denver, CO

The latest SVS featured home theater owner is all about progress. Starting with an 8-inch, 35-watt subwoofer and boombox, Chad from Colorado has since graduated to dual 1500-watt PB13-Ultra subwoofers and a full-on 7.2.4 home theater system complete with Dolby Atmos speakers for height effects, 135-inch screen and acoustic treatments, and has what many would consider a dream set-up. But he's not done yet!

Already enjoying a level of chest-thumping, seat-rumbling bass impact he never thought possible, Chad now has his targets set on two PB16-Ultra subwoofers for a quad-subwoofer set-up that may actually require him to install seatbelts to keep friends and family from being blown away!
The Setup:
Front – Klipsch RF-7 II
Center – Klipsch RC-64 II
Side Surround – Klipsch – RP-240S
Rear Surround – Klipsch – R-2650C II
Height – Klipsch – R-2650C II
Projector – Epson 5040UB
Silver Ticket – 135" Screen
AVR – Marantz SR6011
2ch AMP – Marantz MM7025
HD Blu-Ray – Panasonic DMP-UB900
Questions And Answers:
When did you first start getting into audio and home theater? Why?
It was probably around 8th Grade that I started getting into audio. I bought my first subwoofer an Aiwa powered subwoofer to go with my Aiwa boombox at the time. Looking back, it was an 8" Woofer with a whopping 35W RMS. Ever since then I have always appreciated a quality sounding stereo and what goes into making it all work and sound great. I would say I started getting into home theater within the past 10 years or so. I always hated the sound that came from your standard TV speakers so I was always tinkering with different equipment and trying to improve the experience of the movie and TV watching experience.
What was the process for building your home theater? Did you put it together all at once or over time?
This current setup is my second go at a home theater/entertainment space build. Both times I was lucky enough to be able to do most of it at once. During each build I tried to think of the things I could not change easily once construction was complete. Such as dedicated electrical for the Projector, Subwoofers (20amp), and an audio rack. Realizing I would never win the soundproofing war, I at least took extra steps to add insulation everywhere I could and using dampening material on all of the ductwork in the walls and ceiling.
My first theater in our former house was a 5.3 setup in a space around 16'Wx18'D. This current build is much larger, bigger and better. The "theater" area is about 20'Wx30'D and the overall space is about 45'W x 35'D. I learned from the first build that this time I wanted Dolby Atmos height effects speakers. This current build is 7.2.4 – (I am wired for 4 subwoofers but only currently using two.) I really like the look of floor standing speakers up front, the presence, size and look add to the experience in my opinion. The rest of the room we went for a pretty clean look as I did not want speakers mounted all over the place. The side surrounds are surface mounted and the Atmos and rear surround speakers are in the ceiling. I think it turned out great. All the electronic equipment terminates in a closet and is controlled by a Harmony Ultimate Remote/Hub setup.
For the most part it is complete but I do plan to add additional wall treatments over time and eventually upgrade the projector to a true 4k projector once it makes sense to do so. I also have goals of upgrading the front Subwoofers to SVS PB16-Ultras and move the current PB13 Ultras to the dedicated spots behind the bar. THEN it will be complete!
How did you hear about SVS subwoofers?
Through my hours and hours of research online and pouring through countless threads and forums online. But really it is what SVS stands for, the warranty, customer service and reputation are huge for me so naturally it kept leading me back to SVS. I also appreciate and the look and design of the subwoofers SVS makes.
What led to your decision to go with dual subwoofers?
With my previous theater I had also wired for 4 subwoofers and at the time I went with some Klipsch subs due to a tighter budget. In that theater I used 3 subwoofers for the first time and recognized the impact of having more than one subwoofer and loved it. This current theater is also wired for 4 subwoofers and I went back and forth with what to get. I knew I wanted SVS Subwoofers but I was torn on how to spend that money. I knew I couldn't go all out and get 4 but I was not getting anything less than 2. Dual subwoofers should be the standard and minimum for any theater in my opinion. Plus, I saved a few bucks by ordering two!
What has the impact been of having dual PB13-Ultra Subwoofers?
Now that I have had some time to dial in the Subwoofers a bit, it's incredible the difference from the 3 200W RMS Klipsch subs in my old theater to these. Every gunshot, explosion, Kong footstep you can feel in your chest and through the seats. These are great subwoofers and I knew I couldn't go wrong with them. While the two is "probably" enough for 95% of the people out there, I cannot wait to add two additional PB16-Ultras up front and move these two directly behind our seating position. It should be amazing! Might need seatbelts :).
Why is having a home theater important to you?
Having a home theater is important to me as it is a place that our family really enjoys spending time together, it's a time to relax and forget about what's going on in our day to day lives. We use our theater to watch everything, not just movies. Football with family, friends and neighbors, or even binge-watching shows on Netflix. My wife was originally against the first theater we built but she fell in love with it! We are so spoiled at home it makes it almost impossible to go to an actual theater to see a movie now.
Anything else you'd like to share with the SVS community?
My experience with SVS has been nothing short of great. I have had phone conversations about planning and setup to the buying experience, delivery, meeting you at tradeshows it's a great group of people. I am looking forward to what you guys come up with next!
Browse Other SVS Featured Systems.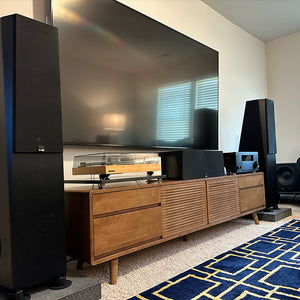 SVS Featured Home Theater: Dan C. from Cornelia, GA
Dan from Cornelia, GA Audio shows are the single best way t...
Read More