Featured Home Theater System: CPL. Steven E. in Denver, CO
CPL. Steven E.

in Denver, CO

U.S. Army veteran CPL. Steven E. served his country honorably with multiple deployments and returned home with 50% hearing loss and other medical conditions that continue to affect his life today. After hearing his story, SVS helped him get set up with a Prime Satellite 5.1 System to enhance dialogue clarity, add sonic impact and to broaden the soundstage so he could better enjoy movie and gaming experiences with his daughter. While "My Little Pony" may not qualify as the next great test track for subwoofers, the SB-1000 and five SVS Prime speakers have been transformative in his listening room by letting him hear things he never heard before.

We're extremely grateful to CPL. Steven E. for his service and proud to tell his story and feature this system.
The Setup:
Yamaha Aventage RX-750 AV Receiver
PlayStation 4 Pro
Xbox One X
Belkin Home Theater Surge Protector
AC Infinity Receiver Temperature Controller
SVS SoundPath Speaker Cable
SVS SoundPath RCA Subwoofer Cable
LG 75SJ8570 TV
Questions And Answers:
What inspired you to join the military in the first place?
I honestly look back on my last 31 years of life on this beautiful Earth and cannot remember a time that I didn't want to contribute and serve my Country. It really hit home when I was about to be a Junior in 2001 when I just happened to be home from school (sick, or at least playing sick) when I watched the planes fly into the World Trade Center live. I knew then, that it was my time to contribute my part to the freedoms we have in the United States. I told my mom, who was against it, as I'm the only boy and have 5 sisters. She respected my decision and supported me every step of the way. Skipping a little, I joined the Army as an Infantry man, 11B, with Airborne School and Air Assault in contract in hopes to become an Army Ranger. I deployed in both Operation Iraqi Freedom and Operation Enduring Freedom where I lead different groups of amazing men and Iraqi Special Forces on missions throughout Baghdad and Sadr City.
How have your medical conditions affected your life?
Both of my knees are ready for reconstructive surgery, I'm over 50 percent deaf in both ears, I suffer from Post Traumatic Stress Disorder (PTSD), I have back problems for which I get injections for and the list continues…. Let me start by saying that yes, my life has been affected greatly since I have seen combat, BUT I am very fortunate to be alive today. I have brothers that NEVER made it back, others who have fallen to the enemy, others who have lost limbs, and one of the hardest ones, brothers who have come back and taken their own lives because they didn't know how to overcome their demons.
I can't go into large crowds without sweating and having to be hypervigilant about every situation. As I sit here and type this my palms are sweating. I'm exhausted 24/7 being super alert and on edge. I have yet to be able to let any person into my life fully because I'm scared of rejection from things I've done, and also the fear of losing people. Physically, I'll go till I'm dead, but emotionally I have been trained to detach myself, and let go because no matter what the mission always continues. I know the military wouldn't like this answer, but it's the life of a combat soldier. I was trained to kill, and I was good at it. I will say that I truly do miss having good hearing though. I love sound, and after being around and involved in IEDs, EFPs, VBIED and incoming fire, it has definitely taken its toll on me.
When and why did you first start getting into high performance audio?
It's crazy how I got into high performance audio. I have very little memory left about my childhood, but I can remember that what I was in 6th grade there was a car audio shop about 3 miles from my house that I would ride my bike down to, so I could mess with all the speakers. I remember this so well because it was when Pioneer first released those single DIN decks that had the dolphins swimming on the display and they were selling for over $800. It was there that I saw two MTX 4500 12-inch subwoofers on mark down for $100 each. I knew I had to have them. The owner was amazing and let me do a layaway, despite me only being like 13. I ended up paying for them after time and I was off with both of them on the frame of my bicycle heading home. I free-aired them for a while just in awe with the mechanics of the speaker, voice coil, spider, and sewn in tinsel leads. Ever since then, I was hooked!
How did you first hear about SVS?
I first heard about SVS a few years ago as I am huge into "feeling" sound, not just hearing (the 'perks' of hearing loss). I heard about this massive, over 100-pound subwoofer and had to investigate myself. It was the PB12, with all its glory. It was something of beauty but out of my price range. Nonetheless, I could dream and watch videos. Next the 13-Ultra came along and now the 16-Ultra. That is the goal that I am working towards. Having the "best" of something would be an amazing feeling, and if anyone says that's too much bass then they can get out of my house, haha.
Why is having a high-performance subwoofer like the SB-1000 important?
After using the SB-1000 for a couple of weeks, I was truly amazed at the level of output a very, very conservatively 300-watt, 12-inch sealed subwoofer put out. It went pretty low during actions scenes and never once did I hear it bottom out or distort. I have it set up in a game room and it totally energizes the space and has upgraded the sound in such a major way.
How has the Prime Satellite 5.1 home theater system impacted your audio experience?
I used to always take sound quality for granted and growing up on the streets in California, it was always who had the loudest, not the cleanest. After my tours overseas and losing the majority of my hearing, I've come to realize that it's not always quantity, its quality, especially when it comes to audio. Appreciation of a company's build, and design play a huge role in how a speaker will produce sound.
I knew what SVS was, but never heard or could afford to go out on a limb and buy their products. Well, it finally happened and now I have the Prime 5.1 system in a "game" room of about 500 sq. ft. And it really shines. In the past month alone, I've ordered the Prime Center, the Prime Bookshelves, about $500 in SoundPath Ultra Speaker wire, and two SB-4000 subwoofers. That should tell you how much the Prime Satellite System opened my eyes and ears!
What have been some of your favorite movies, music and gaming moments since owning the system?
My Little Pony……… my four-year old daughter loves the sound quality, and the depth of bass from the SB-1000 so much that I have to run that movie at least 3 times a day since I got it. I have not gotten into music as much with it, but when I did get some free time I was on Call of Duty WW2, and Ghost Recon on Playstation 4. I'll tell you that 5.1 really shined with Dolby Digital, and I was hearing enemies from their exact locations with perfect clarity and detail. It definitely helped improve my kill/death ratio, haha.
Anything else you'd like to share with the SVS community?
I definitely want to thank the whole team at SVS, especially some of the guys that were in contact with me: Nick Brown, Ed Mullen, and Dan Marks. SVS made me feel like a person, like I'm a "friend" not just a customer with a number on my head. I also want to say that they have been very supportive of this disabled veteran, and I'll be an SVS customer for life!
Life is too short, and most of us take for granted things we are born with, i.e. our five senses. I never really imagined losing over half my hearing, and having to wear hearing aids at 25, but it was the life I chose to pursue (not expecting situations to happen in war like they did). Enjoy your hearing people, go for quality over volume, and once you go SVS you'll never go back!!!!
Browse Other SVS Featured Systems.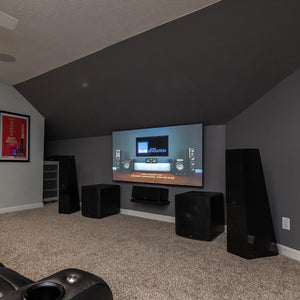 SVS Featured Home Theater: Kyle H. from Madison, MS
Kyle from Madison, MS Kyle from Mississippi has been on a j...
Read More