Featured Home Theater System: Gary, SVS president
Gary,

SVS president

When the first Prime Elevation Speakers came off the assembly line, no one was more excited than SVS president Gary Yacoubian. As an ardent audiophile and home theater enthusiast, Gary had been waiting for the day when he could watch Mad Max: Fury Road and fully maximize his Dolby Atmos®* home theater with Prime Elevation speakers handling the immersive height effects in his all-SVS 7.1.4 set-up.

Like most homeowners, Gary didn't have a perfectly shaped room with ideal spaces for all 11 speakers he wanted to incorporate. Prime Elevation helped him overcome the challenges his room presented resulting in a truly stunning, state-of-the-art home theater experience that even his jaded teenage sons got excited about.
The Setup:
SB16-Ultra (first company working prototype at time of writing)
Denon AVR-7200WA receiver
Sony UHP-H1 Blu-Ray
DirecTV Genie 4K set-top box
Apple TV Gen 4
LG 65EF9500 OLED 4K TV
Mark Levinson No 26 preamp
Mark Levinson No 532H power amp
Linn Sondek LP-12 turntable
Oppo BDP-105 Blu-Ray
Questions And Answers:
What were some of the room placement challenges you encountered when setting the system up?
The room is generally good sounding, but there are challenges with odd walls and part of the room is carved out for a bar and dance floor. I have always had great sounding 5.1 systems, but no real way to create convincing theaters with more channels than that. I had a particularly difficult problem with the height speakers. There was no real room on the side wall for both them and side surround speakers. The left side surround speaker also is a difficult placement, as the door out to the back porch is right there. In fact, I was never able to have side speakers before due to the layout of the room, and that always bugged me because I love this stuff!
How did the Prime Elevation help overcome these challenges?
The right side surround speaker is a Prime Elevation mounted high on a very narrow wall bounding our stairs. It couldn't be mounted at ear level, because a person walking down into the room could knock it off the wall. Here it is mounted high, aiming down at the listener. Literally nothing else would have worked other than a Prime Elevation. The angled baffle also allows me to use the Prime Elevation for the left side surround speaker without the door being a problem.
For the height effects, I decided to mount four Prime Elevations on the ceiling. We generally experience home theater from one sofa, and pull extra chairs up when friends come over. For this reason, the best choice was front and rear height speakers, all angling toward our normal listening positions courtesy of Prime Elevation's angled front baffle. This also allowed me to use the side wall space for side surrounds.
The wall bracket worked phenomenally well for all installations. With some help, I was able to get all the wiring done and all the speakers mounted in under two hours. For the ceiling mount, we anchored the wall bracket with an additional screw so there was no chance the speaker could shake itself off the ceiling. The wall bracket was very easy to use, and took no time to figure out with the helpful mounting bracket guiding the way.
How have the Prime Elevation speakers impacted your home theater experience?
Besides solving all the room placement issues, the best way I can answer this is with a personal story. My wife was out of town and my older son is away at college so it left me and my youngest, Chris, to audition the system. My boys are quite jaded as they have experienced high end home theaters since they were in the cradle, and they know immersive experiences well, as I have taken them to concerts and IMAX theaters their whole lives.
We started with Mad Max: Fury Road and both our jaws dropped. We'd experienced the movie at a professional theater, and in the previous home theater, which was a great 5.1 setup. Chris looked over at me and said, "Wow Dad, you've been doing demos for us our whole lives, but this is totally on another level. Way better than the real movie theater that we saw the movie in when it first came out."
The seamlessness of the effects, which honestly felt like they were occurring at specific points in 3D space was absolutely astonishing, and could only have been created with the solutions we chose. No way could in-ceiling speakers or a ceiling bounce execution have created such a convincing theater experience.
Chris made me take him through most of our familiar movie and concert Blu-Ray demos, and one was more astonishing than the other. We were planning to watch the Nationals game, which was at 8pm, but we lost track of the time and half the game was over when we realized it. Also, got so lost in things that we forgot about dinner and had to settle for a late snack courtesy of Domino's.
I am so pleased with Prime Elevation. I really think this product will make incredible, uncompromised theater experiences available to more people. It is relatively affordable, sounds amazing, and solves pretty much every installation issue and room peculiarity with ease and effortless aplomb. I can say confidently it is the best sounding home theater I have ever had in the room, and we've had some good ones, including a pair of speakers that cost more than the entire system.
Browse Other SVS Featured Systems.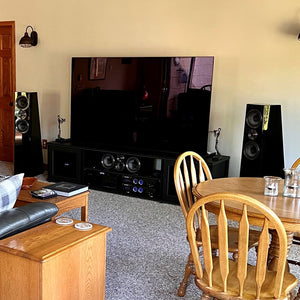 SVS Featured Home Theater System | Mike E. from Calumet, MI
Mike from Calumet, MI As a former music teacher, Mike E. fr...
Read More