Featured Home Theater System: James in Charlotte, NC
James

in Charlotte, NC

You really need to hear and feel a world-class subwoofer to understand the awesomeness it brings to a home audio system. Fortunately, James from Charlotte, NC is a gifted writer and was inspired after receiving his new SVS subwoofer resulting in a superbly eloquent description of how he got into audio and the impact his new SB-4000 subwoofer had on his home theater.
The Setup:
Speakers: L/R front: Polk Audio LSiM 707s
PCenter: Polk Audio LSiM 706
Side/Rear Surrounds: Polk Audio LSiM 703s
Dolby Atmos: ELAC Debut A4s (X4)
TV: Sony Bravia XBR65Z9D
A/V: Pioneer Elite SC-97
Amplifier: Emotiva XPA2 ( LF/RF)
Amplifier: Emotiva XPA3 (Center Nd side surrounds)
Blu ray player: Oppo UDP-203
Power Management: Panamax M5300-PM
Questions And Answers:
When did you first become interested in home audio and sound quality? Why?
I was born and raised on the Allegany Indian Reservation. We had little in the way of modern conveniences. Our only contact with the outside world was a small movie theater in a nearby town off of the Rez. It was there that I was first exposed to the wonders of sight and sound provided by the film industry. We never had a television so my initial experience with "in home" entertainment was my first year in University after I had returned home from serving my country overseas, within the College Union Center where they had a color TV.
I was always profoundly engaged in the medium and the magic of the box. It wasn't until 35 years later that I purchased my own unit and was able to enjoy the sight and sound of over the air entertainment in my home. I worked for the Eastman Kodak Company for 35 years as an image scientist. As a result, I was very involved in image quality, and the attributes that created the magic of film and movies from a vision perspective. But I was also aware that the story telling of a movie was impacted not only by what you saw, but also but what you heard and how you heard it. From the sound effects to the movie score, the experience was directly impacted by the partnership of sight and sound.
Approximately 10 years ago I was looking to upgrade my television. I went to a high-end audio store and it was there that I was first exposed to an acoustically treated room and how music came alive and sounds were heard in such a different environment. That was the initial time I knew there was more to creating an experience that moved your soul as opposed to simply turning on the TV and watching a movie.
How did you hear about SVS?
As my financial portrait evolved, and some spare change allowed, I began assembling the components that would create a home theater. I acoustically treated my room with absorption panels, bass traps, and diffusion panels. It was during the research required through exhaustive reading and pouring through reviews that the name SVS was first exposed to me. Although I might be researching A/V receivers, or speakers, or acoustic treatment materials, SVS kept being mentioned as being the Nirvana of subwoofer components. The accolades were of such high praise that I automatically assumed that being touted as the very best, they would certainly be out of my price range.
What lead to your decision to choose the SB-4000 (and any other SVS products you have)?
Many years went by, and my system grew, the room became more acoustically sound, and while I was very pleased with the experience, it seemed as though something was missing. All the articles I read, and all the YouTube videos I watched all endorsed the importance of the bass frequencies. And from the videos I watched, nearly every one of them demonstrated the impact that the SVS subwoofer family had upon the viewing experience. With that as the Holy Grail, I finally gave myself permission to treat myself to the SVS subwoofer family.
My choice was the SVS SB-4000. It was listed as the newest line in the SVS subwoofer family of speakers, and though I am no expert on the elements of sound, I was impressed by the reviews. I chose the SB-4000 because my heart told me that I prefer tight, musical bass to loud, muddy, pounding bass. I rarely listen to music, preferring the medium of movie watching. And although most reviews lauded the PB-4000 as the home movie theater preference, I considered the size of my room and my tendency towards tight, impactful bass, and with fingers crossed, chose the SB-4000.
What was the impact of the SB-4000 subwoofer on your home theater system?
After ordering the unit, my excitement was palpable, and I could hardly contain myself waiting for the delivery. Upon receiving the unit I was immediately impressed with the quality, the craftsmanship, and the solid state of the unit. What I was not prepared for was the transcendent impact that single component had on my whole system.
Not only was the SB-4000 a masterclass subwoofer, that single piece of my composite system created a sound and transportation and suspension of reality in movie viewing as to give the sensation I had purchased an entirely new system, from top to bottom. Movies now seemed as though I was seeing them for the first time. The added low frequency range opened up the entire range of sound and musicality as to envelope me into the movie as opposed to merely watching it.
I heard sounds I had never heard before, and others in such a different way than ever presented. Even the silent passages were seemingly so silent it would take my breath away. It is impossible in the English language to relate the impact the SVS SB-4000 has had upon my entertainment experience, or to the enjoyment to my life in general. I find it increasingly difficult to extract myself from my theater, wanting more and more of such a profound experience all elevated and impacted by the inclusion of the SVS component.
I would be remiss if I did not add that beyond the quality and impact of the unit itself, is the transcendent experience of interacting with the skilled, professional, knowledgeable, and thoughtful employees of SVS. Every single person that I interacted with by phone or email was a joy to speak with, a transcendent emissary of the SVS brand, and individuals who unyieldingly placed the welfare of the customer above all else. There are very few companies whose customer service can match or even come near to the quality and standards to which the employees of SVS hold themselves, and as such, act as advocates for the SVS brand and company itself. I guarantee that any customer who has ever or should in the future have business with the SVS people have and will find the experience equal to and if possible, better than the SVS components themselves, to which I suggest and attest there are no equals.
Why is having a high-performance audio system important to you?
Having always enjoyed the entertainment industry and the engagement in a terrific movie, I can only feel so very blessed that I have the opportunity to have created my own home theater. It provides me a haven from an often chaotic world, and an experience that transports me to places I will never visit and experiences I will never engage in my real life. It is a very important component to the quality of my life, and never more so now that the SVS subwoofer has opened up an entire universe of new experiences to me, enjoyed in a way I could have never thought possible. It provides truly "wow" moments, can send chills up your spine, and leave you speechless at what you have just witnessed, heard, and saw from some truly great artists we are privileged to experience.
Anything ese you'd like to share with the SVS community?
I cannot endorse SVS enough or adequately. And I would encourage any person looking to upgrade their system or create a new one from scratch, to include in their choice of components, any SVS product available. You will not only not be disappointed, you will be transported to another world in the most beneficial way possible, and in a way you have never dreamed of.
Browse Other SVS Featured Systems.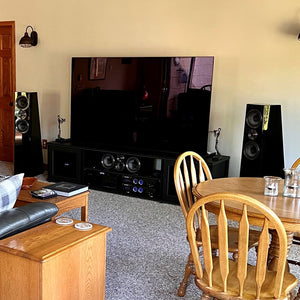 SVS Featured Home Theater System | Mike E. from Calumet, MI
Mike from Calumet, MI As a former music teacher, Mike E. fr...
Read More