Featured Home Theater System: Janus in Shanghai, China
Janus

in Shanghai, China

Can bass be addictive? According to Janus from Shanghai, China, his desire for greater and greater low frequency performance grew over time, which inspired him to go from one to two PB13-Ultra subwoofers for "out of this world sound quality and punch." When the SVS 16-Ultra series launched, his desire flared up again and he became one of the first people in China to own the PB16-Ultra. After its arrival, he felt a completely unexpected level of bass that cured his addiction, for now.
The Setup:
Questions And Answers:
When did you first get into audio?
I first got into audio when I was quite young. I was one of the first of my friends to get a surround sound setup. I recall the speakers were JAMO. Later, I started to get into car stereo but it was hard with limited funds. I would build my own systems from audio gear I bought from individual sellers from newspaper ads. This was when I first started to hear and feel deep heavy bass.
As I grew older and started to make more money my audio hobby started to evolving. Being a dad and family man, my focus went from car audio to home theater and just enjoying good music and especially watching movies. I always felt that I was missing a kick watching movies and I started to do some research on how I could improve my setup.
How did you find out about SVS?
After several different subwoofers in my system I bought some quite good B&W subs, 2 actually. After some time, these subs started to develop issues with the amplifiers and I started looking for another brand. This is where SVS came into the picture. I signed up at AVSFORUM and asked in the SVS topic for recommendations. I initially wanted to get the PB12-NSD and had permission from my wife to go ahead and make the purchase and I realized that perhaps it would be better to put more money into a sub and get a bigger one. After talking back and forth with the retailer in China I then decided to get the PB13-Ultra.
What was the impact of adding the PB13-Ultra subwoofer?
Taking delivery of this massive subwoofer, completely transformed my home theater into something I only had dreamed of before. The sound quality and punch was out of this world. My wife, who initially said it was too much money to spend on sound, well, she started to show off the system when we had friends over so I knew the purchase was approved.
What was your reasoning for installing multiple subwoofers?
I just kept pushing the system and my PB13 just played along and sounded better and better. But eventually I felt I wanted more. So I started to look for another PB13. I felt I had some nulls in my room and was thinking this could be fixed by adding another subwoofer.
I then started to research which sub I should get. I talked to Ed Mullen and he recommended I get another PB13. I have to admit I was looking at other brands but, honestly speaking, I couldn't find anything here that would come close to matching my SVS. So I reached out to SVS in the USA. At that time the distributor of SVS in China had closed down. Nothing to do with SVS but I didn't really have an option locally. Ed put with in touch with the new distributor in S. China and thru them I was able to get another PB13. After installing and tuning, it felt my home theater was complete. I was happy and content so to speak.
So that gets you to duals, what led to the addition of a third subwoofer?
A few years after, I then started to hear rumors about a new subwoofer from SVS. This was when my SVS bass addiction started to kick in again. Sorry, I can't really use any other word for it. Then the day came. The PB16 was announced and I started to get desperate to buy one.
The model was available in the US but not in China so about a month after the launch in the U.S., the distributor in China reached out to inform me that they would start to sell the new model in China soon. He just wanted to give me heads up and let me know in case I wanted to buy again.
In fact, I was one of the first buyers in China of the PB16 Ultra subwoofer. I made my payment and a week after, I took delivery to this massive SVS carton mounted on a wooden pallet. I spent the entire night unpacking and setting up my PB16. With a semi-painful back I could finally sit down and test the triple SVS setup, which put the biggest smile on my face.
What did you gain from having a PB16-Ultra as your third subwoofer?
The immense power of the PB16 combined with two PB13 subwoofers just blew my mind and still does. That said, going from one PB13 to two was a big improvement. Adding a PB16 to the mix gave my setup so much overhead and additional output and power that I had never expected. It actually makes me think of getting an additional PB16 just to see what is possible… But then again here in China the cost is three times higher than in the U.S… So perhaps a bit later.. not right now ;-).
Any challenges you had to overcome during set-up?
Unfortunately, my home theater room is also our living room so placement has always been an issue for me. What I decided to do is to run one PB13 and the PB16 side by side and then the other PB13 ultra as near field next to my sofa. The only thing I really did was changing the phase to 180 degrees to optimize the sound of all 3 subs playing together. My amp has dual sub pre-out so that helps a bit but I do daisy chain my near field to my PB16. I still haven't used the DSP functions built in. I think my AVR is doing a good job and for my taste I don't need to adjust it further.
What are some of your favorite demo tracks for bass?
My primary use is really movies and TV shows. Some of my favorites are the usual, like Iron Man, Avengers, Flight of Phoenix, Mad Max, Furious 7, Don't Breathe, etc, the list is long. But these movies do give my SVS a workout. Actually, the only problem with my subwoofers is now my subwoofers give off so much power and energy that my central AC vibrates at certain times during movies. My family photos tip over and my candle lights fall on the floor. Small price to pay for extremely powerful subs and the experience they provide. But mostly, it just brings a smile to my face every time I discover a new sonic moment. One of my favorites is the first Iron Man, the initial scene in the military convoy being attacked in the dessert. Why? Because the low end of the sound combined with the SVS subs comes as lighting from clear blue sky and shocks people. The shock and immense power of these subs surprise not only myself but also my guests.
Anything else you'd like to share with the SVS community?
What I really want to share with the fans of SVS or the ones thinking of buying an SVS product is that the after sales service is incredible. I managed to damage my first PB13. It was my own fault, playing continued VERY loud dubstep at my daughters 20th birthday. Despite that, I had pushed the sub too much and Ed helped me out. He shipped me a new woofer and amp from the USA to China free of charge and this despite having bought my SVS product in China, not directly from SVS. The service SVS has is better than anything I have ever seen for any other product. The products are amazing but the service you get after really shows the true color of SVS. They are here to please and impress not just to make money. That is something which is rare to see nowadays.
Browse Other SVS Featured Systems.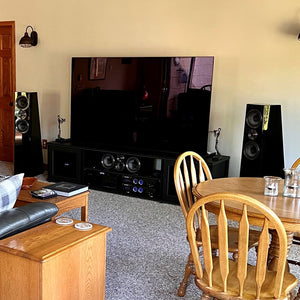 SVS Featured Home Theater System | Mike E. from Calumet, MI
Mike from Calumet, MI As a former music teacher, Mike E. fr...
Read More