Featured Home Theater System: Jeff in Groveland, MA
Jeff

in

Groveland

, Massachusetts

Horror movies are the most underrated cinematic genre when it comes to immersive, heart-pounding sound according to SVS featured home theater owner, Jeff from Belmont, MA. Since graduating from an entry-level "home-theater-in-a-box" to an SVS Prime Speaker and SB-2000 5.1.2 home theater, he's enjoyed an audio epiphany with all the extra sonic details, fear-inducing bass and other effects he's getting out of his favorite genre.

In addition to amassing a collection of 2,200+ strong movies and an eclectic mix of movie memorabilia, Jeff runs a popular Blu-ray review Youtube channel and social community where he breaks down the video, sound quality, extras and more. Upgrading to SVS has earned him some serious credibility with the audio crowd. Check out his thoughts on the importance of subwoofers, the best horror movie soundtracks and more in this profile.
The Setup:
Samsung 55" 4K QLED TV
Xbox One X as 4K UHD/Blu-ray player
Sony AV Receiver
Questions And Answers:
When & why did you first start getting into high performance audio and video?
I first got started in the high-performance audio and video world when I bought my first small "Home Theater in a Box" system while I was in college. That system ran off a Blu-ray player as a receiver, and I really bought it more for the additional audio than the video capabilities. But, since it did come with the Blu-ray player, I started to buy some movies. This was back in 2011.
I started with some of my favorites and was immediately blown away by the potential that Blu-ray had. I had only ever seen a movie on DVD at home previously, so I was amazed by the picture clarity and audio performance. From there, I kept upgrading my AV equipment and my collection grew into the hundreds. I started writing reviews online, sharing my thoughts on the AV production of these Blu-rays, and quickly found a following.
I started an Instagram account in 2015 which became very popular, and then decided to start on YouTube and switch out the keyboard for the camera. Now I do video reviews on YouTube, have an Instagram page with over 11,000 followers, and have grown from a home theater in a box and a dozen movies to a collection of over 2,200 Blu-ray and 4K discs and a high-performance AV setup in a dedicated theater room.
It is still crazy to me that so many people are as interested in this stuff as I am, and that people actually look to me for recommendations and inspiration for their own home theater and movie collections, but I love it.
How did you first hear about SVS?
I first heard about SVS when I got started on Instagram. I had seen SVS stuff online before, but I never really took a solid interest in it until I got involved in the home theater community on Instagram. I first saw a few ads on Instagram and watched a couple videos from accounts I followed. I was impressed, so I followed the SVS account and was really into what they were doing. The rest is history!
What has been the impact of adding an SVS subwoofer to your system?
So before SVS, I was working with a subwoofer that was about the size of one you would get from a soundbar. It was extremely limited in all aspects. We are talking about a little black box that was probably 10-inches high and a couple inches thick. There was really nothing to it - it didn't even use a traditional subwoofer cable. It just had speaker wire that connected it to the system.
Once I got my SVS subwoofer, I realized the full potential of HD audio. I couldn't believe what I had been missing, especially in the horror genre. There is so much low bass that horror directors and sound teams mix into the audio to instill a sense of dread in the viewer. Ultra-low bass noises are proven to have that effect on people, but it was something I really was not experiencing with my cheap subwoofer since it simply couldn't hit those levels.
Honestly, a good subwoofer is the backbone of any good home theater system. Not many people recognize that - I think it is sometimes taken for granted - but that extra level of support in all of the lows is vital for a complete HD audio experience.
Why did you choose Prime Elevation speakers for Dolby Atmos?
Outside of the SVS quality and performance, I think the versatility was the biggest selling point. Like I said, I have struggled with some of my room configurations, so being able to mount these on a wall, place them on a shelf, or sit them on top of tower speakers and still get a similar effect was important. Obviously, I want them mounted for the best experience, but sometimes you can't always get exactly what you want out of a room layout, so having the Prime Elevations was a huge help. There was never a need to install something in a ceiling or have to rely on a good ceiling bounce to get audio - I can place the Elevation speakers in many different locations and have them work great!
Any challenges you had to overcome when setting up your home theater?
It is kind of funny actually, but I have had the same challenge twice in a row. I previously lived in a condo, where we highlighted my old movie room with slanted ceilings. I sold the condo and bought a house in 2018, and the room that was to be dedicated to my home theater had slanted ceilings again! This becomes challenging based on the layout because of the awkwardness of mounting things to a slanted ceiling. It basically forces you to use one side of the room for the AV equipment, so then you are pigeon-holed into fitting everything else in the rest of the room.
I will say, I think there is something to the slanted ceilings providing a nice soundstage. I previously had the speakers against the slant, and now they face the slant. I think that having the audio bounce off that slanted ceiling right down on top of my seating has made the audio even better. It reverberates around the room nicely, but really makes its impact shooting down right at my seating, which is perfect.
As a movie buff what are some of your favorite "lesser known" subwoofer and surround sound movies for demonstrating?
First off, I mentioned this before, but do not sleep on horror movies for great audio. Lots of people think you need something like "The Fast and the Furious" or "Saving Private Ryan" for an amazing audio experience. While those movies are certainly incredible, I have had equally great experiences with horror movies. Some of the ones I would recommend are The Witch, Hereditary, The Blackout's Daughter, Upgrade, Suspiria, and Psycho. These films all have brilliant scores, and while they may not be as traditionally "loud" as a demo disc, there is something to be said about the subtle sounds of footsteps in a dark house or the ambient sounds of the surround woods that add an extra level to the horror experience.
As for more traditional demo films, I would recommend Dredd 3D, The Raid, A Prayer Before Dawn, Ready Player One, Fury, and Annihilation.
Why is having a high-performance home theater important to you?
As a reviewer and huge movie fan, I would consider myself a fraud if I didn't have a high-performance home theater. It was important to me to always be getting the best experience I could at home to provide my viewers with a reliable source for reviews. I don't want people spending money on AV equipment or movies that I recommended but did not thoroughly review, so it is simply essential for this type of work to have the highest performance possible.
I also wanted to bring the theater experience into my own house. With movie tickets getting so expensive and movies coming to streaming and physical media much more quickly, it makes sense to invest in a home theater if you are a movie fan. The long-term savings will be worth it over spending $50 a trip to the movies.
That's quite a cache of movie memorabilia, how did you collect it all and what inspired your choices?
I collected most of the memorabilia through different websites and eBay sellers. The majority of it came out of my own pocket. I also have quite a few autographs that I have actually received through the mail, by sending a self-addressed return envelope with a request to different actors and directors.
Most of my choices were inspired by movies I love, which is why you will see a lot of horror movie memorabilia. Horror is by far my favorite genre. I also like to collect memorabilia that is somehow tied to physical media. For example, the Predator bust I have next to my surround speaker is actually the packaging that came with a Predator movie collection Blu-ray set from Japan. That way, not only do I get the movies on Blu-ray or 4K, but I also get a cool piece of memorabilia with it.
Anything else you'd like to share with the SVS community?
I think people need to know that physical media isn't dead, and to be very cautious of streaming taking over the movie world. Certainly, there will be heavyweights like Netflix who dominate the market and create original content, and I love what they do. However, if you are looking for older movies, or stuff put out by the major studios like Warner Brothers, Paramount, Sony, Universal, etc. it is getting harder and harder to access all of these movies through one platform.
If you buy the Blu-ray, you own the movie. No one can take that from you. With streaming or digital copies, companies can lose the rights to a movie or remove it from their service for another reason, and now they have taken it away. Once it is gone, it doesn't usually come back, so my advice is always to buy the physical copy if you know it is something you like.
Just take a look at what Disney is doing to Netflix right now, with pulling their content to add it to their own streaming service. Pretty soon, Disney, Fox, Warner, Paramount, Universal - all these guys will have their own services charging $9.99/month to access. Add that to Netflix, Hulu, Amazon, and others, and it all add adds up quickly. The worst thing is, they could still could be missing many of your favorites due to rights issues, or a lack of interest from viewers. There is also a drop in quality when you compare streaming versus physical. For many people they may not notice, but nobody who is interested in true high-performance audio and video would choose a stream over a physical Blu-ray or 4K disc.
Where can people find your movie reviews and more information?
My YouTube channel is Films At Home. I do Blu-ray and 4K movie reviews from a technical standpoint (audio, video, special features, packaging, etc.) and also do collection spotlight videos to show off my 2,220+ movies and my home theater room.
You can also find me on Instagram @films_at_home, where I post tons of photos of my collection. There is a great community on Instagram for home theater/audio and movie geeks, so I recommend joining!
Browse Other SVS Featured Systems.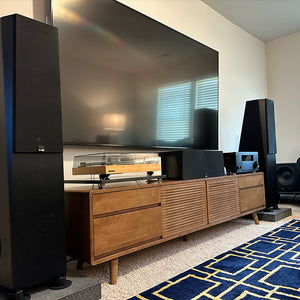 SVS Featured Home Theater: Dan C. from Cornelia, GA
Dan from Cornelia, GA Audio shows are the single best way t...
Read More