Featured Home Theater System: Jeff from Sherwood, OR
Jeff

in Sherwood, OR

Jeff from Sherwood, OR went from spending paper route money on a pair of speakers from a Sears catalog in 1963, to building the home theater of his dreams in retirement complete with 17 SVS speakers and dual SB16-Ultra subwoofers. Unequivocally, he has one of the most over-the-top SVS systems in existence and his passion for sound and desire for symmetry has resulted in an experience that can only be described as breathtaking.
The Setup:
Display – Samsung 82" Class MU8000 Premium 4K UHD TV
AVR – Denon AVR-X8500H (Dolby Atmos 7.2.6/DTS:X 7.2.4/Auro-3D 13.2)
External Amplifier – Emotiva XPA-7 Gen 3 Amplifier (On Order)
UHD Blu-Ray – Panasonic DMP-UB900
UHD Blu-Ray Backup – Oppo UDP-203
Power Conditioner – Panamax M5400
Cables & Interconnects – Blue Jeans Cable
Questions And Answers:
When and why did you first start getting into audio and home theater?
My first recollection with audio was in 1963 when I was 13 years old. I had seen a stereo console in a Sears catalog that included a record changer and a pair of built in speakers encased in a very "sixties" looking piece of furniture. I decided to spend my hard-earned paper route money on it and sent away for it. When it arrived, I wasn't immediately fascinated with the separation of sound, expecting the same sound to come from both sides of the cabinet. Once I figured out that the separation is what made stereo "stereo", I quickly acclimated to the new format.
My first "home theater" would be many years later in 1992 when Dolby Pro Logic was in its infant stages. I had bought a home theater in a box from either Circuit City or Stereo Super Stores and quickly connected the five speakers. I didn't even bother concealing the speaker wires. I just wanted to hear "The Hunt for Red October" soundtrack emanating from those two rear channels. I knew that this elementary beginning in "home theater" would only grow larger as the technology grew. It has indeed been a wonderful, albeit expensive ride ever since.
Over the years since that time, my focus was mainly on the audio side of things, particularly in car stereos. My crown jewel was a fully customized fiberglass trunk setup that included a pair of Alpine 12" subwoofers built over the wheel wells of a 2005 Subaru WRX STi. Being the total nut that I am, I didn't stop there however. I went on to customize almost every other feature on that car (STIYIYI) and won numerous awards including the second best built Subie in the world as voted on by the NASIOC.com forum.
Regarding home theater, throughout the remainder of the 90's and onto the present, I have had numerous systems, going the route from LaserDiscs, Beta, VHS, DVD, HD-DVD, Blu ray and now into 4K Blu-ray. Now with the advent of 4K Blu-ray discs and HDR 4K displays I am convinced that the future of home theater is more promising than ever. The prices have really fallen in the past few years, opening doors for many of us to step into systems that we could have only dreamed of less than 10 years ago. My viewing room is rather small, less than 1,700 cubic feet, but I feel comfortable that I could step up to a 90" display as soon as someone invents one.
How did you first hear about SVS?
I first heard about SVS when I read an ad in a copy of Widescreen Review. I later read about SVS on the AVS Forum. With so many speaker products combined with so many satisfied customers I knew that this company deserved my attention.
Your system is totally over-the-top in a good way, what was the process that got you where you are now?
When we had our current home built in 2014, I had plans for that room to be my home theater. Armed with more zeal than knowledge, I bought a five-speaker system from Definitive Technology, the BP-8080 Bi-polar Towers along with the matching center channel and rear surrounds. I thought at the time since the Def Techs had built in subwoofers, that I wouldn't be needing external subs thereby saving me some money. It didn't take long for me to realize that that wasn't the case and before long I was in the market for a subwoofer (or two, or three or four).
Before it was said and done I had bought four of the RSL Speedwoofer 10S subwoofers. I had them stacked in pairs, daisy chained to my then Denon X6200H AVR sub outs. About that time I also added another pair of Definitive Technology rear surround speakers to my 5.4 setup making it now a 7.4 setup. It wasn't long before I began reading about Dolby Atmos so I added first a pair of RSL C34E in-ceiling speakers for Atmos followed by another pair of the same. I was now at 7.4.4 but I wasn't satisfied.
Due to ceiling joist constraints the installers weren't able to locate the in-ceiling speakers at optimal locations. There had to be a better way I thought, and then I became aware of the SVS Prime Elevation on-ceiling speakers for my overhead duties. I knew that I could at least get a wire hole in four spots exactly where they needed to be so that is where my SVS adventure began. I sold off not only the C34E speakers but the four RSL Speedwoofer 10S's too.
After filling the holes and re-locating the ceiling wires precisely where they needed to be, I sent off for four of the Prime Elevations for my Dolby Atmos setup. Along with them I ordered my dual SVS SB16-Ultra subwoofers. They fit perfectly in the footprint where my stacked Speedwoofer 10S's were. I also upgraded my Denon X6200H AVR to the more recent X6300H that included 11 channels of processing.
In between that time, I ordered a Sony X940D 75" display, still the finest display I have ever owned. It now sits perfectly in the Master Bedroom giving place to my current display, the Samsung MU8000 82" display. While not nearly the quality of the Sony, it does present a marked improvement in overall picture immersion especially when my MLP is 7' away. I am seriously considering the newly released 85" Sony X900F that has former X940D owners claiming it is on a par with that set. Or I just may wait on that "someone" to come up with that 90 incher I am anticipating.
My most recent purchases have been trading up my X6300H AVR for the brand new 13 channel X8500H that allowed me to go all in on SVS Prime Elevations, ordering six more to make my system now Dolby Atmos 7.2.6/DTS:X 7.2.4/Auro-3D 13.2. I have only had everything up and running for exactly a week but the experimentation has been say the least, most rewarding. That brings my total of SVS speakers, including the dual Ultras to 19. Only 15 are operational at any given time due to AVR processing limitations but I can still experiment with speaker combinations as I wait for the manufacturers to make more advancements down the road. I couldn't be happier with the current results. Hopefully my neighbors can say the same thing 10 years from now. Oh, one more thing; I have on order from Emotiva their Emotiva XPA-7 Gen 3 Amplifier for the 7 bed layer channels.
What were the biggest challenges of setting it up?
The biggest challenge for me was to try and get everything as symmetrical as possible; to stay within the Dolby Atmos guidelines with regard to speaker spacing and locations. I am satisfied with the final results. For the tough, crawling around in the attic work I hired BB Geek Squad guys. On last count including tech advisors, they have made some 17 trips to my home.
What has been the impact of adding the SB16-Ultras to your home theater?
Having a 1658 cubic foot enclosed room I knew that the SB16-Ultra duo would more than do the job with my LFE duties. There is still that part of me that wonders however, what if I stepped up to the ported version? I am quickly brought back to earth though because I would literally have to step over one or both of them every time I exited the room due to their massive size in comparison to the sealed version. Without having the ported Ultras to do a side by side comparison, I have no further need to (or room) to add more thump to my theater room. They are clearly THE most significant addition to my home theater, closely followed by the Ultra Towers. If I were more computer savvy, I would invest in REW to do some serious room correction in the LFE area. I still may down the road.
Why did you decide to go with duals?
I went with duals for two purposes. The main one, believe it or not, was for room balance. I am a most symetrical person. If you saw the rest of my home, you would notice it immediately. The second reason was in the end the most beneficial; dual subs simply sound better. Even less quality subs in duality many times trump a single superior sub. This was perhaps the easiest decision I had to make in forming my home theater.
How did you discover Dolby Atmos, and what drove you to the Prime Elevations?
Again it began by reading about Dolby Atmos in Widescreen Review quickly followed by the AVS forum. As I alluded to above, my in-ceiling speakers, although outstanding, weren't able to be located exactly where they needed to be. SVS's Prime Elevations on-ceiling arrangement made that problem disappear. The fact that I could have EVERY speaker in my home theater match AND be of superior quality and design, only made the decision easier. You guys aren't getting into displays and AVR's anytime soon are you?
What made you decide on the SVS Ultra speaker line?
My decision to step up into the SVS Ultra line was manyfold. The first was quality workmanship and superior reviews. SVS had that. The second was value. To have a flagship main speaker costing $1000.00 is not even entry level money in many brands. SVS had that. The footprint was very conducive for my room acoustics. Having a complete home theater setup was mandatory for me. I had to have matching QUALITY speakers both in function as well as aesthetics at every location. SVS had that.
How would you describe movie time in the Hill household and what are some of your favorite movies to show off your subwoofers?
Movie time in our household is mostly a solo affair. Since I am retired and for the most part an empty nester until my better half comes home from work, (she's almost 15 years behind me) it's usually on a Tuesday when the new releases come out on Blu-ray. I make the usual trips to BB, Target and Walmart. What I don't get there I pick up on Amazon. I have practically every new 4K Blu ray movie that has come out in the past two years and many of them are among my favorites. The best movie to show off the LFE though has to be Bladerunner 2049. After that, Hacksaw Ridge, It, Star Trek Into Darkness and when Ben Affleck breaks out his 50 caliber in The Accountant are next. I usually run the AVR at -20 until I notice that my immediate neighbors have both of their cars out of their driveway. I then move things up towards -10. With plantation shutters on both windows, I can make it almost like dark anytime I need to so watching a movie during the day is the easiest time for me to get things the way I want them when the neighbors are mostly away.
What are some of the unique aspects of your home theater?
The most unique aspect of my home theater is the story behind the movie poster in the left rear of my home theater room, North By Northwest. Back when I was born, one wasn't given a Social Security number at birth. You obtained it when you began working at your first job. I had my first job when I was 8 years old in 3rd grade in 1958. We were living in Rapic City, SD at the time. A film director by the name of Alfred Hitchcock decided to film on location for his upcoming movie, North By Northwest, starring Cary Grant, Eve Marie Saint, James Mason, Martin Landau, etc. But especially CARY GRANT. You see, he was my mother's heart throb and once she found out that HE was going to be in South Dakota, that's all it took.
They were filming on location at the Mount Rushmore National Monument for two days and the call went out for extras. She took my older brother and me out of school for those two days and we drove the forty-five minute drive up to the "faces" as we called them to see Cary and company. Supposedly we were somewhere in the movie but I could never find us but Mom got her picture with Mr. Grant, sandwiched between him and Eve Marie Saint, Cary had his arm firmly around Mom's shoulder with George, Thomas, Teddy & Abe overlooking them from above. Mom got her dream picture and my brother and I got our $20.00 for two days of "hard work". My older brother kept hounding Mr. Hitchcock for his autograph that apparently he does not easily give out. But after two days of constant pestering, he finally gave in and signed one. My brother, now almost 72, still has it. For me; I was just glad to get out of school for a couple of days. So in itself, while the poster is nothing unique, the story behind it certainly is.
Anyone with some time for planning, some patience until getting things just right, and a few extra $$$, (alright in some cases a lot of extra $$$) you can achieve the same thing. The Bible says to not despise small beginnings. Be satisfied in doing what you can at the moment. You don't have to spend as much as I did to get most of the sound I have. Stay positive, be persistent and the rest will take care of itself. The true uniqueness belongs mostly to the engineers and staff at SVS. Their planning, testing and developing quality sound components combined with stellar customer service represents by far the most space in my home theater, and the part I appreciate the most.
Why is having a home theater and sound quality important to you?
Someone once said that having sound to match the picture quality is at least half of the movie watching experience. I don't know who that someone was, but I have been saying that ever since the days of Pro Logic. Keep in mind that then a "big screen" was a 32-inch TV. The biggest faction of that sound has to be the LFE. Without that bottom end, as with music in general, the soundtrack seems lifeless and without emotion. I laugh whenever I see advertisements to watch a movie anywhere you are, on the go. After watching a movie in my home theater, the ONLY place I plan on watching any movie is in the main listening position in my home theater.
Anything else you'd like to share with the SVS community?
All I can say is BEFORE you spend your hard earned $$$ on other manufacturer's products, give SVS a hard look. Their products alone stand up to the best of them. Their 45-day risk-free in-home trial, fast & free shipping and return policy is unheard of. The five-year unconditional warranty and their 60 day price protection are guaranteed. And lastly, the customer service; it's legendary. That is their one quality that is NEVER challenged, ANYWHERE.
Sound is what SVS is all about. Not only are they the leaders in it but their furniture grade quality piano finish detail would make Wurlitzer proud. If you're a fan of balance and symmetry as am I, there is only one speaker company to consider...SVS. Yes, they have world class subwoofers but they have so much more. My Ultra Towers would sound spectacular in a room three times the size of mine. They serve me just as well with stereo music as they do with the latest 13-channel blockbuster movie. There is NO other loudspeaker in this price range that can compete. If there was, I would have bought it. Of course, to those of you who are already proud owners of SVS equipment, I am simply preaching to the choir. For those of you on the fence, come on in; the water's fine. Thank you SVS for the opportunity to talk about one of my favorite subjects...home theater and especially, sound.
Browse Other SVS Featured Systems.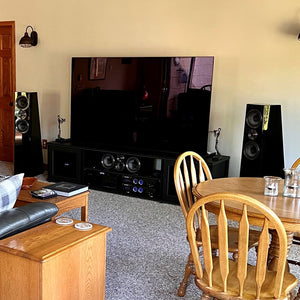 SVS Featured Home Theater System | Mike E. from Calumet, MI
Mike from Calumet, MI As a former music teacher, Mike E. fr...
Read More