Featured Home Theater System: Justin in McDonald, PA
Justin

in McDonald, PA

Dual PB-2000 Ported Subwoofers Anchor Ultra Tower Speaker 7.2 Home Theater

In a home audio world with speakers ranging from $50 up to $50,000 and beyond, finding the best performance for the price is a factor for nearly everyone who loves immersive sound. When Justin from McDonald, PA decided to upgrade his home theater, he had experienced good sound, but wanted a next-level home theater surround sound system. After some consultations with the SVS Sound Experts, his search was over and movie night never sounded so good.
The Setup:
Emotiva XPA-5 Amp
Oppo BDP-103 blu ray player
TiVo Roamio DVR
Panasonic TC-P65ST60 Plasma display
Questions And Answers:
What led you to SVS Ultra speakers for your home theater?
I was coming from a Polk RTA-9 setup, which was fantastic in its own right, and I was worried that this would be a lateral move. I was completely blown away by the improvement of my audio experience when going to the SVS Ultra Tower home theater system. I truly believe that they are the best bang for the buck available, especially when considering the professional customer service that I've received after the sale. How I'm treated after sale is very important to me, and I think SVS excels in this area.
I have auditioned higher end loudspeakers (if only in price), and was considering Paradigm Studio 100s, but for the price, I didn't feel that I was getting any more "bang." The SVS system is the sweet spot of price vs performance, in my opinion. I can't over state just how wonderful the improvement was. I grin from ear-to-ear when watching movies now, all driven by the dual subs and surround sound system.
Why did you decide on dual subwoofers?
After speaking with an SVS rep, we decided that they were the right size for my space. I think that a lot of folks believe they need the biggest and most powerful sub available, but that is often not the case. It was refreshing to talk to a rep that didn't try to up-sell me to the biggest. I couldn't be more happy with the performance of the dual PB-2000 subwoofers.
Can you share some favorite demos tracks for showing off your system?
My standard subwoofer show off scene is the War of the Worlds machine rising from the ground scene. In addition to the thunderous bass, there are low frequency nuances there that can only be detected by using ported subs such as the PB-2000s. E.G. when the machine is nearly fully standing and it is finishing pulling its legs into a full upright position, there is a subtle LFE track that finishes off the scene superbly.
Another great scene for showing off a system is the train crash scene from Super 8. Not only does it get the subwoofers singing, but it really shows the capability of a 7-channel system when the trains brakes lock up.
Finally, my favorite movies for showing off the full dynamics of the system are the opening scenes from the 2009 Star Trek reboot, along with the opening scenes of the follow on, Into Darkness. The audio of the 2009 reboot was rated as 100 by the AVS Forum official blu-ray review because it is, in a word, perfect. The opening sequence will show off the entire range of your system and even gives you a nice break in the thunderous action during the Kirk birth scene with a classical styled melody.
Any challenges you had to overcome?
My Ultra Towers will flag as out of phase when using Audyssey on the Denon, but Denon addresses that in their troubleshooting guide, there's nothing wrong with the speakers or the set up.
Why did you get into audio?
I started building a home theater system about seven years ago, because to me, the sound is more than half of the impact of the movie. I see the audio as equally important as the visuals and going to the movies isn't enjoyable for me. The sound and picture just don't cut it, and mixing in an often rude audience has turned me off from going to a theater. Having an immersive experience at home is a great way to enjoy movies with friends and family.
Anything else you want to share?
The incredible reputation drew me in but I was as impressed with the customer service AFTER the sale, and they're conveniently located where I can actually pick up my gear. The warehouse guys were very accommodating when I picked up my subs in person.
Browse Other SVS Featured Systems.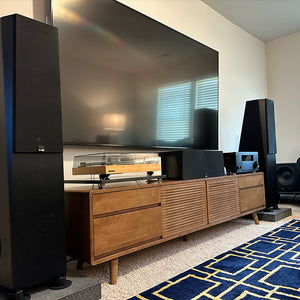 SVS Featured Home Theater: Dan C. from Cornelia, GA
Dan from Cornelia, GA Audio shows are the single best way t...
Read More