Featured Home Theater System: Scott in Bourbonnais, IL
Scott

in Bourbonnais, IL

Headroom is a term commonly used with subwoofers to describe their ability to provide greater dynamic range and output, reduce compression, lower distortion, and lessen the potential for overdrive artifacts, like clipping. Going with dual subwoofers is one way to maximize headroom, but going dual with the ultimate reference standard for bass, as Scott from Bourbonnais, IL did, is akin to unleashing a seismic event when played at reference levels. Here, he discusses the impact his PB16-Ultras unleashed on his system and how he never has to worry about headroom again.
The Setup:
Marantz 7702ii pre-amp
Rotel RMB-1095 200x5
Rotel RMB-1080 200x2
Crown XLS 1502 300x2
Crown XLS 1502 1500x1 running buttkicker "1"
Crown XLS 1502 1500x1 running buttkicker "2"
DBX Drive rack PA 2 to control buttkickers
Epson 5030 UB 1080p/3D projector
135-inch Electric Screen "Elite Screens"
60-inch Samsung 4K
Samsung 3D wifi blu ray
Pure A/V power conditioner
PS4 Pro
PS Virtual reality
Klipsch Ultra 2 KL-650's LCR
Klipsch Ultra 2 525's surrounds
Klipsch Pro in-ceiling back surrounds
Klipsch Atmos enabled rp-140's
All Monoprice XLR connections
Monster "M" HDMI and speaker cables
I'm running mini DSP mic & REW
Room Dimensions are 15Wx22L with 8-foot ceiling
Questions And Answers:
When did you first start getting into audio and home theater?
I've been into home audio as long as I can remember. I'm 33 now and don't see myself stopping any time soon and my Dad would be the one to blame for getting me addicted to the audio/video bug... I remember him going from a 2-channel setup to Dolby pro-logic when that first came out and that was a huge deal in the audio world, I've have had many 2-channel and multi-channel setups through the years and I loved them all!
Where did you learn about SVS?
I heard about SVS many years ago, when the cylinder subwoofers were very popular, and to be honest, when I first saw one, I thought it was kind of silly looking. But when I heard it I knew SVS meant business. I actually couldn't believe how clean the bass was, especially when playing in the system at such a crazy loud level. I just kept thinking to myself, man that bass seems so low and clean, I couldn't get over it.
What led you to add PB16-Ultra subwoofers to your home theater?
I originally purchased the Klipsch Ultra 2 package that included two 12-inch subs, and for its time, it was a very impressive system, but I always felt something lacking in the 25hz and below region, which I always craved. So after reading many reviews I went ahead and ordered the SVS PB13-Ultra subwoofer and after a few days of dialing that in, I could get the same bass output as the two Klipsch subs, but what really shined was when I needed it to dig deep because it went really low. I heard and felt many things I didn't know were in the soundtrack and I loved it.
That setup held me over for a few years, then the talk of the 16-Ultra's got me excited. I went to a release event at our local hifi store, The Little Guys, and auditioned the SB16-Ultra and couldn't believe the clean tight low bass that was being pumped into such a large room. That's when I made the decision to take the Klipsch subs out of the equation and use the PB13 in another setup and move into the big leagues and go with dual PB16's, and I never looked back!
What was the biggest impact from adding dual subwoofers?
The biggest surprise I got from the PB16's was such smooth, even and powerful bass, even with both subs on -16. I get plenty of room-filling bass at low to medium volumes and then when pushed to reference levels it really awakens the beast and they take control of the room very much to the point that you're wondering what's falling off the walls next.
What are some of your favorite tracks to demo with the subwoofers?
I listen to everything from Dave Matthews band to Skrillex to Ozzy, and we watch anything from Disney movies to Terminator, "Tron" although kind of a terrible movie has some very good show off scenes. Also the DTS-X 2017 demo disc sounds great for highs mids and some great lows!!! We listen to a lot of live concert Blu-Rays and the realism is pretty breath taking!
Why the choice to go with dual subs?
The main reason I went with dual subs was smoother response, and for someone like me, having the extra headroom is never a bad thing!! It really made the room look so much better running duals too and it's nice knowing no matter what, you have the fire power to rock the house, or the block!
Any complications during set-up?
Setup of the system was actually pretty simple, the Marantz has Audyssey 32 and did a great job. The smartphone DSP app for the subs is amazing, it worked flawlessly on both subs! I ran REW afterwards and everything looked pretty good.
Anything else you'd like to share with the SVS community?
I've been through plenty of speakers and subwoofers throughout the years, when I bought my Klipsch Ultra setup, the SVS Ultras were not released or being talked about, but my next speaker system will be the SVS Ultras. They sound amazing and the cost to performance is pretty unbelievable. It's nice having a setup that no matter if I want to just chill and listen to music for a few hours or if I want to shake the dishes out of the kitchen cabinet, I can do with ease, I never run out of clean robust power... It's pretty much hang on and push it as far as you can take it!!
I've never had such head room for bass as I have with the PB16-Ultra subwoofers and that is a huge deal for me. Thank you SVS!
Browse Other SVS Featured Systems.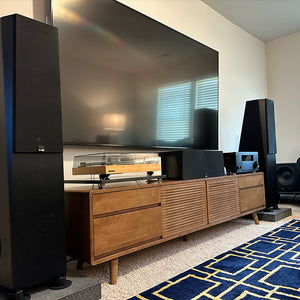 SVS Featured Home Theater: Dan C. from Cornelia, GA
Dan from Cornelia, GA Audio shows are the single best way t...
Read More