SVS Featured Home Theater: Chamatkar from Toronto, Ontario
Chamatkar

from Toronto, Ontario
UFC, WWE and Boxing Journalist Chamatkar Sandhu is a lifelong "cinephile" and music fan who was looking to take his movie and listening experiences to the next level. As somebody who's always reporting on combat sports and entertainment, he wanted to feel like he's at every event, from the comfort of his home.
Chamatkar upgraded his family room to a stunning 2.1 SVS home theater system featuring Prime Pinnacle Tower speakers and an PB-2000 Pro subwoofer. Now, movie time with his wife is that much more enjoyable and he's feeling the full slam and impact of every punch without leaving his couch.
In this interview, we dig into how he got into MMA, why having a high-performance home theater is important to him, how it changed his listening experiences and what's in store down the road.
Questions And Answers:
How did you get involved with MMA?
I was always aware of the UFC within the combat sports landscape but started to pay more attention when they signed Brock Lesnar from the WWE. That was my gateway into paying more attention to not only the UFC but the entire sport of Mixed Martial Arts. A wordpress blog turned into a YouTube channel and before I knew it, I was climbing my way up the ladder in the MMA media industry and have been involved in the business now for over a decade. Along the way I've been fortunate enough to have worked for some of the best organizations in the world; USA Today Sports, ESPN and now BT Sport.
Why is music an important part of MMA culture?
Think about some of the most iconic fighters of the sport and then think about their walkout songs. Jorge Masvidal walking out to the theme from "Scarface", Conor McGregor walking out to "Hypnotize" by The Notorious B.I.G. It's one thing to be in the arena and feel the energy of the song as these guys walk out to the Octagon, but it's just as important to experience the walkouts while you watch the fights in the comfort of your own home. A fighter's walkout song is a statement, it's part of their iconography and identity. It's a way to connect with the fans. Walkout songs in combat sports are part of the bells and whistles before the action begins.
Why is having a high-performance home theater system important to you?
It's honestly been one of my dreams to have a state-of-the-art home theatre system. Until very recently, I just didn't have the right space or opportunity to implement one. The vast majority of things I watch on my TV are movies, TV shows and sports. Having experienced a legit sound system set up at friend's houses always motivated me to get one for myself.
What was the impact of adding SVS speakers and subwoofers compared to your previous setup?
The difference has been night and day. I was only ever reliant on the inbuilt speakers within the casing of my TV. With the SVS external speakers and subwoofer, watching TV has now become more of an experience. I love going to the cinema and now for the first time, I have a comparable theatre experience in my living room. I love that!
Why is bass and having a subwoofer important?
I'm a huge movie buff and the quality of the sound and in particular sound mixing is to such a high level these days that you literally cannot experience what the filmmakers intended until you have the correct setup and a lot of that comes from the bass. You have a brief window of opportunity to watch these movies at the cinema but to really replicate that experience at home you need the correct sound system and the subwoofer is an integral part of that.
What tips can you give to others who might just be starting out with high-performance AV?
Seek advice from the right people. I am and have never been a sound expert. This is quite honestly what I've enjoyed the most during my customer journey with SVS. They know what they're talking about and take a really diligent approach in not only advising the right products but also in the set-up, fine-tuning, integration and education. I'm much more informed now than I was a few months ago.
Any exciting projects you're working on?
My current setup is for a temporary accommodation situation. In a few years, I will be looking to buy a house and will have a fully dedicated home theatre space in mind. What that means for the sound is I'd like to expand on the number of speakers and level everything up further. I'm also in the process of building a production studio, something that can be deconstructed and rebuilt in a few years. My studio will be vital to how I progress as someone that works in the media and content creation space.
Why is high performance speakers so important for your studio?
If I'm going to invest in getting the best in every category; lights, camera, soundproofing, monitors and other peripherals etc then why not also include speakers into the mix? At the end of the day as a content creator and producer, the sound is equally as important as the video. Also, as someone that spends the vast majority of my working day at my desk, it doesn't hurt to have an awesome set of speakers to listen to music while I try and remain productive!
Anything else you'd like to share with the SVS community?
I honestly cannot speak highly enough of the customer experience with SVS. I had concerns and fears of making sure I was able to set up the system but the guidance, advice and overall help from the SVS experts really put my mind at ease and actually made the process educational and enjoyable.
When you fully comprehend what the speakers and set-up are capable of it really does blow your mind and makes you totally reevaluate the importance of the best and correct sound system.
Browse Other SVS Featured Systems.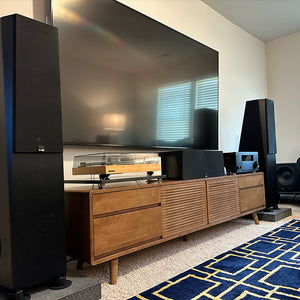 SVS Featured Home Theater: Dan C. from Cornelia, GA
Dan from Cornelia, GA Audio shows are the single best way t...
Read More