SVS Featured Home Theater System: Mike H. in Virginia
Mike H.

from Virginia

Craving a deeper and more impactful low-end for his music and movie listening experiences, Mike H. from Virginia knew he needed subwoofers that could extend down below 20Hz, but also keep pace with his planar magnetic speakers, known for their pinpoint transient response. After several auditions, he chose dual SB-4000 subwoofers for their ability to start and stop on a dime while still unleashing reference quality output. Now, he enjoys mood altering bass and sound that can motivate, de-stress and provide an immersive escape at the end of a long day.
Two-channel System:
Marantz SA11s1 SACD player
BlueSound Node 2i streamer
Project Turntable
Marchand Crossover to subs 50hz 48db slope (sub LFE mode)
Audio Research LS line and D400 III power amp
Magnepan 20.7s driven full range
Home Theater:
Marantz SR7007
Sony 85 in 4K 900 series
B&W 6 series across front with Infinity speakers built into rear wall
Questions And Answers:
When and why did you first get into high performance audio?
Depending on your definition of "high performance" I bought my first system of separate components at age 12 consisting of a Lafayette Electronics integrated amp, 2-way speakers and a Garrard turntable. I upgraded the Garrard to a magnetic cartridge so had to upgrade the integrated amp to support it…and, the journey began.
I used to listen to great systems at Myer-Emco in the DC area and dreamed of owning Magnepans and have now owned MGIIBs, MGIIIas, 3.7s and 20.7s and got my father some MMGs. Earlier amps/electronics have included Pioneer X1280 receiver, Hafler and Adcom amps, Theta D/A, and various digital players.
Audio Research has been my go-to electronics for the past 25 years, and have owned M100 mono tubes, and still have a pair of D400 MkIIIs which I used to use to bi-amp the 3.7s. The D400 is high current, clean, quiet and gets about as much from the Maggies as they can offer….. thus the addition subs for the lowest octave.
What was the impact from adding the dual SB-4000s? How did the experience change after adding the subwoofers?
After I got the subs dialed in, I sat back and said to myself, "this is it, EXACTLY what I needed to finish the puzzle. Both Music and Home Theater are amazing.
How was the process of blending your Magnepan speakers with the subwoofers?
The Maggies are not actually electrostatics but planar magnetic speakers, but the challenges are similar. Getting the lowest octave, in the case of the 20.7s, and having a sub quick enough to keep up with the Magnepans is a bit tricky. That is why I use two SB-4000 subwoofers because combined they maintain stereo bass, are quick and powerful and have blended perfectly.
I had acquired a Marchand crossover when I bi-amped earlier speakers and use it now crossing over to the SVS subs at 50Hz with a 48 dB slope while driving the 20.7s full range. I am very happy with the sound so have not tried other configurations yet.
Since I have a pair of subs, I connect both my AV receiver and my high-end system to the subs and run at LFE mode. The dual use works exactly as planned. The AV system is a Marantz SR7007 with B&W 6 series across front and Infinitis built into the real wall when the house was built. The TV is a Sony 85-inch 900F.
What were the greatest challenges when setting up your system?
I have good to great equipment; the challenge is making it all work in a real world room accounting for the sweet spots etc. Fortunately, I have worked with the same audio dealer, Mike Deboard, for over 3 decades and trust his advice. He and the president of SVS, Gary Yacoubian, both came from Myer-Emco, which was in my opinion, the best audio dealer in the DC area.
Why did you upgrade to the SoundPath Subwoofer Isolation Systems?
I read the reviews and my previous subs did shake the windows a bit so I wanted to try to physically isolate the SVS subs from the wood floors. They do a wonderful job. Tight, controlled bass with no boom/rattles. At the price they are a steal and cannot see ordering subs without them.
What are some of your favorite movies/music etc for enjoying your system?
I have eclectic taste and a large music collection. 4000+ CDs and SACDS, 600+ LPs, 25,000 files on PC HD for streaming, along with reel to reel, cassette, and 8-track tapes. I listen to a mix of rock, jazz vocals, country, almost anything by Ray Charles, Sinatra, Springsteen, Dire Straits, CSN, Allman Brothers, Tony Bennett, Ella… Music means more to me than video but like watching Peter Gabriel Back to Front, Bohemian Rhapsody and must say that lowest octave delivered by the SB-4000 subs now brings out the soundtracks so much better.
Why is having an immersive home theater/HiFi system important to you?
Music is my escape. Whether after a bad day, in a particular mood or whatever the reason, I listen virtually every day. I am a computer engineer by education and a diabetic for 50 years, music has always been my emotional connection and release from a very structured life.
Anything else you'd like to share with the SVS community?
My goal over the years in building systems is to get the system out of the way and only be listening to music. I think I have that now top octave to bottom.
I have several quality audio systems in my home including a small collection of antique phonographs and cylinder players. In the basement is my "classic system" where I swap between a Sophia tube integrated amp and my other D400II driving an old pair of Klipsch Cornwalls, with a Teac Reel to Reel, Rega RP1 with Blue Point cartridge and even an 8 track player .. hey I'm old 😊
I have also started using SVS speaker and RCA/sub cables. Very nice, especially for price.
Lastly, Gary, the SVS president may not remember this but I was having an "issue" with a Myer-Emco store manager when he was an exec there, and he intervened and made it right in 24 hours. I have now found the SVS team to be customer driven from the top down, and it shows!
Browse Other SVS Featured Systems.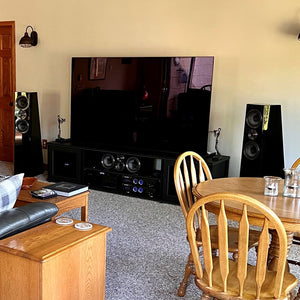 SVS Featured Home Theater System | Mike E. from Calumet, MI
Mike from Calumet, MI As a former music teacher, Mike E. fr...
Read More