Featured Home Theater System: Nestor from Northfield, OH
Nestor

from Northfield, OH

A basement gym is converted into an immersive, heart-rumbling 7.1.4 Prime Pinnacle Dolby Atmos surround sound speaker and SB-4000 subwoofer home theater escape as Nestor, from our home state of Ohio builds the best sounding "dungeon" ever, while making his wife happy in the process. His advice to anyone on the fence about building out a high-performance home theater: life is too short to settle for bad sound.
The Setup:
Samsung - 75" Class - LED - Q70 Series - 2160p - Smart - 4K UHD TV with HD
Marantz AV7705 11.2 channel 4K Ultra HD AV Surround Pre-Amplifier with IMAX Enhanced, Dolby Atmos, Auro-3D, HEOS, AirPlay 2 and Alexa Voice Compatibility
Emotiva XPA-11 Gen3 11 Channel Audiophile Home Theater Power Amplifier
Panasonic - DP-UB9000 - Streaming 4K Ultra HD Hi-Res Audio Wi-Fi Built-In Blu-Ray Player
Questions And Answers:
When/why did you first start getting into high performance home theater and audio?
Just recently I decided to convert my home gym in my basement into a home theater because I'm not happy with the sounds from the local cinema, when I go to the movies except for IMAX maybe. So, recently, I decided, why not create a good setup of a high performance home theater gear so there's no need to spend money at the local theaters. Leading up to the recent upgrade, I had a 10 year old Bose Acoustimas 10 that until now, was connected to a separate pre-amp, but I wanted something better.
How would you describe the change after adding an SB-4000 subwoofer?
My first subwoofer was the SB-2000, and the sound was the best I've heard, but for me the power wasn't quite enough. I wanted more output to ease my satisfaction, so I thought about the SB-3000, but in the end I used the SVS trade-up program to go big and get the SB-4000. I'm a bit of a bass addict and will definitely be adding another in the next year or so.
Why is bass important to your audio experience?
Bass is very important, without it, it's like you're listening in mono without any feeling. Bass will rumble your heart especially if you're watching those war and action movies, some of my favorites! I'm not sure yet for the musical video movies because I'm still upgrading to Blu-ray a 4K copies, but I know for sure it is great if there's a 4K copy and I can listen in digital surround sound.
Why did you decide to go with a Prime Pinnacle surround system?
I has originally wanted Canton speakers from a time I heard them while working in the Middle East, but I can't find those here in United States. And since I wanted a whole speaker system to be a single brand only, I decided to browse the net and it comes into my attention that the SVS Prime speakers are as good as it gets for the price. So I started researching more and there was a lot of great reviews and information on YouTube so I decided to get the Prime Pinnacle Surround System and it's everything I ever wanted.
What are some of your favorite movies/music to show off your system?
Many! Especially those action movies with Atmos sound such as "Fury", "Angel Has Fallen", Captain Marvel", Hacksaw Ridge" etc. If you have a recommendation with a digital Atmos sound that's great, I'd love to know about it. I also don't have a good new musical concert movie. I've tried to search it in Amazon but haven't found any that make me happy.
What was the biggest challenge when setting up your system? How did you overcome?
The biggest challenge for me was how to convince my wife about my interest in doing a basement makeover to create a home theater that would make her happy in the end. In the end, I built it little by little, purchasing the equipment one by one until I got it to a place where we are both happy. I'm not done yet though…
Why is having a high-performance home theater system important to you?
If you want a sound that grabs your attention and will ease your eyes, mind and ears, you need a real high-performance home theater system like SVS. Of course, you need to invest for it in order to achieve what you're looking for, but it's a great source of pride to show off to your visitors.
Anything else you'd like to share with the SVS community?
If you have ever been tempted to build out a home theater and you think you can afford it, then don't hesitate to purchase it! Feed your soul! We only have one life in this world and it's too short to settle for bad sound. You can't carry your money in your grave. Make sure that your wife or partner knows every penny that you're going to spend, I don't want you to end up in a divorce!
Browse Other SVS Featured Systems.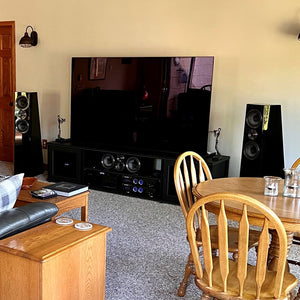 SVS Featured Home Theater System | Mike E. from Calumet, MI
Mike from Calumet, MI As a former music teacher, Mike E. fr...
Read More