SVS Featured Home Theater System | Ripley from Kansas City, MO
Ripley from Kansas City, MO
Adding a high-performance subwoofer to your home theater is one of the most exciting and noticeable upgrades you can make, and for many it's the beginning of a journey. In this system profile, Ripley from Kansas City dives deep into how he used REW EQ software and four SVS SB-4000 subwoofers to achieve a level of visceral, near-perfectly even bass response in his room that he never knew existed until experiencing it at home.
Now, with four subs and a 7.2 SVS Prime and Ultra Speaker System filling his home theater with breathtaking sound, he's created the ultimate escape from the stresses of life. "I was floored by what I heard, and I simply could not believe my ears. I had been missing out for so long...I have never experienced this level of customer relations from any other company before and it is one that I believe should be emulated by others."
Read about Ripley's experience and some of his favorite music and movies for showing off his system below.
The Setup:
AC Infinity Aircom T9
LG OLED 65"
Outlaw 7000x Amplifier
LG 4k UHD Player
Sony PlayStation 5
Questions And Answers:
When and why did you first start getting into high-performance audio/home theater?
When I was younger a friend of mine had a surround sound system composed entirely of speakers made by Infinity. This was the first time I was exposed to high-end audio, and I remember being amazed by how much better music and movies sounded compared to my little 25" CRT television that I had at the time. I would remove the studio monitor covers to watch the woofers oscillate which amazed me to no end. Around this time, I was also introduced to Miami Bass music which completely floored me with its extremely low bass frequencies and sci-fi themed music; this solidified my interest in audio equipment and the pursuit of pure sound. There are three artists that pushed me down the path of becoming an audiophile at the time: Dynamix II, Bass 305, and Techmaster P.E.B.
I am also a HUGE fan of horror/sci-fi horror films. The Aliens franchise is my favorite series of all time; for me, those movies are best experienced in immersive surround sound which only a movie theater or home theater can reproduce. Horror films tend to have a lot of positional audio and bass below the 40-60hz region to create a sense of atmosphere and terror for the listener. So, to accurately reproduce these sounds, you need a theater equipped with speakers that can do it easily, cleanly, and distortion free. I wanted that type of experience for me at home; and so here I am today with my own butt kicking system that I am incredibly happy with.
How did you first hear about SVS?
Sound and Vision, Audioholics, and YouTube are the main sources of where I first heard of SVS. Sound and Vision and Audioholics are who really convinced me that SVS would be an easy Subwoofer choice for me. How they described the performance of SVS subwoofers made me want to experience that for myself.
What was the impact of adding SVS speakers and subwoofers vs. what you had previously?
The system I replaced was a Definitive Technology system with a Supercube 6000 subwoofer. The Definitive Technology Bi-polar Towers had integrated powered subwoofers inside of them, but they still lacked the output that I desired. So, I added a Supercube 6000 to the system hoping it would fill the gaps. Unfortunately, I never was satisfied with the sound from this system and decided that it was time for a change.
After researching various brands and reading articles about subwoofers it seemed a common name that kept popping up regarding stellar subwoofer performance was SVS. I decided that I would like to design my system to reproduce balanced sub-bass that was not overly boomy and did not have any nulls at all in at least three listening positions. To do that I had needed subwoofers that would be up to the task and be able to handle anything I threw their way. SVS seemed like they built subwoofers that would fit my needs. So, I bought my first big subwoofers of my life: two SB-4000 SVS Subwoofers.
And by the BASS GODS did they ever fit my needs! When I first listened to them, I was floored by what I heard, and I simply could not believe my ears. I had been missing out for so long... This was true subsonic bass.
I heard the potential of what I could achieve, and I knew I was on the right track by going with SVS, I also ordered an entire surround sound system made by them too. I would stick with SVS since they are well reviewed and considered pound for pound and dollar for dollar one of the greatest performing speaker manufacturers around.
The previous theater system I had could not hold a candle to what I was able to achieve with SVS.
Tell us about your experience using REW, the EQ Wizard and room acoustics software?
REW taught me so much about subwoofer calibration, which also helped me to visualize how a speaker's frequency response would be affected by its location in a room. You really cannot understand this by simply "listening" you need to see measurement responses visualized to understand what is going on in a specific listening position. Yes, something might sound good, but you could also be missing other frequencies. These nulls can drastically affect how special effects and music are represented to the listener. You can address these nulls with software like REW and Multi-Sub Optimizer (MSO).
REW used in conjunction with MSO really helps to create consistent seat-to-seat frequency response. And to be honest it was A LOT of work to learn how to use these programs efficiently, but the results are well worth the effort; especially when you consider how much we invest in our home theaters.
I went back forth from seat to seat watching a few different big bass moments (and quieter more subtle bass moments - people tend to only check the boom but you need to see if the quieter moments stand out too) I can't tell any difference in the quality of bass output from either seat (they are about 5 feet apart) at all. How the bass feels and sounds is identical!!! Never ever ever ever have I experienced this before in my theater with just two subwoofers. So I learned a lesson - more subs means better bass response which means an easier time EQ'ing everything.
Some might disagree with me, but I do not believe you can just buy a bunch of subwoofers and put them in the corners and stop for the day. You need to measure and EQ each sub individually to achieve the best bass response in your listening area. I did not know what I was missing until I used REW and MSO to address the inaccuracies in my room and I think others will have the same experience as me.
One thing I can say is that REW by itself works well to calibrate a single listening position VERY well, but it falls apart when optimizing for 2 or more positions. The more subwoofers you have, the easier this is to achieve, but using REW with MSO will undoubtedly get you MUCH better measurements.
What was the biggest challenge when setting up your home theater and how did you overcome it?
Getting excellent bass response in 3 listening positions was the biggest challenge to be sure. Especially in the 60-160hz range where things simply would fall apart. For about 2 years I was running two SB-4000's and REW, but I could never achieve what I was really looking for. I mean it would sound great, but I am very meticulous about bass and I was always looking for improvements. I would spend countless hours watching tutorials and reading articles and forums looking for knowledge on how to improve my subwoofer response.
I also tried moving the subwoofers all over the room and moving my sofa around as well, but the results were largely the same. I simply was not finding what I was looking for.
And then one day I was watching a video, and someone mentioned Multi-Sub Optimizer (MSO). So, I looked it up and ran across a YouTube channel ran by Jeff Mery who has a series of amazing REW and MSO tutorials which helped me to get the best seat-to-seat consistency I have ever gotten with two-subwoofers in my room.
And so, I thought... If I can get this with two subwoofers? What if I bought a third?
So, I bought a third subwoofer and recalibrated my system and OH MY SHAKING SOFA WHAT IS THIS BASS?! It was another one of those "I never knew what I was missing" moments that made me so happy.
At the time of this writing, I bought a 4th SB-4000. What can I say?
I love bass.
How did adding a 4th subwoofer affect the performance?
Adding a 4th subwoofer made it so much easier to EQ multiple listening positions and improved the bass response by a large factor! I'll be honest, I didn't think that going from 3 to 4 would be that much of a difference but I couldn't have been more wrong. The sound and feeling of the bass in every listening position that I EQ for is identical to me now. I could feel my hair move during some of the crazier scenes in San Andreas!
I did conduct a couple of tests to see if integrating a 4th sub would allow me to position my subs in different locations and get near to or the same results as my ideal sub position layout. The results were a conclusive "YES" in my room. I could position the fronts subs in the corners, or ¾ from the corners, or one in the middle and another in the corner, and my rear subs could go in the corners, middle of the wall, or some other variation and every time I was able to get stellar EQ results. This wasn't something I was able to do with 2 subwoofers, I could get close with a 3rd but there was always something odd, but with a 4th subwoofer everything clicked. I now understand why 4 subwoofers is considered ideal!
What are some of your favorite movies/music/TV for showing off your system?
Oh, I have so MANY! But I will list a few that I always use to show off or test my system after calibrating.
Movies:
Prometheus
Cyberpunk 2049
Cloverfield (The bridge scene)
San Andreas (The Dam Scene)
IT (Seriously, that scene in the basement at the beginning is bonkers)
Cloverfield Paradox (This movie feels like the audio engineer said, "Let's give them all the bass.")
Music:
3 Kinds of Bass by Bass Outlaws
It Came from Outerbass II (Album) by Techmaster P.E.B.
Kiss That Grrrl – The Teenagers Rmx by Kate Nash
Magic by Ben Folds Five
Sanctus Diavolos by Rotting Christ
Why is having an immersive home theater experience important to you?
It is an escape from a lot of the chaos of the world. For me, when the lights go down and a I start a movie, play game, or listen to music, nothing else exist in that moment other than those things. I believe we all need a place where we can decompress from the stressors of life to recalibrate our own minds. For me, a home theater is one of those places.
Anything else you'd like to share with the SVS community?
I would like to thank everyone at SVS for their stellar work and support. I have never experienced this level of customer relations from any other company before and it is one that I believe should be emulated by others. I would also like to thank Nick from SVS for giving me this opportunity to share a bit of myself with the other audiophiles out there in the world. My journey to discover pure sound was a success and I cannot wait to see what I build in the future. I do know that no matter what, SVS will be a part of every system I build. Thank you!
Browse Other SVS Featured Systems.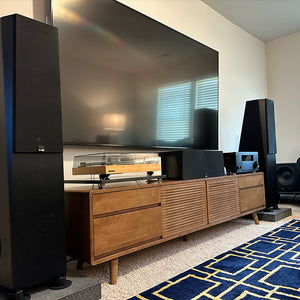 SVS Featured Home Theater: Dan C. from Cornelia, GA
Dan from Cornelia, GA Audio shows are the single best way t...
Read More