Featured Home Theater System: Thomas in Winter Haven, FL
Thomas

in Winter Haven, FL

A quest for Dolby Atmos and Auro-3D speakers led Thomas from Winter Haven, FL to the SVS Prime Elevation speakers after his soundproofed ceiling wouldn't allow him to cut holes for architectural in-ceiling speakers. It turned out to be a sonic blessing in disguise and ultimately led Thomas to add an SB16-Ultra subwoofer to fill out the low end and take his finely appointed home theater to heights and depths he never thought possible.
The Setup:
Aerial Acoustics Model 10T's, SR3's, & CC3 Multi-Channel Speaker System
Marantz AV7703 pre/pro
Marantz MM8077 7 channel amplifier
Parasound 5 channel amplifier
Stewart Filmscreen 106" Luxus Model A w/StudioTeK 130 G3
AKG-702K Reference Headphones
AudioQuest Volcano speaker cables (bi-wired), Cardas, Esoteric Audio,Transparent Audio audio & video cables
DirecTV HR-44 Receiver
Harmony Touch & Harmony Link
iPad Pro apps: Marantz, SVS, Oppo, JVC D-ILA, Harmony Link, and DirecTV
JVC DLA-RS56 Projector
Pioneer Elite Pro-150FD (60" Kuro) plasma
oppo BDP-95 BluRay player
Pioneer Elite CLD-99 Laserdisc Player
Music hall MMF-7 turntable
2 Panamax 5500-EX Home Theater Power Conditioners
Apple TV
Questions And Answers:
What motivated your decision to add height effects speakers to your home theater?
I was actually running two older receivers, one had no HDMI and the other newer receiver had no Dolby Atmos, DTS:X or Auro3D. I held off on upgrading because I kept on reading that to have Atmos you needed in-ceiling speakers or to use a sound reflection ceiling bounce approach. I read the review of the SVS Prime Elevation speakers in Widescreen Review magazine. I also started seeing other reviews and a friend Tim Moncrieff from one of the Facebook home theater pages (Home Theater on your Budget) and I started chatting about the SVS Prime Elevation speakers. Tim led me Ed of SVS who was a wealth of knowledge on system set-up.
I had a proposed speaker layout based on Auro-3D but I wanted it to work with all three immersive formats so I sent a copy to Ed. This layout was a bit different as my seating is against the back wall of my home theater, but Ed gave some great suggestions and said it would work great as designed. He also helped with the directly overhead Auro-3D "Voice of God speaker" which the Prime Elevation was very well suited for.
What were the greatest challenges you had to overcome when setting up your home theater?
My biggest challenge was solved with the SVS Prime Elevation speakers. My room is constructed, walls and ceiling with QuietRock sound proofing sheet rock. Sound will go through the smallest hole and any hole in QuietRock destroys the soundproofing qualities. If you put in a light switch or electrical outlet through QuietRock, you must putty pad the electrical box completely. To do Atmos in-ceiling speakers you need to poke holes, something I was not willing to do with my QuietRock room. I'm also not a fan of sound coming from in-ceiling speakers into the room above them. I would think the various back boxes being used for in-ceiling speakers all do a less than perfect job of containing the sound. You also would have to be aware of the room above them, hoping it's not a bedroom. The ceiling bounce approach, to me, is just not that convincing. SVS Prime Elevations solved that problem because I could get Dolby Atmos height effects without cutting into the QuietRock or using the ceiling bounce. They were really the only product available for my situation.
What impact have the Prime Elevation speakers had on your system?
I don't have another home theater with immersive audio to compare it to, but I'll throw the challenge out because it's like a whole new world of sound that I can't experience anywhere else outside my home. And just a personal finding, even if you take an Atmos movie and play it in Auro-3D, it feels cleaner, crisper and just more noticeable. The best way to describe it, if you're watching in 5.1 and tilting that image 180 degrees, and having effects and action image above your head. That's the sensation. I had my daughter with me watching a movie and she kept looking at the ceiling like she was expecting raindrops to appear or something flying out of the ceiling.
What led you to upgrade to a 16-Ultra subwoofer and what has it added acoustically?
Honestly, the SB16 subwoofer was just icing on the cake. After I experienced the Prime Elevation, I knew I could really go next level with a more substantial low end, and it was about the same time the 16-Ultras launched. Definitely a worthwhile investment! I was listening to an old LP, Rumors by Fleetwood Mac, the track "The Chain," and the SB16 matched and imaged with my mains perfectly and the sound was just outstanding. Just the right amount of bass, not over emphasized and it just a whole different level of energy in the room. If the Elevations provided an overhead dimension, the subwoofer adds a low frequency dimension I didn't have before that's both subtle and forceful. With Blu-rays in Atmos and the DTS:X and Auro 3D demo disks, and downloaded music and movies, my room now sounds, in my opinion, amazing.
You definitely went all out with the theater look and feel, how did that come to be?
Years ago I saw a blue home theater room on the AVS Forums and everyone raved about it. For the décor, my wife and I had taken a trip to Italy and I purchased a blue and gold Venetian Carnival Mask, in Venice, with musical notes on it. The colors on the mask really caught my eye and I matched the wall colors, crown molding color and speaker acoustic panels to it. The rug I found online and it was really the final touch to giving it that real cinema look and feel. I also have a tablet that manages everything in the theater so it's really simple to control and I love the escape it provides.
When did you first start getting into audio and home theater?
I was stationed at Hanscom AFB, Massachusetts in the 80's. We lived in the border town of Nashua, New Hampshire and fortunately there were several high-end audio stores in the area at that time. One of them was Ensemble Music Systems & Home Theater. They had several high-end sound rooms where you could audition their products. At least once a year they would have an open house and bring in the founder or CEO of the products they sold. This was wonderful as you could talk with some of the greats in the audio and video industry. I see SVS president Gary Yacoubian does this too, but you just don't see much of it anymore as those stores are just not around and product executives are much less accessible, and it's a shame. I have good memories of talking with Robert Harley, the editor of The Absolute Sound. (I have two signed copies of his books. The Complete Guide to High-end Audio). I also got to meet Jack and Karen Sumner form Transparent Audio and many others. Then there was Michael Kelly, President and Designer of Aerial Acoustics speakers. Aerial Acoustics was right there close to NH in Wilmington, MA. I bought his Aerial 10T's, the SR3 surrounds and CC3 center channel years ago from an old friend, Walter Swanbon who now has new store in Nashua, NH, Fidelis, so I had a good beginning in audio and video.
Anything you want to share with the SVS community?
I could name names, but all the people at SVS have been unbelievable with the help they have provided me. The SVS speakers are great performers that I can highly recommend to anyone for the home theater. I now anxiously await the next Blu-ray release every time I see them coming out.
Browse Other SVS Featured Systems.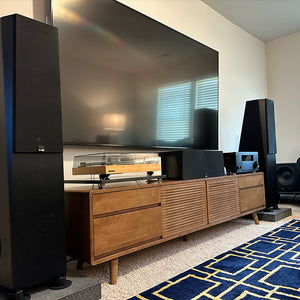 SVS Featured Home Theater: Dan C. from Cornelia, GA
Dan from Cornelia, GA Audio shows are the single best way t...
Read More