Featured Home Theater System: Tim in Chattanooga, TN
Tim

in Chattanooga, TN

Seeking the last subwoofer he'd ever want to own, Tim, a musician from Tennessee discovered SVS while researching ported subwoofers in the forums. After some frustrating experiences with other audio brands, he came across the helpful SVS Sound Experts, and ultimately upgraded to a full 5.1 home theater surround sound system including Prime speakers and a PB16-Ultra subwoofer. Now, he has a happy wife, neighbors reporting mini-earthquakes, concert experiences at home and a level of accurate bass and convincing sound he never knew existed. The only negative, the SVS Sound Experts were so good, they ruined all other customer service experiences for him.
The Setup:
Sony 850d 65" TV
Marantz sr5010 AV Receiver
Xbox One x
4K Fire TV
Questions And Answers:
Why did you first get into home theater and audio?
I've always been into audio, especially being a musician, sound quality is important to me. And of course, like everybody else, I used to go into Best Buy and audio stores and drool over all the stuff but it wasn't until a couple years ago when I started getting serious about receivers and started putting a real system together.
The speaker system I just replaced with SVS Primes was an Orb audio, but I've owned subs from all different brands. With SVS, I started with a PB12-NSD, then I went to a PC-2000. It was at that point, I wanted to start looking for the last subwoofer I would ever possibly need. I was looking at the 13-Ultra and models from a couple other sites. At the time, my wife and I were in the process of moving and I remember when the PB16-Ultra came out, the day SVS dropped it, someone on AVS Forum posted an unboxing and I showed it to my wife, and she said, "Oh my God, that's beautiful." [chuckle] And I knew that was the one.
But that was my mindset, I didn't want to have to upgrade my subwoofer ever again, unless I get a second one, which I plan on doing. I'll upgrade my TV, my speakers, receiver, everything else, but I really wanted the last subwoofer I would ever have to purchase.
How did you first hear about SVS?
I was actually researching forum sites about port noise that you get with a certain scene in one of the Transformer's movies, so I put it in and noticed right away. At the time, I didn't even really know what port noise was. So I started reading and everyone was saying that if you don't want hear that, you have to get an SVS sub. So I immediately went online and looked SVS up and realized it was serious stuff and it was a couple months after that I ordered my first sub from you guys.
What is the impact from movies and music in your home?
I mainly use my system for gaming and movies personally. It's funny though, because a lot of my producer friends, they come to my house for the reference experience. Even after they mix and match something they worked on, they always call me up and ask, "Are you home? I have to play this on your system to make sure it's right." So that's been one impact.
As far as movies, one of the first, I'll never forget watching War of the Worlds with Tom Cruise, which to this day may still be the most impactful movie I've watched. Most movies don't go too far below a certain frequency range, but with that movie, the LFE track just went down so deep. And I listen for individual notes and the bass in that movie was so intense that it literally shook my townhome. And it was funny because the lady next door came by and she wasn't mad, but she was like, "What happened, did you feel that? Oh my Lord, I think it was a mini-earthquake?" Not kidding, she thought it was a mini-earthquake.
For music, one of the best mixes I've heard is The Eagle's live concert Blu-ray. It blew my socks off how accurate the bass was. I don't listen for boom, I listen for accuracy, cleanliness and punch, and even though the ported subwoofers get criticized for not being as musical, I have to disagree and say the PB16-Ultra excels with tonality and speed and all the things that are important for music.
I feel like some of that mentality comes from people playing their systems all the time, but never going to a live event. And I see shows all the time, and I'll see a show from a group like Snarky Puppy, and go home and listen to the album, and get the same feeling and energy from the SVS speakers and 16-Ultra sub. They just recreate the energy and accuracy of the experience.
What was your research process like when choosing the last subwoofer you would ever need?
I did a lot of research online obviously and especially in the forums, I had tons of people telling me to go DIY and that I could hit all these crazy numbers for less money. And I was like, look, just because a subwoofer can go lower or play louder, doesn't mean it sounds better. The tones that I get from this subwoofer and just the overall sound is rich.
And my decision really had nothing to do with should I go DIY or not, it was between the SB16 and PB16-Ultra. And when it came down to it, besides actual performance and reading all the reviews and doing research, there were really three reasons I chose SVS.
I live in a condo, so there are times where I have to be able to adjust the gain on the fly and I don't want to have to pull the subwoofer out just to get to the back and make the change by hand. So with the app on the PB16 I have a daytime setting, a nighttime setting and then one that's in the middle. I have a neighbor who doesn't really complain but she does tell me when it's too loud and so as soon as I see her car pull up, the sub gets switched into nighttime mode and the app just makes it so easy.
The second reason is aesthetics. This is the most beautiful subwoofer and some of the best-looking speakers I have ever seen. And for people who like to hide their equipment, great, but this is a conversation piece in my house. I had a friend of mine from college who I hadn't seen in awhile come by my new house and she was just like, "What is that thing?" And I've had multiple people ask me and they're all just like, it's beautiful. And then they hear it and it's a whole other thing. My wife too, she loves the look of it and is totally into what it does, so that helps.
The third, customer service. Let me tell you, I called two other subwoofer brands. One never got back to me at all when I was doing my research. Called another brand and spoke with someone and you ever get that feeling that someone is just in a rush and doesn't want to talk? That's what I got. I called SVS and they were like, "Hello, thanks for calling SVS, how can I help you?" and were just so helpful answering every question in detail and not rushing anything. Your customer service has ruined me man. Now, when I have to deal with other customer service, I get frustrated. It's that good.
You're also into gaming, how has the system added to those experiences?
I know it's not something to joke about, but when I play Battlefield or Call of Duty and I turn the gain to like -17 or -15, it'll give somebody PTSD. It's sounds absolutely amazing. Only with SVS will you see it, hear it and FEEL it. It just takes it to the next level.
Why is having a home theater important to you?
I wanted to recreate as accurately as possible, the experience of going to the movie theater. And to me, audio has always been #1 and video is important but less important than the sound. I'll watch something in 720p as long as I can listen to it in DTS master or Dolby HD. And I've had a progression to improve the system, which is fun. Plus, my kids and family and my wife love it. Sometimes she'll call me at work and be like, "Someone's here asking about the system, what can I put on to impress them?" And she'll put something in and literally scare somebody from the surround effects or the bass.
I've been an SVS customer multiple times and it's funny, after hearing my systems, I've now given away my PC-2000 and PB12-NSD to my sister and Dad because they just wanted to have something similar.
What's up with the Ninja Turtle?
Growing up, I thought I was a Ninja Turtle. Michelangelo was my favorite because I felt like I connected with him the most. It was actually made by a company called Neca and they do amazing work with really detailed and lifelike pieces. And what's crazy is I think they'll all fit on the subwoofer. Maybe when I get the second PB16-Ultra all the Ninja Turtles can reunite.
Browse Other SVS Featured Systems.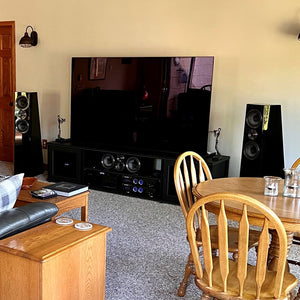 SVS Featured Home Theater System | Mike E. from Calumet, MI
Mike from Calumet, MI As a former music teacher, Mike E. fr...
Read More