PC13-Ultra - Outlet - 1059
Rated out of 5 stars and reviews
PC13-Ultra - Outlet - 1059
Rated out of 5 stars and reviews
Outlet Special: Blemish on the grill. See additional pic. Factory inspected and tested. 5-Year Unconditional Warranty and complete Bill of Rights coverage.
Save an extra 5% on the purchase of 2 or more subwoofers with promo code "
GoDual
".
Copy Code
Boasting a unique and innovative cylinder design, and with a footprint measuring just 16.5-inches in diameter, the SVS PC13-Ultra subwoofer delivers unmatched low frequency extension and output per square-inch of floor space. Standing 47-inches tall with a 13.5-inch down-firing driver and 1,000 watts RMS, 3,600+ watts peak power DSP amplifier, the PC13-Ultra is an attention grabbing tower of bass that uses vertical height to maintain a small footprint so it can fit more easily into a home theater or listening room, without sacrificing performance.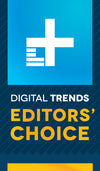 Frequency Response / Acoustic Data:
* Frequency response graph does not denote maximum output capability
18-200 Hz ± 3 dB (20 Hz mode)
15-200 Hz ± 3 dB (16 Hz mode)
24-200 Hz ± 3 dB (sealed mode)
2-meter ground plane away from reflective structures (quasi-anechoic).
Subwoofer Specs:
High-grade black fabric exterior cover
Down-firing 13.5" driver with integral base plate
Top-firing triple 3.5" high-flow flared ports
Extremely rigid and strong cylinder enclosure
Dense foam port blockers (3) included
Protective non-resonant steel mesh grille
Variable 20 Hz, 16 Hz and Sealed tuning modes
Cabinet Dimensions: 46" (H), 16.6" (OD)
Dimensions: 47" (H), 16.6" (OD) (includes feet, grille, amplifier)
Weight (unboxed): 90 pounds
Shipped Dimensions: 52" (H), 20" (OD)
Shipped Weight: 114 pounds
Driver Specs:
SVS 13.5" extreme performance underhung Ultra driver
SVS custom-tooled die-cast aluminum basket
Flat-wire, 3" diameter, high-power, high-temp, 8-layer, aluminum voice coil
Polyimide impregnated fiberglass former/bobbin
Dual 9", composite layered, linear roll, extreme excursion spiders
Integrated tinsel leads
Nickel-plated high-tension spring terminals
Proprietary injection molded gasket and parabolic SBR extreme-excursion surround
Composite pulp/fiberglass press layered cone with stitched surround
Low carbon 1008 steel components, electrophoresis black plating
Finite Element Analysis (FEA)-optimized underhung motor structure for the lowest possible distortion
Copper shorting sleeve reduces gap induction and distortion, and enhances thermal conductivity
Dual Genox 8H/Y-35 high grade ferrite magnets
Oversized pole vent for greater cooling and low noise
Amplifier Specs:
STA-1000D Sledge with 1000 watts RMS continuous power (3600 watts peak dynamic power)
High efficiency cool-running Class D switching topology
Detachable power cord with main power switch and ceramic fuse
RoHS compliant, lead-free construction and world-wide safety certifications
Auto-On / On switch with "green" standby mode
Stereo line-level RCA and balanced (XLR) input/output connections
Normal and Hi input voltage switch
Customized EQ and DSP limiter settings specifically for the PC13-Ultra
Variable tuning with 20Hz, 16Hz, and Sealed settings to match subwoofer port settings
Fully adjustable (frequency and slope) phase-correct speaker/sub digital crossover
Intelligent Feature Control (IFC) with bright LCD display
Two (2) digital PEQs with adjustable frequency, cut/boost, and Q values
Room gain compensation control with adjustable frequency and slope
Adjustable digital delay on main speaker line-level outputs to time-align the speakers and subs
Input impedance - 24 kΩ (unbalanced RCA) / 22 kΩ (balanced XLR)
X
An icon of SVS subwoofer innovation, the cylinder-shaped cabinet design of the PC13-Ultra subwoofer lets you enjoy the performance benefits of a larger subwoofer, without sacrificing the floorspace required of a reference ported subwoofer.
Stunningly Potent 13.5-Inch Down Firing SVS Ultra Driver
Equally matched for music and home theater, the PC13-Ultra powered subwoofer boasts a 13.5-inch down-firing Ultra Series driver with dual high-grade ferrite magnets and an FEA-optimized motor for distortion-free performance at the most punishing drive levels. Dual linear-roll spiders and stitched parabolic surround allow the PC13-Ultra to move massive amounts of air and achieve extreme excursion capabilities while maintaining control over the ultra-light and rigid fiberglass composite cone, so it can start and stop on a dime with no overhang, even with the most challenging music tracks.
Powerful and Sophisticated Sledge STA-1000D Amplifier
Conservatively rated at 1,000 watts RMS and 3,200 watts peak power, the Sledge STA-1000D DSP amplifier inside the PC13-Ultra subwoofer delivers effortless power for maximum SPLs and sonic impact in movies and music, while maintaining pinpoint accuracy in frequency and transient response. It also has brains to match its brawn. A sophisticated DSP offers an array of filters and volume, gain, and phase controls for fine-tuning in-room performance. Plus, the efficient Class-D amplifier design consumes less than half-a-watt of power in stand-by mode.
Since the 13-Ultra subwoofers were launched, we've made huge advancements in our Sledge amplifier technology, which is now available to you! Any 13-Ultra owners who ever wanted an affordable upgrade path to enjoy the amazing performance and control benefits of the acclaimed SVS 4000 Series subwoofers can now take advantage of the SVS 13-Ultra Amplifier Upgrade Kit.
Variable Port Tuning
Rated at 15-200 HZ +/- 3dB, the PC13-Ultra subwoofer features variable port tuning so you can adjust output and extension based on listening preferences. For connections, the home theater subwoofer features a stereo line-level RCA and balanced XLR input/output connections along with an 80Hz high pass filtered output connections, continuously variable volume and phase controls, and three top-firing 3.5-inch high-flow flared ports with large radius inner and outer flanges.
Effortless power and extreme low frequency extension without sacrificing detail or musicality, the SVS PC13-Ultra cylinder subwoofer delivers greater output per inch of floorspace than any traditional ported box subwoofer in existence. Musical bass is rendered with delicate refinement and toe-tapping aplomb while movie soundtracks are unleashed with chest-thumping slam and impact as well as mood-setting low frequency effects, all from a subwoofer that blends seamlessly with any speakers.
Sound Experts Articles
8 Fear-Inducing Sonic Experiences for Movie Night
Sound is what physically and emotionally connects us to a movie, and nowhe...
Read more
View All Sound Experts Articles