Prime Elevation - Black Ash - Outlet - 5066
Rated out of 5 stars and reviews
Prime Elevation - Black Ash - Outlet - 5066
Rated out of 5 stars and reviews
Outlet Special: Scratches on the bottom. See additional picture. Factory inspected and tested. 5-Year Unconditional Warranty and complete Bill of Rights coverage.
Save an extra 5% on the purchase of 5 or more speakers with promo code "
System
".
Copy Code
SVS Prime Elevation speakers play any role in a home theater surround sound system amazingly well. Designed to easily mount directly to the wall or ceiling with the Multi-Purpose Wall Bracket (patent pending), the SVS Prime Elevation can be used as a direct-radiating height effects speaker for immersive object-based audio formats such as Dolby Atmos®, DTS:X® and Auro-3D®. With its angled front baffle, Prime Elevation can also be used as left or right fronts, a center channel, side surrounds and rear surrounds to provide crisp, dynamically charged sound in rooms of all shapes with all different architectural features.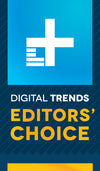 Frequency Response / Acoustic Data:
Rated bandwidth: 55 Hz-25 kHz (±3 dB)
Nominal impedance: 8 ohms.
Sensitivity: 87 dB (2.83V @ 1 meter full-space, 300-3kHz)
Recommended amplifier power: 20-150 watts.
Speaker Specs:
Black Ash, Piano Gloss Black and Piano Gloss White finish options
Single set of 5-way binding posts
1" wide-flared rear-firing port
Cloth grille with pin/cup retention system
Magnetic SVS Logo which can be removed and oriented according to speaker application.
Elastomer stick-on bumper feet (adds 3mm to height)
Unique SVS Multi-Angle Wall Bracket (patent pending) system that allows speaker to be wall mounted in any of four positions
1/4" brass insert for use with included SVS Multi-Angle Wall Bracket and other bracket mounting systems.
Cabinet Dimensions: 9.25" (H) X 5.44" (W) X 7.88" (D)
Overall Dimensions: 9.4" (H) X 5.44" (W) X 8.33" (D) (includes grille, binding posts and bumper feet)
Overall Dimensions: 9.25" (H) X 5.44" (W) X 8.98" (D) (includes grille and SVS Multi-Angle Wall Bracket)
Shipped Dimensions: 9.30" (H) X 12" (W) X 18" (D)
Weight Unboxed: 7.8 pounds
Shipped Weight: 20 pounds
Driver Specs:
1" Aluminum Dome Tweeter:
FEA-optimized diffuser for airy and unveiled presentation
Aluminum dome for exceptional transient response
4.5" Midrange Driver:
Polypropylene cone for excellent stiffness/mass ratio and pistonic behavior
Aluminum shorting ring to reduce gap inductance, lower distortion, and enhance high frequency response
Cast ABS-fiberglass composite basket ensures precision component alignment and excellent thermal transfer
Vented voice coil former minimizes air compression artifacts
Crossover & Cabinet Specs:
Crossover:
2-way crossover with premium-grade capacitors, air-core inductors and heavy-trace printed circuit boards
Crossover network delivers outstanding phase coherency and time domain behavior
Tweeter-to-woofer crossover: 2.5 kHz (12 dB/octave slopes)
Cabinet:
Acoustically transparent and FEA optimized grilles minimize diffraction
Chamfered front baffle and flush-mounted drivers reduce edge diffraction and improved off-axis high frequency response
FEA-optimized cabinet and extra thick MDF bracing eliminate resonances
Angled baffle and optimized crossover combine for perfect acoustic performance at any position.
X
Press Reviews
Home Theater Review Includes SVS Prime Elevation in "Best Speakers for Dolby Atmos"
"The Multi-Purpose Wall Bracket that allows you to easily mount them to the wall or ceiling. Aesthetics are outstanding and will easily fit in with the interior of your home....

YouTuber Ealan Osborne Crowns Prime Elevation as Top Dolby Atmos Speaker in Shootout
"They come with their own mounting system and the versatility is just bonkers. Deeper bass than all the others and provides outstanding, full-sounding audio from a compact speaker design."
The Digital Cinema Reviews the Prime Elevation Loudspeaker
"Dialog was remarkably clear with crisp highs and excellent clarity. Separation was nice, wide and clean. Presence was much fuller than I expected. SVS has created an extremely versatile design...

The Next Web Reviews the Prime Elevation Loudspeaker
"They're versatile, easy to integrate with other speakers, and can help solve placement issues in all sorts of rooms. Eerily realistic. Threw out a large soundstage with greater punchiness. Atmos...

Audio Reputation Reviews the Prime Elevation
"Great midrange and treble reproduction. Much easier installation than in-ceiling speakers and delivers much better listening experience than height modules. It's an awesome height speaker, especially if you don't want...

AVS Forum Reviews the Prime Elevation Loudspeaker
"The Prime Elevations sound better than any reflected-sound elevation speakers I have tried. Plus, they do it at a lower price than most. They also beat the sound of in-ceiling...

High Def Digest Reviews the Prime Elevation Loudspeaker
"With the Prime Elevation speakers installed, I have grown to appreciate Dolby Surround and DTS:Neural:X up-mixing. I prefer the direct output to ceiling bounce. An impressive speaker and a ready-made...

Screen Anarchy Reviews the Prime Elevation Loudspeaker
"A perfect speaker solution for Atmos channels. Far more neutral, precise and better sounding than the competition and I love the flexible mounting. I've reached a caliber in my setup...

LifeWire Reviews the Prime Elevation Speaker
Performed well in a variety of roles…Great option for Dolby Atmos, without the hassle of cutting into the ceiling and routing wire through the walls and ceiling.

Tech Hive Reviews the Prime Elevation
"This is one of the smartest and most practical speakers I've ever come across. The perfect height speaker for any Dolby Atmos, DTS:X, or Auro-3D installation. Absolutely stunning!"
The Master Switch Reviews the Prime Elevation
The sound was absolutely extraordinary. They offer so many possibilities, and can adapt to so many circumstances. No matter where we put them, or the kind of audio we pumped...

Prime Elevation Review by Widescreen Review
"The Elevations are just too good to use only as height channels…Highly recommended…A 10 out of 10 from me on this one." -Widescreen Review

HomeTheaterReview.com Reviews the Prime Elevation
"SVS has another winner on its hands with the Prime Elevation speaker, and kudos to the company for thinking outside the box to consider the needs of those who don't...

AVRant Interview with Gary Yacoubian, SVS President
Hear our president discuss why Prime Elevation is the world's most versatile home theater speaker and how it delivers a highly immersive, uncompromised height effects speaker experience with Tom and...

HTGuys on Prime Elevation
"These are more than just Atmos Speakers. They have a very unique design that's super versatile. A lot of engineering went into this and it will really change how people...

Audioholics on Prime Elevation
"As a company that stands behind real science in audio, it's not surprising that SVS has come up with an elevation [height effects] speaker that relies on sending the direct...

Home Theater Shack on Prime Elevation
"As you'll see, its unique design and positioning possibilities make it an excellent candidate to help marry multiple surround and immersive formats available on the market today." -HomeTheaterShack

AVProductReviews on Prime Elevation
"Adaptable is the term best used to describe SVS's new Prime Elevation speakers. The trapezoidal speakers are flexible enough to be used for a multitude of home theater configurations." -AVProductReviews
AVSForum.com on Prime Elevation
"Because the entire Prime series is timbre matched, the addition of the Prime Elevation to the lineup vastly expands the potential of the system. It's nice to see reflected sound...

MissingRemote.com on Prime Elevation
"While we would all love to have the perfectly shaped theater room, or even dedicated space, it's almost never a reality and that's where a directional speaker like Prime Elevation...

The Poor Audiophile on Prime Elevation
"Because many audio and home theater enthusiasts cannot install in-ceiling speakers, the Prime Elevation speakers provide a perfect solution for individuals who want to take advantage of immersive audio formats...

User Reviews
Sound Experts Articles
8 Fear-Inducing Sonic Experiences for Movie Night
Sound is what physically and emotionally connects us to a movie, and nowhe...
Read more
View All Sound Experts Articles