Prime Tower - Black Ash - Outlet - 1089
Rated out of 5 stars and reviews
Prime Tower - Black Ash - Outlet - 1089
Rated out of 5 stars and reviews
Outlet Special: Blemish in finish. See additional pic. Factory inspected and tested. 5-Year Unconditional Warranty and complete Bill of Rights coverage.
Save an extra 5% on the purchase of 5 or more speakers with promo code "
System
".
Copy Code
The Prime Tower speakers set the bar for sound quality and high-end appeal among tower speakers anywhere near the price. The reference-grade SVS floorstanding speaker is amazingly transparent, with a broad, stable soundstage and sharp imaging of voices and instruments, all punctuated by deep yet accurate low frequency extension.
Challenge the SVS Prime Tower Speakers with any dynamically charged music or movie soundtrack and it reveals new layers of sound and detail you never knew existed. With engineering and design cues taken from the acclaimed SVS Ultra Series speakers, the Prime Tower is a sonic achievement that stands up to the best speakers in the world.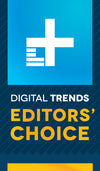 Frequency Response / Acoustic Data:
Rated bandwidth: 30 Hz-25 kHz (±3 dB)
Nominal impedance: 8 ohms.
Sensitivity: 87 dB (2.83V @ 1 meter full-space, 300-3kHz)
Recommended amplifier power: 20-250 watts.
Speaker Specs:
Floor Standing Tower Loudspeaker
Black ash and piano gloss black finish options
Single set of 5-way binding posts
Dual 1.7" wide-flared rear-firing ports
Cloth grille with pin/cup retention system
Elastomer stick-on bumper feet (adds 3mm to height)
Spiked metal screw-in feet included - adjustable for level
Cabinet Dimensions: 36" (H) X 8" (W) X 11.1" (D)
Overall Dimensions: 36.6" (H) X 8" (W) X 11.6" (D) (includes grille and feet)
Shipped Dimensions: 41.3" (H) X 14.1" (W) X 17.3" (D)
Weight: 40.1 pounds
Shipped Weight: 46.3 pounds
Driver Specs:
1" Aluminum Dome Tweeter:
FEA-optimized diffuser for airy and unveiled presentation
Aluminum dome for exceptional transient response
4.5" Midrange Driver:
Polypropylene cone for excellent stiffness/mass ratio and pistonic behavior
Aluminum shorting ring to reduce gap inductance, lower distortion, and enhance high frequency response
Cast ABS-fiberglass composite basket ensures precision component alignment and excellent thermal transfer
Vented voice coil former minimizes air compression artifacts
Dual 6.5" Woofers:
Long stroke motor and suspension for high output
Polypropylene cone for excellent stiffness/mass ratio and pistonic behavior
Aluminum shorting ring to reduce gap inductance, lower distortion, and enhance high frequency response
Cast ABS-fiberglass composite basket ensures precision component alignment and excellent thermal transfer
Vented voice coil former minimizes air compression artifacts
Crossover & Cabinet Specs:
Crossover:
3.5-way crossover with premium-grade capacitors, air-core inductors and heavy-trace printed circuit boards.
Tapered woofer array optimizes the transition to the midrange driver and reduces vertical axis lobing
Midrange-to-tweeter crossover: 2.1 kHz (12 dB/octave slopes)
Top woofer (Combined Woofer) to midrange crossover frequency: 350 Hz (12 dB/octave slopes).
Bottom woofer low pass frequency: 165 Hz (customized filter Q and slope)
Cabinet:
Separate sealed midrange enclosure shifts standing waves beyond the driver pass band, improving sound quality
Separate woofer enclosures with optimized port tuning frequencies for smooth and accurate bass response
Acoustically transparent and FEA optimized grilles minimize diffraction
Chamfered front baffle and flush-mounted drivers reduce edge diffraction and improved on-axis high frequency response
FEA-optimized cabinet and bracing eliminates resonances
X
Every aspect of the Prime Tower speakers was designed for sonic excellence. From the premium grade drivers and sophisticated SoundMatch crossover to the extra-thick baffle, internal bracing, and FEA optimized tweeter diffuser, the Prime Tower speaker's design and engineering credentials place it among the best $1,000 tower speakers available.
Prime Driver & Tweeter Design
Thoughtfully designed for acoustic excellence, the 4.5-inch midrange driver is mounted in its own dedicated and completely sealed compartment to ensure a smooth, precise and clear midrange free from coloration. The cone material is extremely light and rigid and maintains a flat frequency response with excellent handling across the foundational mid-range frequencies.
Dual 6.5-inch woofers deliver effortlessly deep and articulate bass to set the mood and punctuate the low-end impact of instruments, basslines and movie sound effects. Each woofer has a separate internal compartment in the cabinet with its own custom port tuning frequency. The result is deep, powerful and accurate bass you hear and more importantly, feel.
The Prime Tower speaker's 1-inch aluminum dome tweeter is light, efficient, and rigid, and plays crystal clear at high volumes. The clarity offers a sense of utter transparency, while offering an 'airy' presentation and incredibly unveiled highs so female vocals and dialogue always sound crisp and smooth.
Innovative SoundMatch Crossover Design
Since premium drivers require an equally capable crossover, no expense was spared with the innovative SVS SoundMatch 3.5-way crossover. Its tapered array is designed so each woofer has its own discrete crossover to minimize the potential for beaming. This creates an expansive, yet focused and precise soundstage, with accurate frequency response at all listening positions in the room. The precise tuning of the SoundMatch Crossover also ensures pinpoint accuracy from sparkling highs down to palpable lows, while maintaining pristine signal purity.
Performance Driven Cabinet Design and Geometry
Tapered edges on the Prime Tower speaker's front baffle, known as chamfers, minimize edge diffraction for clear and precise soundstaging. The cabinet's presence is substantial but it does not take over a room visually and offers a modern industrial feel with acoustic enhancements like shorting rings and a tweeter diffuser. All of these advancements are packed into a sleek but commanding floor standing speaker cabinet available in stunning piano gloss black or premium black ash finish.
Press Reviews
YouTuber "Cheap Audio Man" Reviews Prime Tower Speakers
"The SVS Prime Tower speakers are built wonderfully, sound amazing and are very balanced. They handle all genres of music and movies perfectly. Highly recommend!"
Home Media Entertainment Reviews the Prime Tower
"Quality is top notch, performance unquestionable and can be an ideal choice if you are either a home theater fan or an audiophile. Easily competes with speakers that cost much...

SVS Prime Tower Touted as "Best Speakers for Home Theater" by Top Tech Site Digital Trends
"Incredible performance, striking design, excellent stereo and surround performance. Perfect for music lovers and film buffs alike, will take your home audio experience to the next level."
HiFi Chicken Reviews the Prime Tower Loudspeaker
"Beautiful and finish and profile with the all the important acoustics to match. It's hard to compete with the Prime Tower on price considering the excellent sound quality and appearance."

The Pixelated Gamer Reviews the Prime Tower Speaker System
"The deep bass notes, punchy midrange performance and crystal clear highs all come together for a full on audio assault that rivals any pair of towers we have heard yet....
HiFi Trends Reviews the Prime Tower Loudspeaker
"An incredible speaker. The imaging and soundstage are excellent, the scale is incredible, and they have a lovely midrange. The bass and dynamics are exceptional as well. The heavy-duty build...

AV Nirvana Reviews the Prime Tower Loudspeaker
"Frequency response extends from 30 Hz to 25 kHz. Low distortion and superb off-axis frequency response ensure clean delivery, a wonderful soundstage and lifelike imaging. Through the Prime Towers, I...

Hi-Fi Choice Reviews the Prime Tower Loudspeaker
"A presentation that's finely revealing, harmonically rich and rhythmically tight. The longer I listen to the Prime Tower, the more I appreciate its ability to walk the line between resolving...

HomeTheaterForum.com Reviews the Prime Tower Speaker
"Enveloping and immersive, bass response was exceptional, all without the use of a subwoofer. The Prime Towers shined with great clarity and resonance. A great value for any home theater...

Audiohead Reviews the Prime Tower
"The Prime Tower brings a big package to the $1k game…If you want to hear every note, foot tap and breath, this is a speaker for you."

The Missing Remote Reviews Prime Tower and Prime Tower 5.0 System
"Not only do they present outstanding center imaging and an unwillingness to compromise either punch or clarity, they also subtly seduce listeners to keep turning up the volume. With each...

Sound Stage - Vince Hanada Reviews the Prime Tower
"It's amazing what $999.98 can buy. The SVS Prime Tower might make you wonder why you'd ever need to spend more!"

Audioholics - Tarunvir Bains Reviews the Prime Tower and Prime Center Speakers
"I highly recommend the SVS Prime speakers for anyone looking to break into the first true threshold of fidelity-driven sound reproduction without breaking the bank. It's reassuring to know you...

Reference Home Theater - Chris Heinonen Reviews the Prime Tower
"So impressed… These are $1000 speakers? They sound seriously good…both powerful and detailed…Imaging is also terrific."

Home Theater Shack Reviews the Prime Tower
"…sounded much bigger than their size, and projected quite an engaging soundstage…should be considered by anyone with $1000 to spend on a pair of speakers."

AVTechReviews - Chris Murray Reviews the Prime Tower
"They're one of the few speakers that do everything well…rare combination of good sound quality and affordability. Great treble response, smooth mid-range and deep accurate bass makes them a great...
CNET names the Prime Towers at the top of their best speakers under $1000 list!

AVTechReviews - Chris Murray Reviews the Prime Series Speakers
"… have a surprisingly big sound… flawless in its performance…get a audiophile grade home theater system at a fraction of the cost."

CNET reviews the Prime Tower Speaker
See why they ranked it as one of the top budget audiophile speakers available…

TheAbsoluteSound.com - Primer: Rocky Mountain Audio Fest 2014
"When you listen to $100k systems all day, it's difficult to be really excited about $1k speakers. But let me tell you, these speakers, when listening in nearfield, are some...

SoundstageGlobal.com - RMAF 2014: Stereo Speakers
"The flagship of the Prime line (shown here next to the larger Ultra Tower) is the Prime Tower, which costs $999/pair in matte black or $1199/pair in gloss black. It's...

User Reviews
Sound Experts Articles
What is Speaker Bi-Wiring?
Audiophiles and home theater fans seeking the best performance pos...
Read more
View All Sound Experts Articles