Ultra Surround - Black Oak - Outlet - 1191
Rated out of 5 stars and reviews
Ultra Surround - Black Oak - Outlet - 1191
Rated out of 5 stars and reviews
Outlet Special: Scratches on the bottom of the cabinet. See additional picture. Factory inspected and tested. 5-Year Unconditional Warranty.
Save an extra 5% on the purchase of 5 or more speakers with promo code "
System
".
Copy Code
Innovative engineering and intelligent design come together in the SVS Ultra Surround home theater speakers. Acoustically voiced to blend seamlessly with all models in the SVS Ultra and Prime series speaker lines, the Ultra Surround speaker deeply immerses you in the onscreen action by conveying a massive soundstage and rendering the smallest details with pinpoint clarity and spatial imaging, whether used as side surround or rear surround speakers.
Designed with dual isolated SoundMatch two-way crossovers for each tweeter and woofer, the SVS Ultra Surround can operate in either bipole, dipole, or in the unique SVS Duet Mode, which creates two separate speakers in a single cabinet. In Duet mode, each set of drivers in the Ultra Surround speaker receives a discrete signal, so your system can deliver true 7 channel surround sound using only 5 full-range speakers.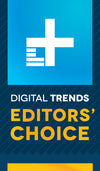 Frequency Response / Acoustic Data:
Rated bandwidth: 58 Hz-32 kHz (+/-3 dB).
Nominal impedance: 8 ohms.
Sensitivity: 87 dB (2.83V @ 1 meter full-space, 300-3kHz)
Recommended amplifier power: 20-250 watts.
Speaker Specs:
Dual Baffle Surround Loudspeaker
Piano gloss black and real black oak veneer finish options
Dual independent gold-plated 5-way binding posts
Cloth grille with pin/cup retention system
Aluminum wall mounting bracket with safety catch feature to help prevent inadvertent removal
Elastomer stick-on bumper feet
Cabinet Dimensions: 14" (H) x 12.3" (W) x 6.9" (D)
Overall Dimensions: 14" (H) x 12.3" (W) x 7" (D) (with bracket)
Shipped Dimensions: 19" (H) x 22" (W) x 17" (D)
Weight: 18 pounds
Shipped Weight: 40 pounds
Driver Specs:
1" Aluminum Dome Tweeter:
Vertically aligned tweeter and midrange improves horizontal axis polar response, with reduced lobing and comb filtering
FEA-optimized diffuser for airy and unveiled presentation
Aluminum dome delivers exceptional transient response and exceptional stiffness/mass ratio
5.5" Woofers:
Composite glass-fiber cone with excellent stiffness/mass ratio for high sensitivity and pistonic behavior beyond pass band.
Aluminum shorting rings to reduce gap inductance and lower distortion
Cast aluminum basket to ensure precise alignment of critical components and additional heat-sinking capacity
Vented voice coil formers to minimize air compression artifacts at high drive levels
Crossover & Cabinet Specs:
Crossover:
2-way crossover with premium-grade capacitors, air-core inductors and heavy-trace printed circuit boards
Dual isolated crossover networks allows for bipole, dipole or unique Duet mode
Crossover frequency and slopes optimized for excellent off-axis polar response, outstanding phase coherency, and total radiated sound power
Tweeter-to-woofer crossover: 2.0 kHz
Cabinet:
Non-parallel cabinet panels reduces axial standing waves within the cabinet, reducing frequency response coloration
Acoustically transparent and FEA optimized grilles, wedge-shaped front baffle and flush-mounted drivers all contribute to reduced edge diffraction and improved on-axis high frequency response
X
Sound Experts Articles
6 Room-Shaking Subwoofer & Speaker Demos from the 2020s
SVS has been traveling the globe doing live events and we are often asked ...
Read more
View All Sound Experts Articles