Ultra Tower - Piano - Outlet - 1032
Rated 4.81463414634146 out of 5 stars and 205 reviews
Ultra Tower - Piano - Outlet - 1032
Rated 4.81463414634146 out of 5 stars and 205 reviews
Outlet Special: Blemish in finish. See additional pic. Factory inspected and tested. 5-Year Unconditional Warranty and complete Bill of Rights coverage.
Save an extra 5% on the purchase of 5 or more speakers with promo code "
System
".
Copy Code
Every design element of the SVS Ultra Tower speaker was scrutinized to achieve cost-no-object audio performance and build quality. The flagship SVS loudspeaker features countless design innovations and world-class build materials resulting in reference quality sound and stunning dynamics beyond the reach of speakers costing thousands more.
Whether rendering the warmth of vinyl, the finest details of a hi-res audio recording or the aggressive, hard-hitting soundtrack of an action movie, the Ultra Tower speakers deliver a powerful and convincing audio experience from the highest frequencies to the lowest bass notes. The first time you hear them is like an epiphany that reveals itself over and over with every listening session.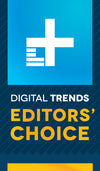 Frequency Response / Acoustic Data:
Rated bandwidth: 28 Hz-32 kHz (+/-3 dB).
Nominal impedance: 8 ohms.
Sensitivity: 88 dB (2.83V @ 1 meter full-space, 300-3kHz).
Recommended amplifier power: 20-300 watts.
Speaker Specs:
Floor Standing Tower Loudspeaker
Real black oak veneer and piano gloss black finish options
Dual gold-plated 5-way binding posts
3.5" wide-flared rear-firing port
Cloth grille with pin/cup retention system
Elastomer screw-in feet - adjustable for level
Spiked metal screw-in feet included - adjustable for level
Cabinet Dimensions: 45.6" (H) x 13.8" (W) x 16.5" (D) (without grille)
Overall Dimensions: 45.6" (H) x 13.8" (W) x 16.8" (D) (with grille)
Shipped Dimensions: 50.3" (H) X 21.3" (W) X 22.3" (D)
Weight Unboxed: 75.4 pounds
Shipped Weight: 86 pounds
Driver Specs:
1" Aluminum Dome Tweeter:
FEA-optimized diffuser for airy and unveiled presentation
Aluminum dome delivers exceptional transient response and exceptional stiffness/mass ratio
6.5" Midrange Drivers:
Composite glass-fiber cone with excellent stiffness/mass ratio for high sensitivity and pistonic behavior beyond pass band
Aluminum shorting ring to reduce gap inductance, lower distortion, and enhance high frequency response
Cast aluminum basket to ensure precise alignment of critical components and additional heat-sinking capacity
Vented voice coil former to minimize air compression artifacts at high drive levels
8" Woofers:
Aluminum shorting rings to reduce gap inductance and lower distortion
Long stroke motor and suspension for high output
Vented voice coil formers to minimize air compression artifacts at high drive levels
Crossover & Cabinet Specs:
Crossover:
3.5-way crossover with premium-grade capacitors, air-core inductors and heavy-trace printed circuit boards
Unique tapered midrange array miniimizes off-axis lobing and enhances radiated sound power into listening space
Top midrange-to-tweeter crossover: 2 kHz
Bottom midrange taper frequency: 700 Hz
Dual midrange-to-woofer crossover: 160 Hz
Cabinet:
Separate sealed midrange enclosures minimize top-to-bottom wall dimensions and shift standing waves beyond the driver pass band, minimizing negative driver interaction and associated frequency response degradation
Non-parallel cabinet panels reduces axial standing waves within the cabinet, reducing frequency response coloration
Acoustically transparent and FEA optimized grilles, wedge-shaped front baffle and flush-mounted drivers all contribute to reduced edge diffraction and improved on-axis high frequency response
FEA-optimized bracing, 1" thick midrange/tweeter baffles and 1.5" thick woofer baffles eliminates structural resonances and ensures the cabinet remains acoustically inert for uncolored response even at the highest drive levels
X
Press Reviews
ZDNet Names SVS Ultra Tower "Best Floor-standing Speaker Overall"
"Deep sound that is rich in detail. If you want the very best floor-standing speaker, SVS Ultra Tower Speaker delivers lifelike, full audio. Sound quality fits the luxury tag."

TechnoDad Reviews the Ultra 5.1.4 Speaker System
"Massive impact and presence, it was just glorious hearing this system perform. Very capable of handling anything with clarity and massive impact when called for. The mids and highs were...

LA Audio File - Kevin Nakano Reviews the Ultra Tower
"The SVS Ultra Towers are certainly one of the best sounding speakers we have heard in the sub-$2000 (per pair) category. The ability to reproduce subtle details, provide a wide...

Widescreen Review, Ultra Tower Surround System
"While I enjoyed the performance of the Ultra system, I'm having a hard time grappling with how a $3700 loudspeaker system (not including subwoofer) could compete with another recent system...

TheDroidGuy Honors SVS Ultra Tower as "Best High-End" Floorstanding Speaker
"The SVS Ultra Tower floorstanding speakers are considered by many to be the best floorstanding speakers with a three-figure price. They deliver deep and highly accurate bass with best-in-class sensitivity...
The Master Switch Reviews the Ultra Tower
Utterly magnificent bass. Fluid and captivating articulation in the mids, with warmth and clarity to voices. Intriguing and captivating design with great stereo imaging. The Ultra Towers are easily among...

TharBamar Reviews the Ultra Tower Loudspeaker
"Bass response is the best I have ever experienced in my system…scale was as big as listening to live concert, very well composed and naturally musical sound, even at 110db...

Hi Res Audio Central - Ron Goldberg Reviews the Ultra Tower
"Hats off to the SVS crew for introducing what may turn out to be a classic loudspeaker model, and making it easy to own…the Ultra Towers are among the best...

TheAbsoluteSound.com - Primer: Rocky Mountain Audio Fest 2014
"When you listen to $100k systems all day, it's difficult to be really excited about $1k speakers. But let me tell you, these speakers, when listening in nearfield, are some...

SoundstageGlobal.com - RMAF 2014: Stereo Speakers
"The flagship of the Prime line (shown here next to the larger Ultra Tower) is the Prime Tower, which costs $999/pair in matte black or $1199/pair in gloss black. It's...

The Ultra Speakers receive Sound & Vision's 2013 Top Pick of the Year Award.
"Web-direct speaker-maker SVS, long known for outstanding subwoofers, knocked it out of the park on sound and build quality with the high-value, full-range Ultra speaker line."

User Reviews
Sound Experts Articles
What is Speaker Bi-Wiring?
Audiophiles and home theater fans seeking the best performance pos...
Read more
View All Sound Experts Articles