Daniel Shores, sound engineer & owner Sono Luminus Studios
When setting up a dedicated room in his home to work on editing, noise removal and initial mixes for classical and other music compositions, Grammy®-winning sound engineer Daniel Shores sought out SVS Ultra Tower speakers for the combination of pinpoint accuracy, detailed response and low frequency extension. The Ultra Tower speakers anchor a high-end system in his home studio equipped for mixing and mastering of Auro-3D®, the next generation three-dimensional audio standard for music.
Never one to slow down, Shores has engineered over 180 albums for his label (Sono Luminus), including albums for Steinway and Sons, Naxos, Hannsler Classics, Delos, RCA Red Seal, and numerous others. He also worked on the groundbreaking first 9.1 Auro-3D release by an American label, Peter Gregson's "Touch", and has participated on panels at the last four Audio Engineering Society conventions and will be participating on a panel at this year's Tonemeistertaung in Germany.
We caught up with Daniel to see how the Ultra Tower speakers have been performing in his studio and to learn what's in store for the future.
Questions And Answers:
What led you to SVS in the first place?
Being in the audio industry, I talk to a lot of engineers and others who are involved in the production process and SVS kept coming up as a brand that delivered beyond what you pay for. As I was trying to build my home studio on a controlled budget I needed something that could easily fill my 12.5 x 18.5 x 7.8 room with effortless and accurate audio output. It also needed to be powerful enough to work in a stereo array but versatile enough to be used in a 9.1 Auro 3-D setup as well.
After consulting with Ed Mullen on the dimensions and my other equipment, I decided on the Ultra Towers.
What were your initial impressions of the Ultra Tower Speakers?
Right out of the box, I was floored by how gorgeous they were. On top of that, just so I could hear something out of them immediately, I connected them to the Pioneer receiver that was in the room already with very non-fancy speaker wire. Right out of the box in a very "budget" system, I enjoyed them far more than the B&W 684s, c9s, or Martin Logan's that I demoed in the Best Buy Magnolia Design Center home theater room a week earlier. All of those were driven by a high-end Marantz amp, so needless to say, I was excited to start critical listening!
After spending a couple weeks treating my room, optimizing settings, moving the speakers, making it a cool place to work, and most importantly, listening to everything I could throw at them from projects I've done, to new recordings, to classics in every genre (Dark Side of the Moon continues to be my main reference), I find it hard to express how impressed I am with the Ultra towers. They are both enjoyable to listen to, and I am starting to feel comfortable working with them as I get to know them.
From an engineer's perspective, how would you describe the sound of the Ultra Tower Speakers?
All my other speakers have ribbon tweeters, and the construction difference compared to the Ultra Tower speaker's aluminum dome tweeter was noticeable at first in terms of the sound, with a little more brightness. But after a week or so, my ears completely adjusted and/or the speakers broke in and the high frequencies are now clear, airy and tonally accurate to my ears.
The entire midrange is exceedingly well balanced. Voices present clear and image very well in the center. They are rich and musically engaging. I listened to everything from choral music to Peter Gabriel (both old and new) and they all sounded great in the voice.
The low end is fabulous and works seamlessly with the midrange. Things with slides and drops such as electronic music and bass slides, as well as orchestral music all present amazingly well in the transition between the mid (well, actually all the way through the highs) down into the deep bass. The deep bass (65hz and down) is articulate, and extremely intelligible, this is great for those low electronics, double basses, pianos, and in working to be able to distinguish noise to pull out. Currently I'm working on something that was tracked in New York City and it's great to be able to distinguish the low piano from the subway rumble.
Any interesting projects you've completed recently or are working on?
Recently, I completed the 5.1 and 9.1 mixes for a multi-platinum, Grammy Award-winning EDM musician and pioneer BT. This album was a new endeavor for me and very exciting. It just got released and is available here. I just completed the master for a new release by the New York based ensemble ACME and just completed sessions in Reykjavik , Iceland with the Iceland Symphony Orchestra of all Icelandic music due out in April.
Anything you'd like to share with the SVS community?
I believe that great sound is great sound regardless of the cost. There are speakers that cost far more than the Ultra Towers that don't begin to compare with the sonic texture and sound stage that they provide. When I'm working, it is critical that I not just hear sound, but that I can hear "through" the music, and the sound stage that the Ultra Towers give me allows me to do that and more. Whether I'm working on precise editing, taking out the faintest of arrant noises, or setting up my initial mixes, The SVS speakers have exceeded my expectations at every turn. I can not recommend them enough for working professionals, or for people who just want the best possible listening experience!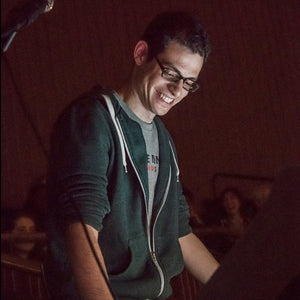 SVS Featured Producer: Ben Bloomberg, Co-Founder, Advanced Sonic Alert Technologies