Featured Home Theater System: Patrick in Maryland
Patrick in Maryland
What are the side effects of having a killer entertainment system? The owner of our newest featured home theater discovered happiness watching blockbusters and enjoying music at home in a more comfortable setting, but also by making his guests say "Wow!" whenever a visceral subwoofer moment tore through the room.

Patrick used bass traps, acoustic panels, a subwoofer isolation platform and every audio calibration tool in his toolbox to compensate for an L-shaped room and some other sonic artifacts. The end result, a dynamic and immersive 7.1 home theater anchored by his PC13-Ultra Subwoofer that shows anyone can be an audio callibration expert with the right research and execution.
The Setup:
60" Sony LED TV
PSB imagine X2T fronts
PSC image B6 L&R surrounds
PSC imagine x XC center
PSB image S5 rear surrounds
SVS PC13-Ultra Subwoofer
Yamaha RXA1030 Advantage Receiver
Sony Playstation 4
Yamaha BDS2900 Bluray player

Panasonic blu-ray DMP-BDT220

DVR direct-tv hd

Panasonic Viera TV 50 Plasma full hd, P50GT50W
Questions And Answers:
What were the greatest challenges you had to overcome when setting up your home theater?
Subwoofer placement was one challenge I had to overcome based on some sonic challenges the room presented. This was resolved through the implementation of REW with UMIK-1, which allowed me to take acoustic measurements and optimize and equalize the PC13-Ultra's output, to correct for room effects. The Ultra hits hard starting at 13hz. Another challenge was the L shaped room. Yamaha's YPAO R.S.C. calibration tools helped me get the best possible surround sound experience from my receiver but I still added two Auralex bass traps and six ATS acoustic panels to further improve the acoustics.
How has SVS impacted the performance of your system?
Adding the SVS PC13-Ultra to my system has elevated the experience to another level and also raised the enjoyment of my passion for home audio as a whole. My friends and family thought I was crazy when they saw the size and price tag of the Ultra, but they were quickly silenced the first time it hit a serious low during a movie. I had a movie night and after the first big bass scene everyone turned to me and said, "Now that was impressive!"
What are some of your favorite music and movies for showing off your audio gear?
My favorite movie demo material is the landing scene from Saving Private Ryan, the collector scene in Guardians of the Galaxy and pretty much the entire Transformer series. For music I use Tracy Chapman or the favorite song or artist or whomever is listening.
Why is having a home theater important to you?
Having a home theater is important for me because it helps to bring family and friends together to share in my experience and it saves $ in the long run because I never go to theaters anymore. This passion for home theater has brought me new friends through forums as well.

My reason to start a home theater starts with my love of movies and the ability of the home environment to deliver like no commercial one could approach in comfort and convenience.
---
Are you an SVS owner?
We want to hear about – and see – your home system! Share your photos through Facebook, Twitter, Instagram or in the comments below to be included in our monthly owner's album. We'll regularly be featuring systems for here as well, so be sure to share yours with us and the community!
Browse Other SVS Featured Systems.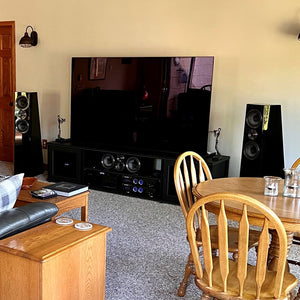 SVS Featured Home Theater System | Mike E. from Calumet, MI
Mike from Calumet, MI As a former music teacher, Mike E. fr...
Read More